10 essentials for a garage you will actually use.
By emily.bailey
Treat your garage like any other room by putting in some thought about the elements that will transform it into an area you will actually enjoy.
Man cave. Storage unit. Auto shop. Garages have many uses and most of them have nothing to do with parking our cars! No matter its primary role, treat your garage like any other room by putting in some thought about the elements that will transform it into an area you will actually enjoy. Use these 10 garage essentials to get you started.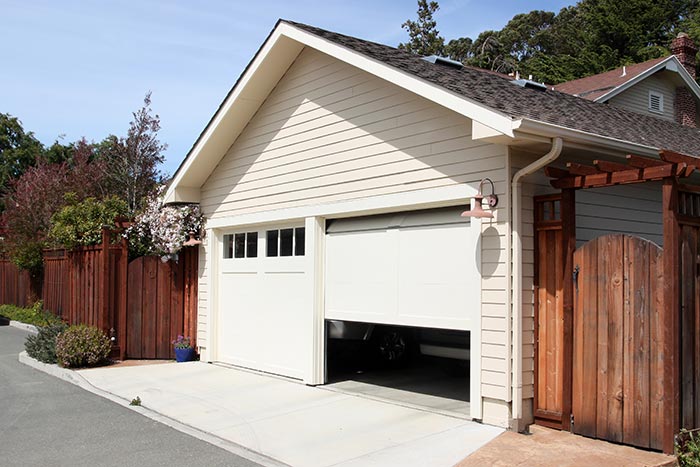 2. Smart lock
It's important to secure your family and belongings at every entry point to your home, including the door from the garage into the house. A Schlage smart lock provides the same keyless convenience and remote access as if you placed it on your front door. Bringing in a load of groceries? Unlock the door before you even get out of the car and fill your arms with bags. Giving garage access to a maintenance person but don't want them in the house? Make sure the door is locked – and stays that way – from anywhere.
If you aren't sure what kind of smart locks is right for you, try our interactive Get Help Deciding Tool.
3. Workbench
No matter how you use your garage – gardening, car repair, woodworking – you need a solid work surface. Make sure it's sturdy enough to hold up to the vibration of power tools and large enough to handle nearly any project. We also recommend adding a bench vise. You might be surprised by how much you use it for projects big and small.
4. Lighting
Overhead lighting is important for the big stuff, but consider smaller options as well. Tabletop-style lamps or clamping workbench lights help with detail work like tying flies or repairing small electronics. Outside the garage, consider motion-activated lights to deter intruders and improve your home's security.
5. Storage
You might not be sure what kind of storage you need, but you know you need it. Shelves with and without bins, a peg board, and hooks for hanging tools or outdoor gear like snowsuits are the most common. Also consider magnetic strips for keeping nails and smaller metallic tools close at hand, racks to keep shovels and rakes from falling all over the place, and a ball caddy for sports equipment. Use all your space, including overhead.
6. Lock-up for chemicals
We often store cleaning materials, old paint and car fluids like antifreeze in the garage. Choose lockers or other secure cabinets to help keep curious kids and pets safe.
7. Broom or shop vac
Even if you just use your garage to park your car, you'll track in dirt and debris. An outdoor broom or shop vac can reduce mess tracked in the house. It'll also come in handy if there's dust swirling around after sanding and refinishing a door or potting soil from working on your container garden.
8. Stainless flooring
It seems like everything we do in our garages causes a mess. Make it easier to keep the space looking great with stainless flooring. While this isn't an absolute must, we're pretty sure you won't regret it. Epoxy is a popular choice for this purpose, but you can find more easy-to-clean garage floor options at BobVila.com.
9. Rags
You need to clean a spill, stain a reclaimed cabinet or wipe down your tools. You can't have enough rags. They don't have to be anything fancy. Ripped T-shirts, a sock whose mate got lost in Dryer Land or tattered blankets all work great, and you won't be heartbroken when they get so gross you have to throw them away.
10. Emergency supplies
Accidents happen. Stock your garage with a fire extinguisher – don't forget to check it regularly to make sure it's in good working condition – and a first aid kit. Hopefully you'll only ever need bandages for scraped knuckles. A flame-retardant blanket isn't a bad idea either.
Upgrading your garage is not a priority for most when it comes to home improvement projects. But these basics show that you can turn it into the perfect place for any DIY project, hobby or storage unit with minimal time and money. Find more tips for a more organized and secure garage in our blog archives.