Celebrating the women of Schlage.
By emily.bailey
In honor of Women's History Month, we're taking a look at a mere few of the contributions women have made at Schlage since the company's founding in 1920.
In honor of Women's History Month, we're taking a look at a mere few of the contributions women have made at Schlage since the company's founding in 1920. We're proud of our employees' impact on manufacturing, design, innovation and security, not to mention the communities in which we work, making the world around us stronger and safer in so many ways.
Manufacturing mavens
Research continually shows that the more contributions come from a diverse workforce, the more successful the business. While women are largely underrepresented in the manufacturing industry – early 2020 data from the Bureau of Labor Statistics shows that 29.4 percent of manufacturing jobs are held by women – Schlage has employed women in a variety of roles throughout its history.
Even as a young company 100 years ago when women in the workplace was a rarity, Schlage did not limit women to clerical work. Records and photographs from the 1940s and 50s, for example, show women employed at nearly every stage of the manufacturing process.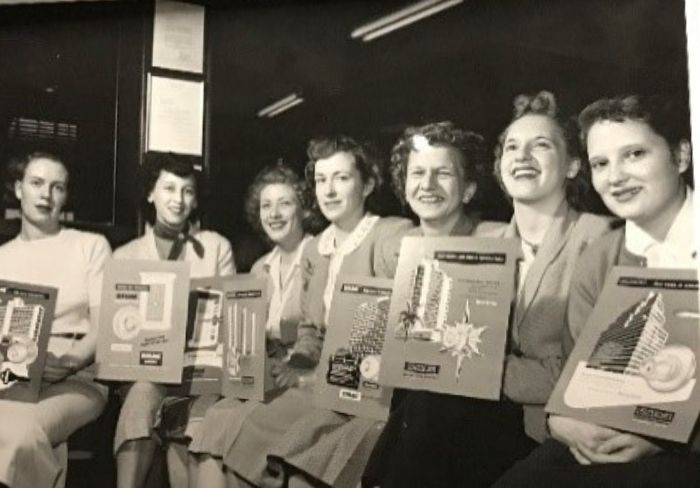 Some worked in the Production Control Office, which scheduled projects and ensured that manufacturing progressed on deadline. Others were more involved in work at the plants. It might even have been the case that women were preferred for lock assembly roles as some believed their smaller hands were more adept at handling fine materials.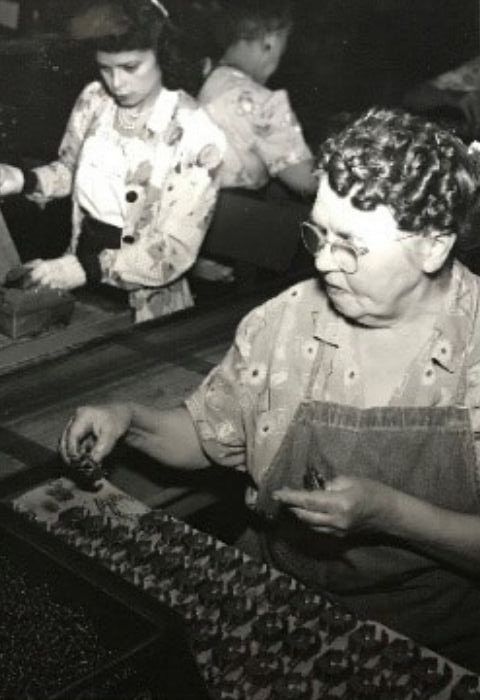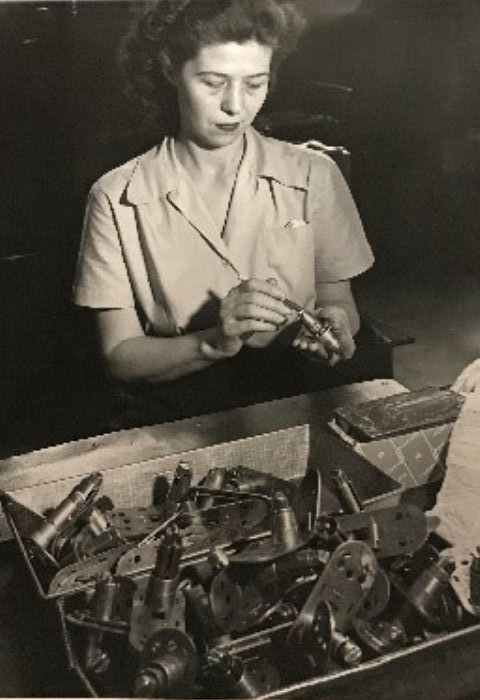 CBS filmed Schlage as part of a 1959 television series titled, "Woman" and sought to answer the question of whether women were losing their femininity. Members of the Schlage Key Room, Berta Ramos and Rose Erillo, were spotlighted in the series that ultimately showed that "American women are taking a more important part in industrial life to advance the economic welfare of their families."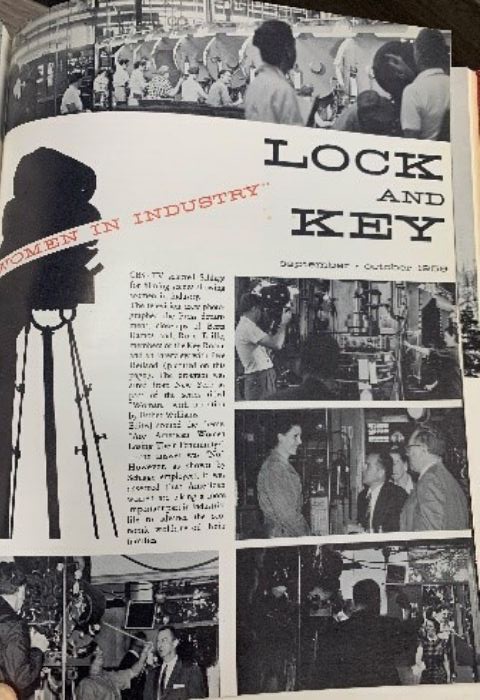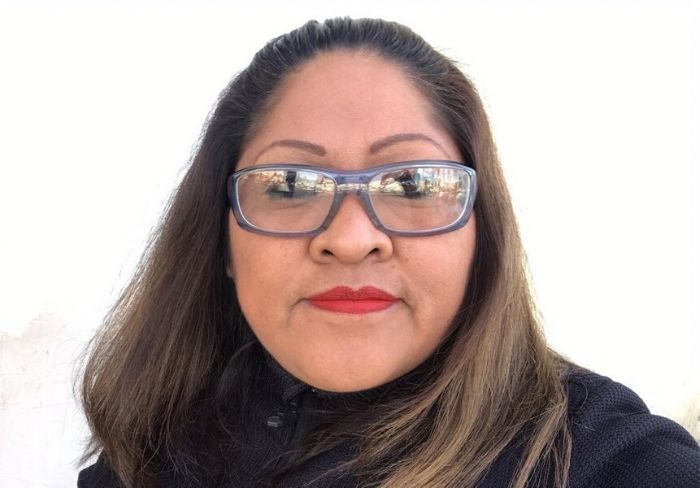 In 2017, Nancy Abris was recognized as a Fearless Frontline Leader after being nominated by colleagues for her integrity and consistent impact during her 20-plus years at Schlage. "A great leader must always gain the trust of their team so they can establish communication, maintain their security and safety, elevate quality and maintain production that guarantees success," said the production supervisor for Schlage Mexico.
Patents, please
Schlage depends on its employees' innovation to help keep your homes and businesses safe. Founder Walter Schlage was a prolific inventor with more than 200 U.S. and global patents, and we continue that legacy a century later.
According to the U.S. Patent and Trademark Office, just 12 percent of patent-earning inventors in 2016, regardless of industry, were women.
In July 2019, Allegion, Schlage's parent company, recognized the employees who had received more than 120 patents globally in the previous year. Among the honorees was Lakshmi Santhanakrishnan. Today she's seeking another patent as part of the team developing WiFi and communications technology for controlling commercial smart locks like Allegion's Engage™ web and mobile apps.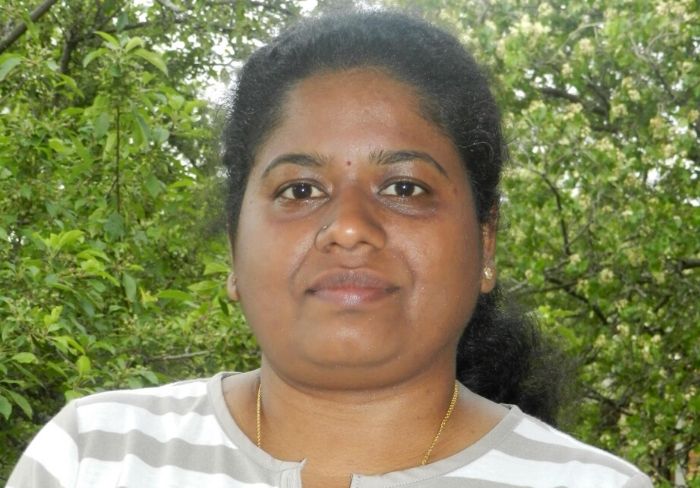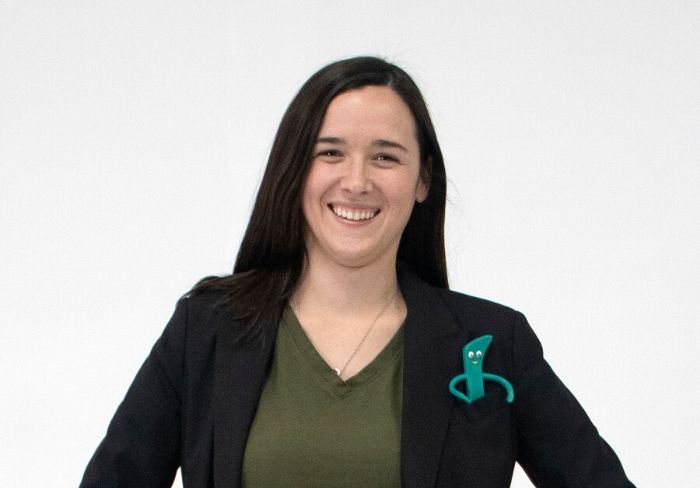 Industrial designer Autumn Groleski also holds multiple design patents. Her innovative work enables Schlage to adjust its stylish escutcheons to pair flawlessly with electronic products such as the
Schlage Control™
door lock and
Schlage Touch™ Keyless Touchscreen Lock
. Autumn has at least five other patents currently in review in addition to the 10 already in her name.
Community and family first
Employees throughout the years have remarked on Schlage's welcoming atmosphere, perhaps a result of the company being family-run for so long. Walter Schlage's son, Ernest, was eventually vice president of the company and director of research, while Marron Kendrick took over company presidency upon the retirement of his own father, Charles, in 1953.
That family atmosphere often inspires lifelong loyalty to Schlage, the company's values and its commitment to making homes, businesses and communities more secure.
A former employee of nearly 35 years, Elayne Snyder said in a recent interview, "It was so easy to work for them. And everybody was congenial, you know what I mean? Which, again, I think that's what makes Schlage so unique and why these people after all these years are still bound together as a family."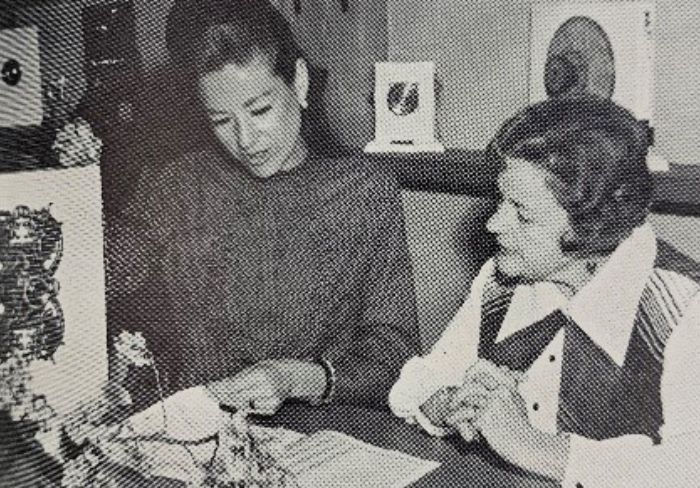 Elayne Snyder, left, and Edna Gregory, right, handle the complete servicing of stock warehouse orders.
Snyder had a rather comprehensive career at Schlage, starting as a file clerk in 1959. Before retiring more than three decades later, her myriad titles also included San Francisco Warehouse Manager, Research and Sales Forecaster Analyst, and Sales Communications Manager. "They gave me opportunities I probably would have never had, had I worked for another company," she wrote of Schlage in a letter to the company last month. "They were wonderful to work for. I am proud to have been associated with them for so many years."
Following World War II, even after production returned to door hardware as usual, Schlage continued to support the nation's soldiers. This support was particularly meaningful to the community as Schlage was still based in San Francisco at the time. The language from this 1946 internal newsletter – "Schlage Girls on Short Cruise" – is admittedly outdated by today's standards, but it is just one example of Schlage employees' contributions, however minor, during wartime.
"Who says there's no patriotism left, now that the war's over? Schlage Lock Company girls proved differently when twenty of them arose at 3:30 a.m. on Saturday, February 1, so that they could be aboard the U.S.S. Cavanaugh when she sailed through the Golden Gate at 6:30 a.m.

"Guests of the U.S. Army, the girls went out to sea to meet four shiploads of veterans returning from the South Pacific. As the Cavanaugh neared the inbound troopships, the girls lined the rail with handkerchiefs fluttering in the breeze, and welcoming smiles on their lovely faces."
Schlage's Social Club was incredibly active through the first half of the century, but it wasn't just fun and games. One late-1940s record tells how the group sold nearly $400 worth of hams to send Christmas gifts to the Mount St. Joseph's Orphan Asylum in San Francisco. One of the Sisters of the asylum later wrote to Schlage, "We were all so thrilled when the television and High-Fidelity sets arrived and then your most generous check! You may believe me when I assure you that such kindness and thoughtfulness is deeply appreciated by all."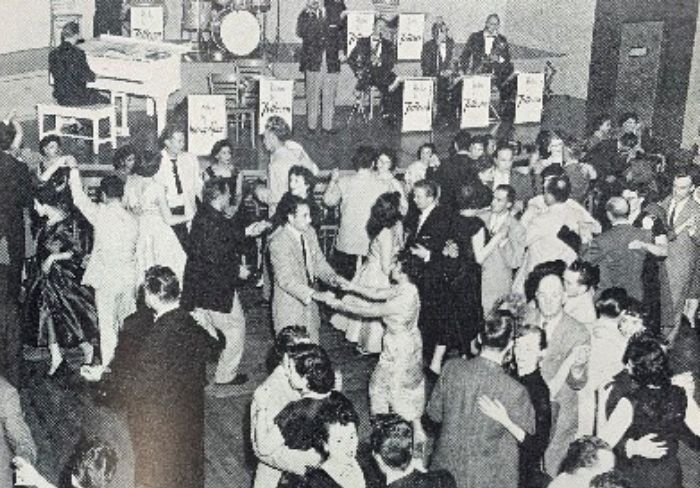 Many of today's Schlage employees annually take part in the American Heart Association's Go Red for Women movement to end heart disease and stroke in women. Allegion Senior Vice President and Chief Human Resources Officer Shelley Meador was recently published in TechPoint discussing the impact of heart disease on the career success of young women in the technology industry.
Schlage thanks the innovators, the problem-solvers, the providers and the big-thinkers, not just at our own company but among architects, designers and builders as well. For more home history and to help Schlage celebrate its 100th anniversary, visit Schlage.com/100.