Did you know? Door knobs through history.
By emily.bailey
Thursday, September 12, 2019
Today we have smart locks. Back then we had animal pelts. Whether or not you've ever wondered about the history of door knobs, their origin is more interesting than you might think.
Today we have smart locks. Back then we had animal pelts. Whether or not you've ever wondered about the history of door knobs, their origin is more interesting than you might think.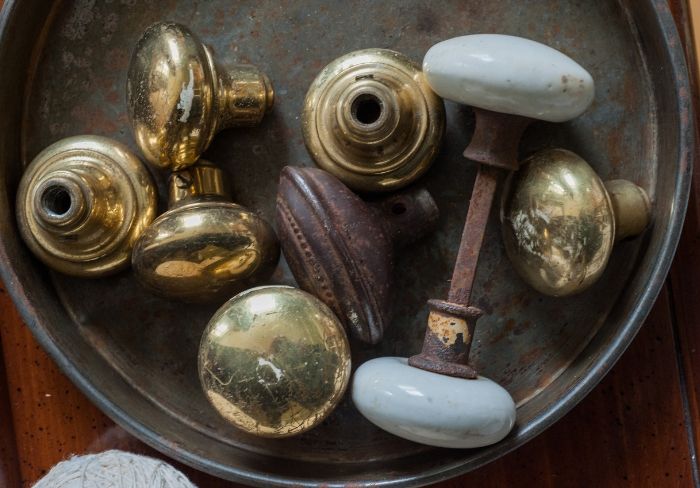 When not even the nobles had knobs
Schlage door knobs, levers and deadbolts today are all about superior style, security and innovation. But the earliest door hardware certainly wouldn't be described as stylish, secure or innovative today. Dating back to ancient Egyptians about 5,000 years ago, people used animal hides and other textiles to serve as doors. Knobs obviously weren't required in those instances, and it takes a surprisingly long time before they do become commonplace in homes. In the Middle Ages, families lived in one big room, making doors, and privacy, virtually nonexistent. To secure buildings and belongings, beams barricaded external wooden doors.
In the late 1500s and beyond, we start seeing individual rooms, but only in palaces and the most stately homes. For example, when Louis XIV reigned France and built the Palace of Versailles, highly decorative and delicate door knobs were created both for the king and his courtiers. The purpose was more about displaying and opulence than achieving security, however.
As individual rooms became common in more modest homes, a seemingly unusual trend began to develop – doors had locks but no handles. For people who could afford it, it was a metal lock and key somewhat similar to today. The poor, however, used a latch-string, a strap of leather threaded through a small hole in the door that could be used to lift and lower a wooden bar.
Advancement through American innovation
Door knobs and other door hardware finally became increasingly prevalent after the American Revolution when the United States began producing its own finished goods rather than importing many of those items from England. As American manufacturing developed and the Industrial Revolution picked up steam, so did homegrown innovation. (It didn't hurt that doors became thicker to accommodate latches. Early Colonial homes typically had doors a mere 1/4 inch thick.) From 1830 to 1873, more than 100 U.S. patents were granted for door knobs.
The earliest door knobs were made from a variety of materials and not all of them functioned with just a simple turn. From the start, pressed- and cut-glass door knobs were popular. China or ceramic knobs were mainly imported from France and England until the first U.S. patent was granted for making door knobs out of potter's clay, and cast-metal knobs were introduced around 1846.
Wooden knobs were common but were phased out as composite metal knobs were introduced. The main body of these new metal door knobs was made out of iron or steel and covered entirely or in part with a veneer of bronze or brass.
Finally, decorative door hardware, including knobs, emerged after the Centennial Exposition of 1876 during the Victorian era. This was a time when ornate architecture was seeing a revival and so hardware was relied on for its functionality as well as its decorative potential.
Speaking of functionality, the door knob has come a long way. As you can see in The Story Behind Von Duprin, a brand of Allegion, which is the parent company of Schlage, some early knobs were so complex that users required special training to know how to operate them. It's clearly a far cry from some of today's smart locks that need only a simple "Alexa, unlock the door" voice command, and evidence of how far we've come in making buildings and people safer through innovation.
Updated style and security rooted in tradition
Thankfully we have never reverted to the difficult-to-use hardware of the Iroquois Theatre, and innovation continues to be one of Schlage's hallmarks. Our founder, Walter Schlage, patented a door lock that turned lights on and off in 1909. Since 1920, Schlage has been a major player in manufacturing quality door knobs and locks, continuously advancing door security.
Schlage door locks are manufactured in zinc, stainless steel and brass, and are available in a variety of styles and finishes, many of which are reminiscent of some of those earliest efforts. You can see where the Schlage® Siena door knob has its roots in the first cast-metal knobs, particularly when it's in an Aged Bronze finish. And the decadence of Victorian and Art Deco architecture not only continues to live strong in older homes but is enjoying a recent resurgence among renovations as well. The popularity of glass door knobs like Schlage® Alexandria and Hobson are shining examples of updated classics for today's homeowners.
Continuing a long history of door security, Schlage offers the best in quality materials and workmanship as well as styles to fit every décor from nearly any era (sorry, no animal hides, though). What will we come up with next? Only the future will tell.
View the glass Schlage Alexandria and Hobson knobs, as well as our other styles, at Schlage.com.