4 steps to perfect back-to-school photos.
By emily.bailey
These four steps will help you capture your kiddos' first day of school and preserve those memories for years to come.
They grow up so fast and you want to
remember these moments forever
. These four steps will help you capture your kiddos' first day of school and preserve those memories for years to come.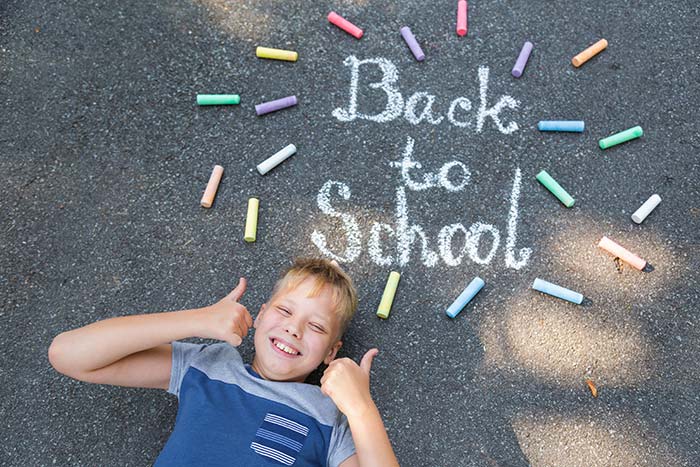 1. Set the scene
When was the last time someone took a back-to-school picture with their child sitting on the couch? You just don't do it. It's almost always in the front yard or on the porch. Once you have Junior looking sharp for his first day, get your doorway in order, too. If nothing else, you can use this time as an excuse to make the upgrades you've been wanting for months.
You can never go wrong with comfortable seating on your patio. Kids will love a porch swing, and there will be room for everyone in the photo if you have a larger brood.
Update accessories – door hardware, the mailbox, house numbers and light fixtures – for a quick and economical update. A fresh coat of paint for your door can do wonders as well. They're small details, but they have major impact when you need to spruce up your entryway.


Install a trellis for climbing foliage or create a plant wall. Done on a porch, this can create shade and privacy from your neighbors. For back to school, it can make a colorfully lush backdrop for your photoshoot. Bonus points if you color coordinate your flowers with your kids' first-day wardrobe.

2. Get the sign
A simple chalkboard is a classic. You can reuse it at the beginning of summer and each year, and it's easy to jot down what your Mini Me wants to be when she grows up and what her favorite subject is. Or shake things up and try one of these DIY back-to-school photo ideas.
3. Take the photo
With cameras on every smartphone these days, snapping a picture has never been easier. If you want a more professional look, try these tips for taking great back-to-school photos.
Today.com

>> Stage the photo the weekend before the first day of school when your kids are more relaxed … and happier looking.

The Dating Divas

>> Give your child a prop that shows their personality and gives them something to do with their hands.

One Crazy House

>> Loosen up with these funny back-to-school photo ideas for the whole family.
4. Savor the moment
Don't be that person who takes a thousand pictures and then leaves them on their phone, never to be seen again. Take the time to print and frame your favorites. Up your creative quotient with these back-to-school photo frames.
Happy Back to School season from Schlage! Share your back-to-school photos with us on Instagram and use #Schlage #MakeTheGrade.