A simple checklist to jump start your exterior spring cleaning projects.
By emily.bailey
Tackle these DIY spring cleaning projects to get your home working and looking its best in the new season.
Take a deep breath of fresh air, feel the sun on your face and … is that a leaky gutter? The exterior of your house may have taken a hit this winter. Tackle these DIY spring cleaning projects to get your home working and looking its best in the new season.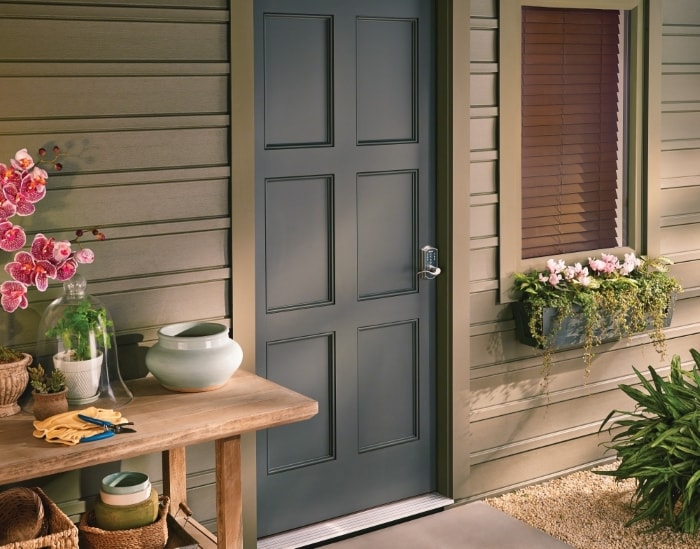 Refresh your front door
The curb appeal of your home can really take a beating during the long winter months. Take a look at your front door. Are there any dings or scrapes that could use a touch up? Any wear and tear that needs to be addressed? Consider giving it a vibrant pop with a fresh coat of paint. HGTV has a fantastic gallery of some of the season's most popular colors for your front door.
While you're doctoring up your entryway, think about updating your door hardware, too. This might mean a simple style upgrade with one of Schlage's handlesets, available in a wide variety of designs and finishes to ensure that your front door is the perfect introduction to your home. Want something high tech? Go for the keyless convenience of a smart lock.

Wash off the front porch
After all the snow and ice from a long winter have melted, you'll often find a mess of dirt, salt and even the last of fall's leaves littering your porch and steps. Make sure none of it tracks in to your home by brushing it off with a broom and spraying it down with a garden hose.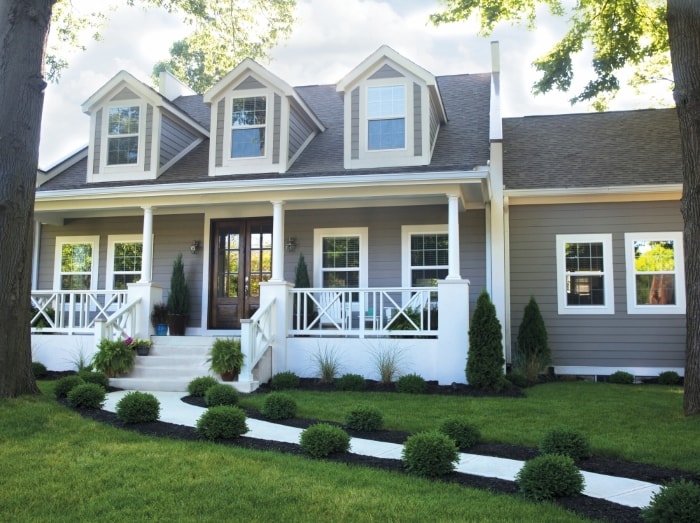 Repair walkways
Particularly if you live in a region with extreme weather, your front walkway might need some extra attention. Address any cracked concrete on the patio or sidewalk. Spring is for tiptoeing through the tulips, not tripping on the pavers.

Add a new welcome mat and wreath
Over time, your welcome mat is sure to attract a lot of dirt and grime. Make your front door entry even more welcoming with a fresh new welcome mat. One popular technique is to layer a typical mat over a larger outdoor rug. The extra attention to detail can lift the look of your entire entryway. Tie it all together with a cute new wreath.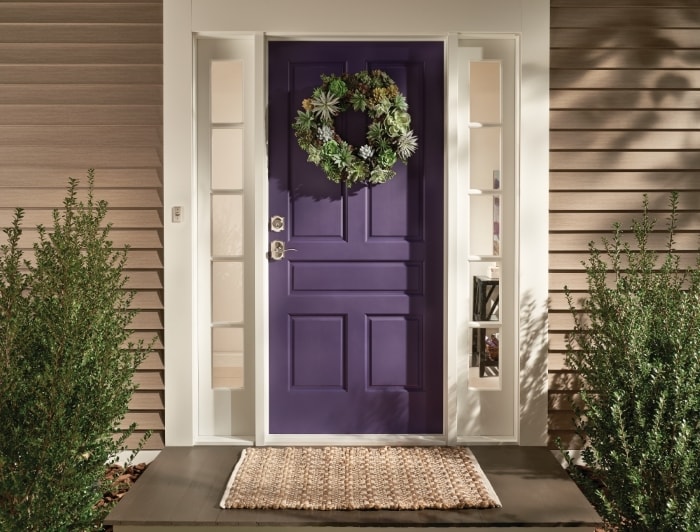 Plant flowers
Nothing says spring like freshly bloomed flowers! Whether it's beds or pots, start your seedlings or find plant varieties that can survive a late overnight freeze, just to be safe. If cold weather could still be in the forecast, more durable flowers, like pansies, will hold up even when temperatures unexpectedly drop overnight. They're also affordable, leaving you the option to replace with a warm-weather plant when summer arrives.
Need some inspiration? Check out these 10 container garden ideas from our friends at Lowe's. There are also tons of DIY upcycling projects for turning unconventional items into cute planters while also reducing waste.

Prepare your yard and flower beds
Your flower bed can become a magnet for leaves and debris during the winter. Be sure to clear them out so your hard work after planting new greenery can shine. And don't forget to take a few minutes and a pair of scissors to remove any brown or dead bushes and ornamental grasses that may be lingering from seasons past.
Make sure your irrigation system is ready as well. Check for leaky outdoor faucets or cracked hoses, and make sure your sprinklers are still functioning effectively and efficiently. This is a good chance to take advantage of outdoor home automation with smart sprinklers.

Check roof, siding, foundation for signs of wear and tear
Curb appeal shouldn't be your only concern when spring arrives! Be sure to assess the structure of your roof, siding and foundation for any necessary repairs. Missing slats or bricks are obvious problems for both walls and chimneys, but water stains can also be a sign of bigger issues. Stains might also mean you have water getting into the house somewhere, so be sure to identify the source and solve the problem quickly.
Don't forget about critter damage. Carpenter ants, termites, and burrowing or nesting wildlife can wreak havoc on your home's structure as well.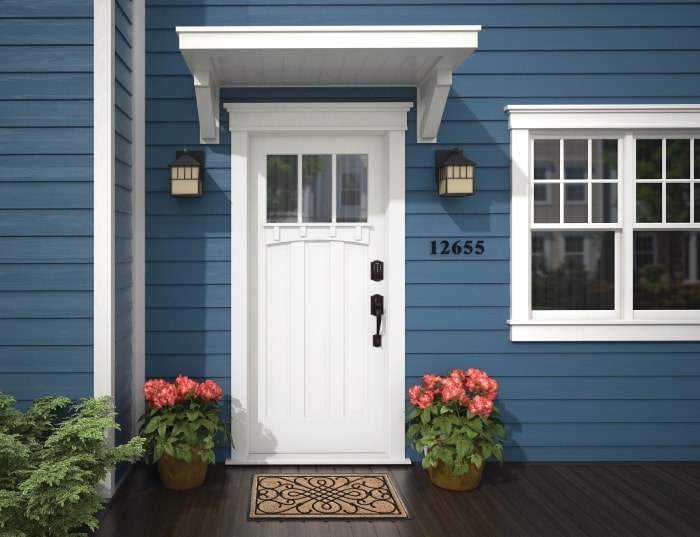 Clear debris from gutters
Before spring showers start taking their toll, be sure to clear your gutters of any leaves or debris to ensure proper drainage. Backed up gutters can cause unnecessary damage to your home.

Repair windows
Go beyond just washing your windows with this spring cleaning. Check for leaks and gaps in the framework. Your air conditioner and energy bill will thank you. You're not paying to cool the whole neighborhood, are you?!

Bring out the grill, patio furniture and enjoy!
If deck boards are warped or splintered, or if nails are sticking up, replace them to keep feet healthy and happy during warm-weather fun. Once that's done, a good power wash might be in order. If you have a wood deck, you probably won't regret staining and resealing it, too.
A deck is so much more than just a bunch of boards, though. Wash your outdoor furniture, maybe replace some chair cushions and make sure your grill is ready to go. Before you get cooking, make sure the grill is clean and, if it's gas, check for clogs and leaks in the hoses. You'll be ready for outdoor entertaining before you know it.
For more ways to make your home smart, stylish and spring-ready, visit Schlage.com. And if the inside of your house needs some TLC, say goodbye to winter with this interior spring cleaning checklist. Be sure to share what spring projects you're prioritizing on Facebook and Twitter.