Schlage and Key by Amazon lock onto a smart combination.
By emily.bailey
Wednesday, March 13, 2019
If you have questions about Key and how you can use it to help make your home more secure and convenient, we have the answers.
It seems like Amazon does just about everything these days – simplifies gift giving, delivers groceries and even tells you cat jokes when you ask Alexa. Now Amazon locks your door and makes accepting packages even easier thanks to Key by Amazon's compatibility with smart locks. If you have questions about Key and how you can use it to help make your home more secure and convenient, we have the answers.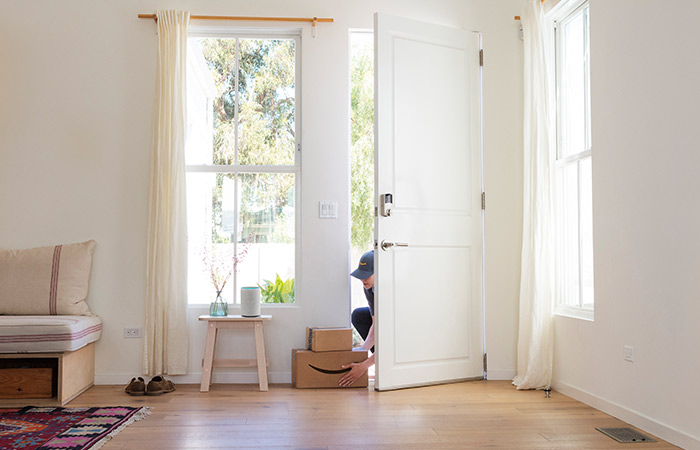 What is Key by Amazon and how does it work?
Key by Amazon is a smart home solution that can pair a compatible smart lock, Cloud Cam (Key Edition), the Key App and your wireless network to help you control access to your home from anywhere. In addition to keyless entry, when you pair your smart lock with the Cloud Cam, you can watch video clips when someone enters or exits your house, manage access codes and check on the status of your lock and its battery through the Key App.
Prime members in select locations can also opt in to in-home delivery, offering additional convenience and peace of mind knowing that your packages won't be stolen from your porch.
Where is Key by Amazon available?
The home-delivery option through Key by Amazon is available only in select cities and their surrounding areas. You can check the availability at Amazon.com or find a list of participating areas.
Additional features of the Key App, such as the ability to set up and control your compatible smart lock remotely or manage guest access are available to anyone with the app and is not limited by location. You can also still use the Amazon Key App and the Amazon Cloud Cam for visually monitoring your door, even if you aren't using in-home delivery. Keep an eye on your kids coming and going, or get video confirmation of the dog walker entering your home.
Is Key by Amazon safe?
When using the in-home delivery option, there is no need to provide access codes to those delivering a package. You will receive notifications of their arrival, can watch live video of the delivery through the app and receive additional notifications that your door has been re-locked. Compatible Schlage smart locks also offer auto-lock functionality that can be managed in the Key App for added assurance. Learn more how home delivery works here.
Key is not currently integrated with home security systems. Because you will need to disable your system on delivery days, Amazon suggests not using the in-home delivery option if you are not comfortable turning off your system.
You can also choose to use voice control commands through Alexa to unlock your door. As an additional level of security, you will be required to set and use a four-digit code to unlock your door using voice control.
Do I have to use the in-home delivery option? Can it be disabled whenever I want?
You are not required to use in-home delivery to enjoy the other benefits of Key or your smart lock. You can still control your lock remotely, watch videos of loved ones and trusted friends enter and exit your home via the app, assign access codes and more.
If you enable in-home delivery, you can still block access on specific days via the Key App. Delivery drivers will simply leave your package on the porch as usual.
Can I use Key by Amazon for other service providers too?
Your smart lock can be used to grant access to other service providers such as house cleaners or dog walkers because of the ability to lock and unlock your door from anywhere and assign unique access codes. Access codes can be scheduled for one-time or recurring use, such as for the house cleaner every Wednesday at 9 a.m., as well as on a permanent basis. You can activate or deactivate, as well as change or delete, codes at any time.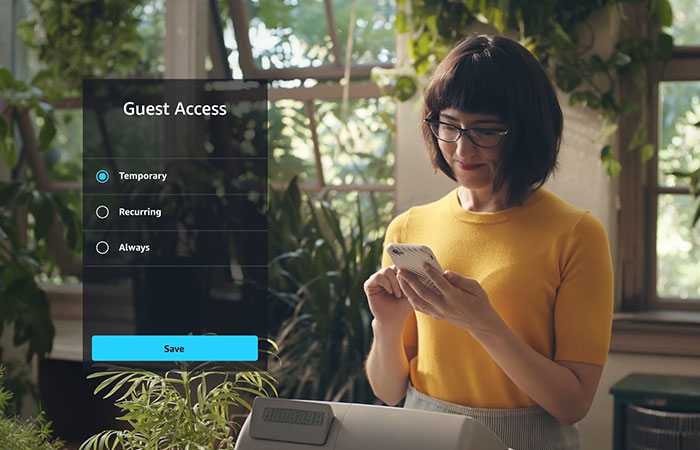 Do I need additional accessories to use Key by Amazon?
To use all of Key's features, you will need the Amazon Key Smart Lock Kit. This includes a compatible smart lock, the Cloud Cam (Key Edition), which serves as the smart hub that allows your Zigbee-certified devices to communicate with your wireless network, and the Amazon Key App. You can purchase the kit as a bundle at Amazon.com.
With its built in WiFi, the Schlage Encode Smart WiFi Deadbolt communicates directly with your wireless network, so you can still control your lock remotely, manage codes or check the status of your lock, even without the Cloud Cam. However, you will need the Cloud Cam to enable in-home delivery or use the video monitoring features.
Does Key by Amazon work with Alexa?
You can use voice control to lock and unlock your smart deadbolt using Alexa and Key. Not sure if your door is secure? Simply ask, "Alexa, is the front door locked?"
Learn more about synching Key with an Alexa device here.
How do I set up my lock with Key by Amazon?
Download the Amazon Key App to your smartphone and log into your Amazon account. Select the setup option in the app and follow the steps provided to synch your smart lock and the Amazon Cloud Cam if it is required for your lock model. You can then use the app to manage access, enable the in-home delivery option and more.
Amazon provides troubleshooting tips if you have questions about pairing your lock.
If I enroll my Schlage lock with Key by Amazon, will my lock still be compatible with other smart home devices?
A compatible smart lock synched to Key by Amazon can only be managed with the Amazon Key App. Attempting to use multiple apps to control your smart lock may result in your lock or the apps not working as intended.
Smarter homes start with Schlage
Security continues to be a primary reason homeowners invest in smart home technology. That's why Schlage provides a wide range of smart locks. See for yourself the world of possibilities that lets you make the most of today's rapidly growing smart home technologies. Visit schlage.com to learn more about Schlage's smart lock portfolio.