A look at voice-enabled tech
By Rob_Martens
From turning down the volume on your stereo to locking your front door, these technologies and their application in the smart home are fast becoming the rule rather than the exception.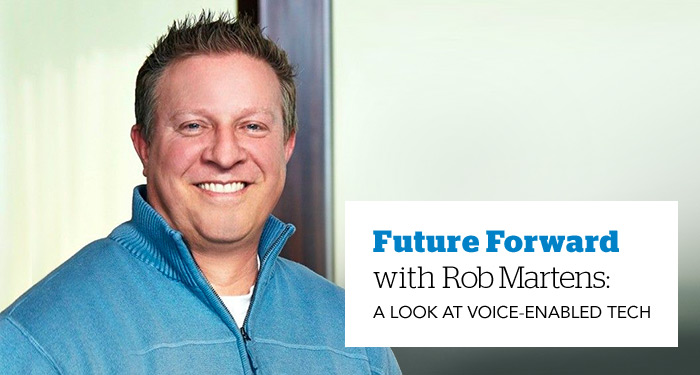 It was little more than two years ago that Amazon's Echo took the holiday shopping season by storm and Google Home's voice-activated speaker brought Google Assistant from the phone to the living room. They were taking the baton passed by assistants like Siri and Cortana who, as far back as 2011, began replacing phone apps in the search for everything from good pizza to directions to Mozart's birthday.
Google Assistant is now available on more than 400 million devices, close to 95% of all Android devices, worldwide. Looking ahead, comScore predicts that half of all searches will be done via voice by 2020 with a sizeable percentage of those on a device like a voice-activated speaker – in other words, on devices without screens. From turning down the volume on your stereo to dimming your lights to locking your front door, these technologies and their application in the smart home are fast becoming the rule rather than the exception.
Rob Martens, President of Allegion Ventures and futurist for Allegion and their lock-manufacturing division, Schlage, looks ahead to where it's all going. No stranger to innovation and the implementation of emerging tech, Martens has both insight and strong opinions on the rapidly evolving industry. He is responsible for identifying those mega-trends in technology that will best serve Schlage's customers and then bringing them to life with products such as the Schlage Sense™ Smart Deadbolt and the Schlage Connect™ Touchscreen Deadbolt.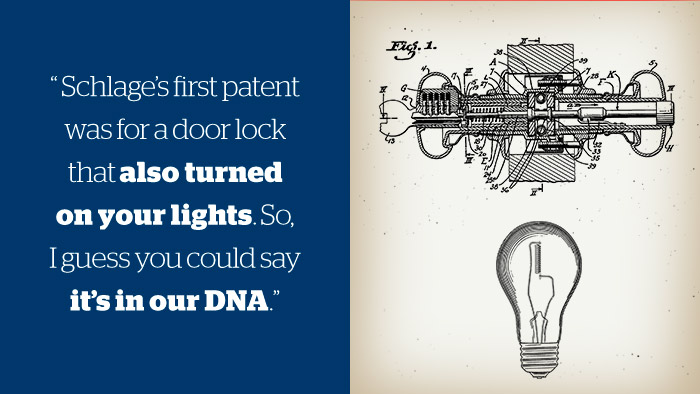 Q. What was your first indication that home integration was somewhere that Schlage had to be?
A. "My focus, my responsibility, is on anything that could have a meaningful impact on our customers and our business. Anything that can significantly improve our customers' experience with our products is something we're going to be interested in. We first started exploring connected door hardware in 2008 and we've escalated our own efforts as the technologies have improved and been increasingly accepted. Schlage's first patent was for a door lock that also turned on your lights. That was in 1909. So, I guess you could say it's in our DNA."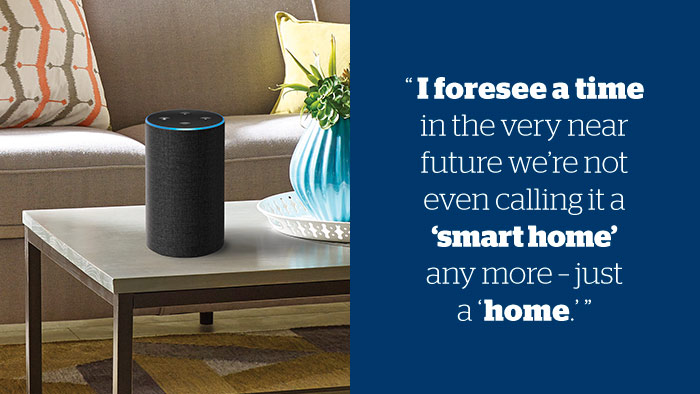 Q. So, the smart home is here to stay?
A. "I think that the adoption of the technology, and the technology itself, is so significant, I foresee a time in the very near future we're not even calling it a "smart home" any more – just a "home." It's going to go from something new to something we all accept as the way things are. Our job is to make these new technologies accessible and relevant so that we remove any intimidation factor that may exist. Once we do that, you're looking at an idea whose time has come and, indeed, is here to stay."
Q. How has Schlage's technology addressed this "intimidation factor" and what have you done to make your connected technologies more user friendly, particularly for voice?"
A. "Believe it or not, the way you make the technology better is by not worrying about the technology but rather what the user wants to accomplish with it. We know things are constantly changing and technology should continue to evolve with the ever-changing needs of our customers. Our focus is on applying these technologies in such a way that our customers, regardless of what system they choose for their home automation, only need one lock that works, is easy to use, is secure, and can evolve with their needs. Ideally, we'd provide one lock you didn't need to change because of obsolescence. It's all about our ability to continue to meet their needs whether they're locking their door with a keypad, their smartphone or with a voice prompt. It shouldn't matter. We need to give them a good experience, whatever their preferences. It's not technology for technology's sake, it has to meet a defined need."
Q. You're in the security business. How do you provide connectivity and convenience as well as security?
A. "That is the single most important factor we look at – for today and tomorrow – when it comes to all Schlage products. Privacy. Security. Peace of mind. That's our job. That's what a lock does. We start with the fact that we are in the life safety business, and we ask ourselves – especially with the integration of new technologies like voice activation – if what's happening when you ask Alexa to lock your door is exactly what you want to happen. That's why, for instance, you can't ask Alexa to unlock your door without providing a security code. So, again, you take the actual technology out of it, you look at who you're serving and what they need, and you work from there to build the technologies and products that meet those needs. Not the other way around."
Q. That's an interesting point of view, coming from a futurist at a company that prides itself on technological innovation.
A. "When you get right down to it, our customers don't really care about the details – about the features and functions and bells and whistles. Does it work? Is it secure? Is it easy to use? Does it add value? We have to start there. If not, then we're not doing our jobs. We solve for that, and then we can focus on convenience features and – also extremely important to our customers – style. So much of what happens with your home starts at the front door. It's the ultimate first impression. We work really hard to make it a good one, and to bring our customers the security they demand, the style that reflects who they are and a great user experience."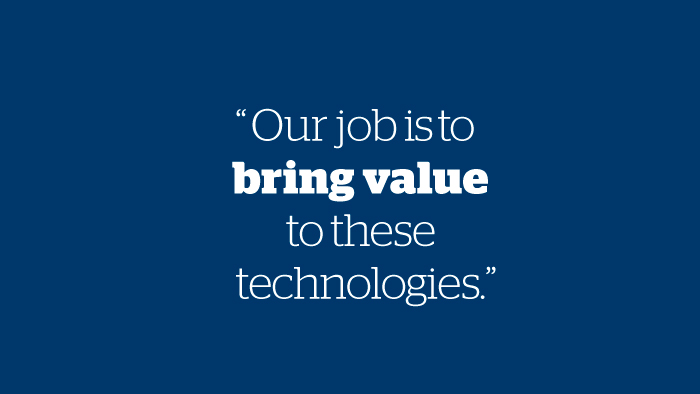 Q. What's next?
A. "My job is to look at products, services and technologies that are proving disruptive in other industries – the Internet of Things and voice-activated home automation technologies are a good example of that – and then see how we can apply those disruptive elements and what they represent to our products. For us, it's going to be the evolution of home automation tech, biometrics, face recognition and machine learning that continue to make our products relevant and current without losing sight of what our core mission is. We need to continue to listen to our customers and then safely apply appropriate technologies to our products based on what they're asking for. We don't try to do everything on our own. We are working with Apple, Amazon, Google and other emerging tech companies to help identify what's next and then bring value to their technologies, all in service to our shared customers."
According to Martens, that combination of thinking ahead and applying technology responsibly leads to important insights. For example, connecting a garage door opener to a fire alarm in a home automation system.
"The last thing you'd want to happen in a home fire," says Martens, " is for your alarm system to automatically open your garage door. While, at first blush, it would seem logical to provide such an escape route, this actually creates a rush of oxygen that can fuel the fire and make it worse. These are the kinds of problems, these unintended consequences, to which Schlage's expertise in fire and life safety can offer solutions. We need to have the capacity to think through such issues in developing connected technologies."
Connected technologies provide an opportunity for companies like Schlage to create tailored experiences for their customers. Two-thirds of smart home speaker users conduct local searches for products, services or local business at least once a week. More than half search daily and nearly one-third of them will visit the website of a local business after conducting their search. What's more, 60 percent of them just started doing so in the last year!
When you factor in the rapid adoption of home automation, it's clear that these technologies are going to continue to play an increasing role in our daily lives. Companies like Amazon, Apple, Google and Schlage – and influencers like Allegion's Rob Martens – are going to continue to define what's next and develop technologies, products and services that definitively answer that question.
Look for more from Schlage, Rob Martens and other key influencers at Schlage.com.