Schlage Sense™ Smart Deadbolt now works with Yonomi
By emily.bailey
The Schlage Sense lock is compatible with Google Assistant, Alexa, Homekit, and now, plays seamlessly with Yonomi.
The Schlage Sense™ Smart Deadbolt is now part of the Plays with Yonomi device family. The Schlage Sense lock joins over 130 connected products, including the Schlage Connect™ Touchscreen Deadbolt, Philips Hue, Honeywell, LIFX, Nest, ecobee, and more.
Schlage Sense smart locks
are compatible with new or existing Routines on your Yonomi account and add new levels of automation to your devices. Bring your home to life with these beautifully crafted designer locks from Schlage.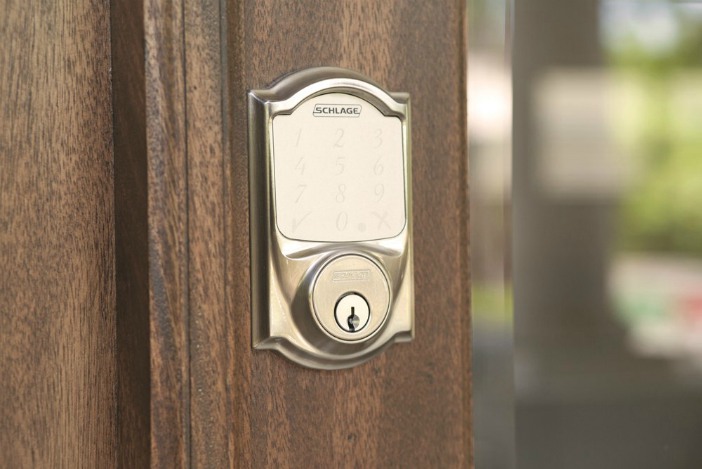 Convenience, security, and a design that makes sense
The Schlage Sense™ Smart Deadbolt is among the strongest, most intelligent Bluetooth® enabled locks, with the highest industry rating for security and durability. The Schlage Sense lock is compatible with Google Assistant, Alexa, Homekit, and now, plays seamlessly with Yonomi. The new integration allows users to control their locks as part of Routines with other smart home products within their connected homes.
With the Schlage Sense deadbolt, you can:

Create up to 30 unique access codes so trusted friends and family can enter using their code at the lock's touchscreen
Schedule access codes so guests can only enter when you want them to
Use the Wi-Fi Adapter to check on the lock's status from anywhere, so you never have to wonder if the front door was left unlocked
View past activity to see which codes have been used and when
Adding your Schlage Sense smart lock to Yonomi Routines
Adding your Schlage Sense locks is easy and works by either adding your locks to existing routines or creating brand new ones. Here's how to connect your lock to a new routine:
1. Launch Yonomi, tap on the Routines tab and select +
2. Tap Add Event + and select Location, swipe right to select I leave home
3. Tap Add Action + and select the action you'd like executed first
4. Customize your action by swiping it to predefined options or tapping the text to edit notifications
5. Continue to add actions in the sequence you'd like them executed
6. You can also add conditions if you'd like your Routine to run only under certain circumstances (e.g., time of day)
7. Once you're complete, tap Save in the upper right-hand corner
Ready to get started? Have Alexa lend you a hand by setting up a Dinner Party Routine.
Dinner party routines with Yonomi
Take advantage of Yonomi's new "Routines within Routines" feature to create the perfect setting for your next dinner party.
1. Create a "Dinner Party Lights" Routine:
a. LIFX lights turn warm for all living room lights
b. Philips Hue outdoor lights turn on patio lighting to bright
c. Philips Hue turn on garden spotlights
2. Create a "Dinner Party" Routine:
a. Lights are adjusted for Dinner Party Lights routine
b. Nest adjusts the temperature to 72 degrees
c. Sonos turns on your favorite party playlist
d. Front door Schlage Sense deadbolt is unlocked
Still chopping vegetables in the kitchen when the first guests arrive? Just tell Alexa or Google Assistant to "turn on Dinner Party" and Yonomi will take care of the rest!