Celebrating a Design Master: Happy Birthday to Frank Lloyd Wright
By Ted_Roberts
We sat down with Ted Roberts, our Style and Design Chief, to tell us a little more about Wright and how he has influenced home and interior design today.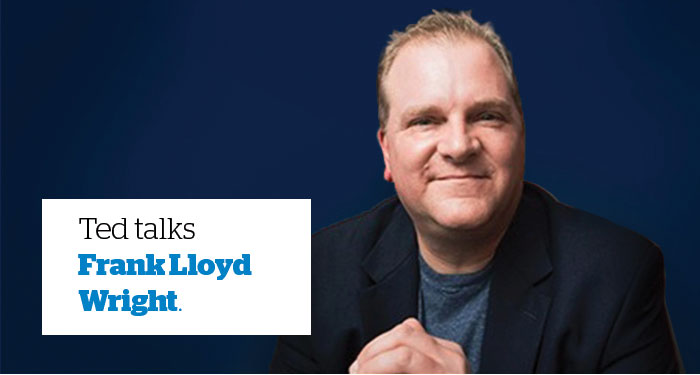 Today is the birthday of an absolutely iconic American architect: Frank Lloyd Wright. Born on June 8, 1867, Wright was more than just an architect – he also dabbled in interior design, writing, and teaching, and you can easily see his influence still alive today in some of the most well-known design trends.
We sat down with Ted Roberts, our Style and Design Chief, to tell us a little more about Wright and how he has influenced home and interior design today.
Q. What kind of designs was Frank Lloyd Wright known for?
A. "What's interesting about Frank's work is that it spans a pretty long period of time, so he worked in several different styles. The style of his early work is Prairie, where the colors and materials are somewhat similar to Arts & Crafts, but more focused on the social aspect of the space. There was a lot of focus on combining the interior and exterior of the home – bringing outside materials inside and blending the two. These styles tend to be lower to the ground, with a lot of horizontal lines and built-in oak woodwork, stone, with colors of ocher, brown and green. One of his strategies for merging the interior and exterior of the home was to create 'walls of windows' – large stretches of glass that opened the home up to the outside environment.
His next period is known as Textile Brick, which took place in the 1920s and 30s during the Art Deco period. This was his version of Art Deco in fact, which featured a combination of smooth surfaces and highly ornamental stone and block patterns.
Usonian was his last major style, which began in the late 30s until his death. This style was very organic, incorporating curves and straight lines but with a more asymmetrical aesthetic that featured a lot of odd angles."
Q. What was Wright's overall philosophy toward architecture?
A. "Over his entire lifespan, you can see that his work evolved so as not to become outdated, but his primary philosophy always stayed the same – it was only the strategies he used to carry out that philosophy that changed. Wright always believed that architecture was at its best when it was honest to its environment, incorporating local materials and a design that is harmonious with its natural surroundings. Falling Water is the perfect example of this philosophy – it's a beautiful home built with local materials from the ground up that melds with its surroundings in a way that feels totally natural.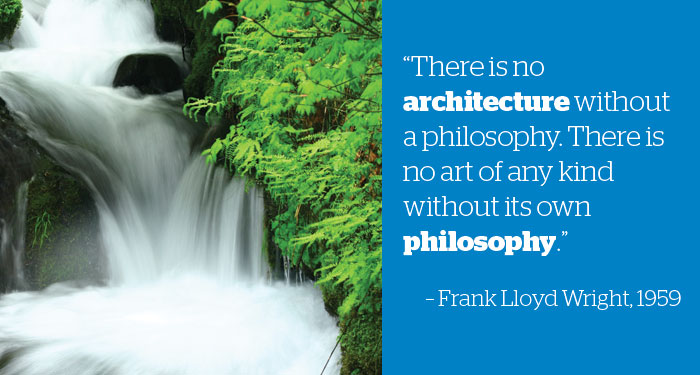 Wright also believed that the needs and character of the owner were important to the design, as well. While community and having shared space was important to him, Wright was loyal to the American ideal of individualism. With the industrial revolution and standardized, repeatable designs becoming the norm, he was always striving for a unique style different from the Victorian and Edwardian homes that were popular when he first began his career."
Q. What is Frank Lloyd Wright's legacy today? Where do you see his influence?
A. "Wright's philosophy of personal independence and blending into nature can still be seen in both architecture and interior design today. But his most important contribution has been the emphasis on open spaces. The Edwardian and Victorian architecture that was popular during his early days featured a lot of very closed off, formalized spaces. Wright opted for an open floor plan that is very popular today because it allows families to interact even when they are in different sections of the house. No one is siloed – there are the standard private areas, bedroom and bathroom, but there is also more opportunity for connection and socializing in an open floor plan.
Perhaps the most remarkable thing about Wright though is simply his notoriety. I think most people, at least in America, would name him as the one architect they're aware of – even though there are so many others with comparable talent. His impact and recognition level is very impressive and just go to show how iconic his designs could be – especially when you think about how many of his designs have become museums."