How to make a smart door hardware purchase
By emily.bailey
When you need a new door lever or door knob, you'll find that there are a lot of options to choose from. Get our tips for making this process as simple as possible.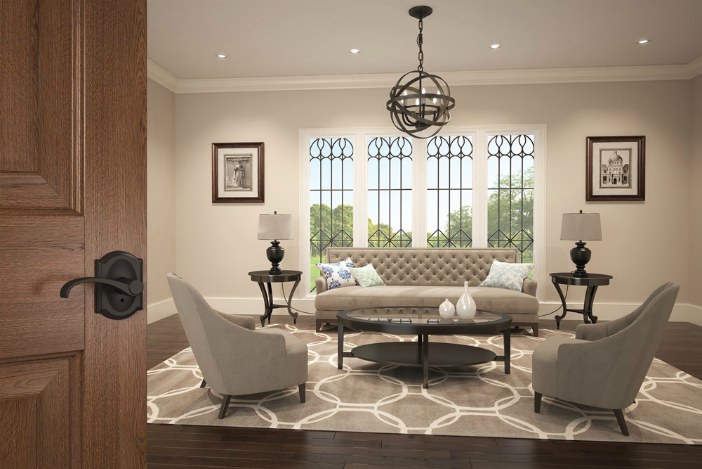 When you need a new door lever or door knob, you'll find that there are a lot of options to choose from. There are keyed entry locks for exterior doors, locking, non-locking, and non-turning interior knobs and levers, not to mention deadbolts and handlesets. Take into consideration the multiple styles and finishes available, and it may be difficult to know where to start.
Let Schlage be your guide
First, check out our door hardware shopper's guide. The shopper's guide breaks the options down into simplest terms, giving you the inside scoop on important door hardware lingo and making it easy to figure out exactly what you need.
But beyond just features and functions, how do you know that you're making a smart door hardware purchase? How do you find solutions that are simple and offer long term value? It's tempting to grab the cheapest lock in the aisle that sort of looks like what you used to have, but the truth is that door hardware for the home is a little bit like accessorizing your outfit. Just like a pair of shiny new shoes or your favorite necklace, door hardware can be the perfect detail that elevates everything around it to the next level. In other words, it's worth putting time into – but not too much time.
Keep it simple
Which brings us to our most sound advice: look for brands that offer simplicity. Door hardware is usually categorized into a variety of functions depending on which door in the house it will go on. Schlage Custom Combined Interior Door Hardware makes things a little easier by allowing you to switch between two settings: locking and non-locking. The locking option is perfect for bedroom and bathroom doors where you may like some privacy, while the non-locking option is ideal for hallway and closet doors.
Most interior doors fall into these two categories, so instead of tallying up how many of each you need, you can get a Schlage Custom Combined Interior lock that will work with both. Plus, it only takes a few minutes to install and all you'll need at home is a screwdriver. You can't get easier than that.
Consider the benefits
Two functions in one lock also offers long term benefits. If you have young children in the home, you may opt for the non-locking function for safety. Later in life, as your family moves up and out, you may want to turn that bedroom into a home office with a lock on the door. Whatever life sends your way, a Schlage Custom Combined Interior lock can adapt to fit your evolving needs year after year.
So next time you want to give your home a style lift without investing a lot of time and money, consider how easy it would be to add new knobs or levers. With the premium style and design of Schlage Custom door hardware, as well as the innovative Combined Interior function, you'll be getting the most bang for your buck!