How to bring summer fun to your entryway
By emily.bailey
Coming home to a fresh, inspiring entry with signs of summer on display is a great way to downshift from a busy day or week. Embrace that easy, summery feeling the moment you step through the door by making a few adjustments to your entry. Here are eight ways to do just that.
1. Set a relaxed, beachy tone
When you walk in the door, what is the first thing you would love to see? Choose one object that represents the essence of summer to you and place it prominently in the entry.
Try this: Prop up a vintage seaside painting; fill glass jars or lamps with sand; stack a few favorite beach reads or books about the sea.
2. Keep summer essentials on display
Just looking at a row of straw hats on hooks and stacks of colorful beach towels is soothing, so don't keep your beach gear under wraps.
Try this: Keep a beach bag stocked with all of your essentials, from swimsuit to sunscreen, packed and ready by the door. After each trip to the beach, take the time to wash and repack everything, so you'll be ready to go next time.
3. Pare back and streamline
Summer is all about taking it easy — so why not make things simpler and easier for yourself by doing away with excess stuff? A small tray for mail (emptied regularly), some hidden storage and a few carefully chosen decorative accessories are all you need in your entryway.
Try this: Without thinking about it too much, empty everything that screams "clutter" into a cardboard box. Ratty shoes, old mail, the entire contents of your junk drawer — all of it. If it helps, imagine that a photographer is coming to shoot your entry for a magazine cover. Hide the box if you must, but if you haven't even peeked inside in a month, out it goes.
4. Find stylish storage solutions
Of course there are things we all need to have access to, though they may be less than magazine shoot–worthy. But that doesn't mean they have to end up sprawled all over the floor. Bring in some extra covered storage, and voilà — problem solved.
Try this: Cover a basic round table or demilune with a floor-length cloth, and use the space underneath for storage. Use a lovely Nantucket-style basket to hide keys or dog leashes.
5. Lighten up a small space
Go for an airy feel in a small entry with an all-white color scheme. Lack of clutter is key here, so it helps to be vigilant about putting things away immediately.
Try this: Pair a whitewashed mirror with a bracketed wall shelf and add sun-bleached coral and shells for decoration. A few baskets placed on the floor or on wall hooks can contain shoes and other essentials.
6. Give the stairs a bold new look
An entry that opens into a stairwell can feel a bit boring. Make sure yours puts a smile on your face by employing bold strokes of color and embracing positive memories with a photo wall.
Try this: Paint a runner on your stairs by taping off the middle section and coating with the color of your choice. Match your picture frame color to the runner for a fresh, coordinated look.
7. Make use of beachcombing finds
Giving driftwood, sea glass, smooth stones and shells a home by the front door is a wonderful way to welcome summer.
Try this: Attach long pieces of driftwood to the wall using L-brackets and screws for a one-of-a-kind display. Borrow a few hurricane lanterns from the deck to ramp up the beachy vibe.
8. Give floors the summer treatment
Summer can be hard on floors, especially near entrances — be proactive by rolling out a rug that can stand up to traffic. Bare floors are cool and easy to clean, but know that sand will scatter far and wide. If you go for bare floors, keep a sweeper in a closet close by.
Try this: Outdoor rugs are ideal in the entry because you can literally hose them off as needed. Natural-fiber rugs like jute, sisal and sea grass feel great on bare summer feet and are easy to shake out.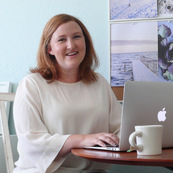 I cover topics ranging from decorating ideas, product picks, Houzz tours, and interviews with designers and architects, to the monthly home maintenance checklist.