6 Interior Remodeling Projects You Can Do On Your Own This Winter
By emily.bailey
There's no reason to wait for spring to give your home a refresh. Here are six interior remodeling projects you can easily tackle this winter.
When it comes to home remodeling activities, the bulk of your projects may take place during the warmer months of the year. But, there's no reason to waste time waiting around during the cold and letting those winter blues take over. Here are six interior remodeling projects you can easily complete on your own while Mother Nature keeps you indoors and give your space an exciting boost.
1. Install a new light fixture.
Light fixtures can go a long way in transforming your space. Do you have a room that suffers from inadequate lighting? Or outdated fixtures that stick out like a sore thumb from the rest of the hardware in the room? As long as you don't have to do any re-wiring, installing a new light fixture is a project even the least experienced DIYer can accomplish. Just be sure to follow the manufacturer's instructions, ensure that all power to the room is off and follow one of many reliable tutorials online.
Try giving the doors in your home a refresh. Whether it's a new coat of paint or a door hardware refresh, this is an easy project you can easily accomplish in one weekend. Check out
these creative door makeovers
for inspiration or
try our style selector tool
to find the perfect style and finish for your hardware.
3. Refresh your bathtub and tile.
A quick and easy way to breathe new life into your bathroom is to freshen up the grout and recaulk the tub. This project will take less than an afternoon to accomplish and the results will have a major impact. There's no shortage of tried and true methods for cleaning grout online so do a few searches to find the best method for you and cross this off your list.
4. Replace dresser and cabinet hardware.
If your dressers and cabinets are in great shape but could use a style refresh, consider adding new hardware and drawer pulls for a modern touch. Try matching the hardware to your doors or light fixtures or add a unique look by mixing finishes. Check out our guide for mixing finishes the right way
here
.
Adding a backsplash to your kitchen, bathroom or bar is a great way to add visual interest and make your space look more complete. With a little patience and attention to detail, you can complete this project in one weekend and add a fresh splash of color or bring the whole look together in a cohesive way.
Chipped paint and dingy crown molding can take your home from looking clean and modern to frumpy and neglected. Take some time this weekend to touch up the little chips and consider giving your trim and crown molding a fresh coat of paint to liven things up.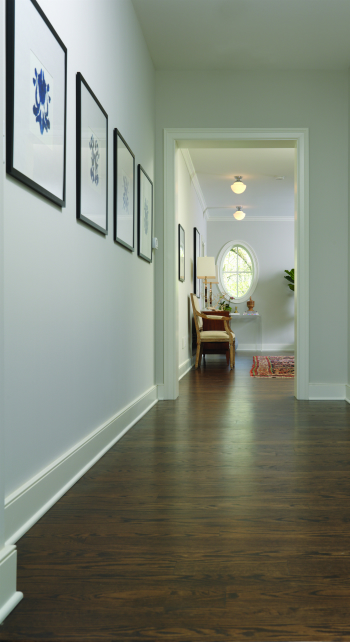 What projects do you have on your to-do list while you're indoors this winter? Comment below to let us know and be sure to share photos of your progress with us on Facebook!