What you need to know about the Schlage Sense™ Smart deadbolt
By emily.bailey
Wednesday, January 20, 2016
Still unsure whether the Schlage Sense™ Smart deadbolt is right for you? We put together this list of commonly asked questions to help you decide.
Still unsure whether the
Schlage Sense™ Smart deadbolt
is right for you? We put together this list of commonly asked questions to help you decide.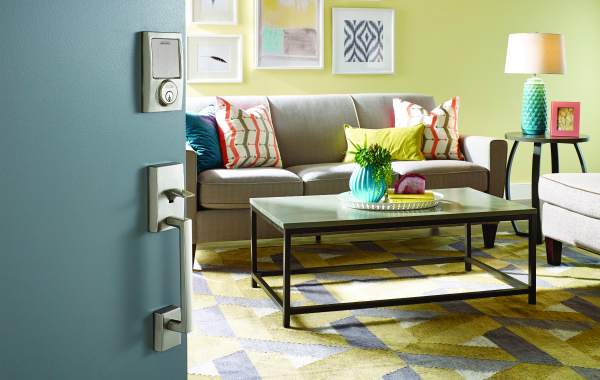 1. What exactly is HomeKit™?
HomeKit allows you to use your iOS device to control any of the "Works with Apple HomeKit" accessories that you have in your home. HomeKit also allows you to ask Siri® "Is my door unlocked?" and tell Siri "Lock my door please." For more information, please see the following website provided by Apple: https://support.apple.com/en-us/HT204893.
2. How do I use Siri with my Schlage Sense lock?
Once your lock is paired with your iOS device, you can use Siri to command the deadbolt to lock and unlock or check the status of your lock. Here are a few common examples: "Siri, lock/unlock my door." "Siri, is my door unlocked?" When you pair your lock with your iOS device, you will be asked to give your lock a Siri nickname. We recommend that names should not include the word 'lock' at the end for optimal Siri performance.
3. Can I add other people's iOS devices to the lock?
You may have multiple people in your household that need access to your HomeKit accessories. You can easily invite anyone with an iCloud® account to share control and everyone in a shared home can see accessory updates. In order to add another iOS device to your HomeKit home, you must be in range of your Schlage Sense lock; however, the user you are adding does not need to be in range of the lock, but does need to have an active internet connection.
4. How do I lock and unlock the door from my iOS device?
You can either command through Siri for your door to lock or unlock, or operate the lock using the commands available in the Schlage Sense app. If you see a red "locked" padlock, this means the deadbolt is extended and your lock is locked. A green "unlocked" padlock means the deadbolt is retracted into the door and is unlocked. If you see a red triangle with question mark, this means something has prevented the lock from reaching the locked or unlocked state. If this happens, please ensure the door is properly aligned and the thumbturn is securely in the locked or unlocked position. Simply tap the icons in the app to move the lock from unlocked to locked and vice versa.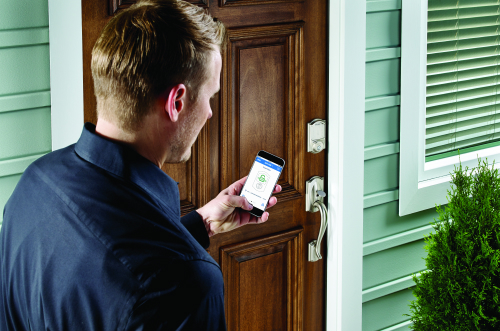 5. What if my family or friends do not have an iOS device?
For guests, service personnel, friends, and family members who do not have an iOS device, a unique 4-to-8-digit access code may be added to the lock quickly and easily through the Schlage Sense app. Just tap the user icon in the bottom right corner of the Lock screen. Tap the + icon in the upper right corner of the screen. Add access code information and tap "Save" in the upper right corner of the screen. See our guide to setting up
effective keyless codes here
.
6. Can I add more than one iOS device to the lock?
Once you've completed the setup process for your lock, all of the iOS devices you own can be used to control the Schlage Sense lock as long as you use the same iCloud account. You do not need to re-add each of your iOS devices. Simply log into the same iCloud account that you used on the device that performed initial lock setup.
7. How do I add an Apple TV® to my HomeKit home?
Apple TV provides remote connectivity to your HomeKit home. Simply set up your Apple TV (3rd generation or later with Apple TV software 7.0 or later) and log into iCloud on the Apple TV using the same iCloud account you are using on your own iOS device (for example, the iPhone you used to setup your lock). We recommend placing your Apple TV within 40 feet of the lock.
8. Can I view previous events that happened at my door?
The Schlage Sense lock logs the last 100 events that occur at the door. This includes events such as lock/unlock, user added/deleted, alarms, low batteries, batteries replaced, lock jammed, firmware updated, and logs cleared. To view logs, simply tap the last logged event shown below the lock on the main screen and all events will be shown. Logs may be cleared by tapping "Clear" in the upper right corner of the logs screen.
9. Can I modify access codes that can be used on the lock touchscreen in the app?
Managing access codes is easy with the Schlage Sense app. Just tap the Users icon in the bottom right corner of the lock main page to present the Access Code screen. All access codes currently in the lock are listed on this screen. Tapping each access code allows you to modify the name, access code, or schedule for each access code. You can even quickly disable or enable codes by tapping the "Disable/Enable" button.
10. Can the amount of access an individual has to my home be limited?
You may find moments where you need to give access to a dog walker, service personnel or housekeeper but want to limit to a certain time of day. You may schedule the amount of access each access code is permitted by tapping the Users icon and tapping the access code you wish to modify. Two independent schedules (start time, stop time) may be added to each day of the week. But remember – HomeKit users you have added to your HomeKit home have continuous access to your home.
11. Can I expect periodic maintenance or firmware updates with my lock?
Firmware updates provide new features and enhancements to your Schlage Sense lock that make it even easier to keep your home safe. A firmware update will take approximately 15 minutes to complete, and your iOS device must stay connected over Bluetooth® to your Schlage Sense lock for the duration of the update. Your iOS device will disconnect from the lock in the last minute of the update. When the lock has completed the update, the lock will flash red LEDs and beep to inform you the process is complete. Please ensure the lock batteries are at a level greater than 30% before beginning the firmware update process.
12. How can I access my lock remotely?
If you have an Apple TV (3rd generation or later) with software version 7.0 or later, you can control your HomeKit-enabled accessories when you're away from home using your iOS device. Sign into iCloud with the same Apple ID on your iOS device and Apple TV and you'll be able to use Siri commands to remotely control your accessories. Please see the following website provided by Apple for further information: https://support.apple.com/en-us/HT204893