How to Properly Clean and Care for Your Electronic Touchscreen Deadbolt
By admin
Friday, November 20, 2015
Keeping your Schlage electronic touchscreen deadbolt free and clear of dirt, oil and other contaminates is easy when you follow these simple steps.
Keeping your exterior door hardware looking like new while it builds up with dirt, oil and other contaminates can often be accomplished with a little warm water and a damp cloth. But what if your deadbolt is an electronic touchscreen lock? Are there special precautions you need to take to properly care for your hardware?
Whether you own the Schlage Sense™ Smart deadbolt, Schlage Connect™ Touchscreen deadbolt, or Schlage Touch™ Keyless deadbolt, maintenance is easy as long as you follow these steps below.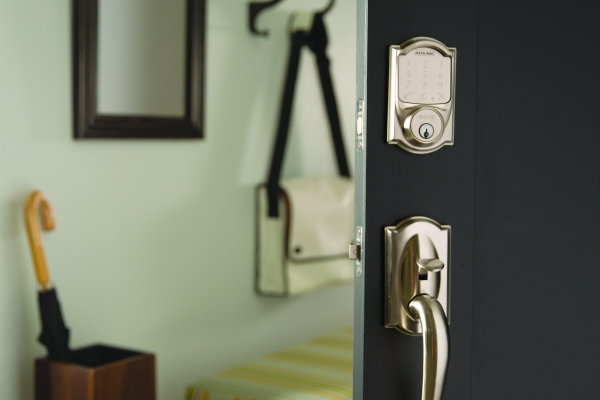 DO rinse the touchscreen with warm water prior to cleaning process.

DO follow the application of soap with a damp, lukewarm cloth.

DO NOT use abrasives, high alkaline cleaners, or gasoline.

DO NOT leave cleaners on touchscreen for long periods - wash immediately.

DO NOT apply cleaners in direct sunlight or at elevated temperatures.

DO NOT use scrapers, squeegees or razors.
You may also clean the bolt of your deadbolt with a mild dish soap and warm water. This is a great way to improve the performance of your deadbolt should the bolt begin to slow down or stick.
If you run in to any performance or maintenance issues with your electronic deadbolt, be sure to check the manufacturer's warranty. Here at Schlage, we offer a 3-Year Limited Electronics Warranty and a Limited Lifetime Mechanical Finish Warranty with each of our keyless locks. For more information, please visit schlage.com.