Friday, September 19, 2014
This blog features Schlage employees who are passionate about the products and services they support.
Have you heard the saying, "you never get a second chance to make a good first impression?" We bet you have. Perhaps that is why entryways are so critical to a home's style statement. It is in the entryway that you greet your guests with warm embraces, kiss your children as they leave for school and wipe your pet's paws after playing outside. A home's entrance sets a tone for both those who live there and their guests.
So what tone is your entryway setting?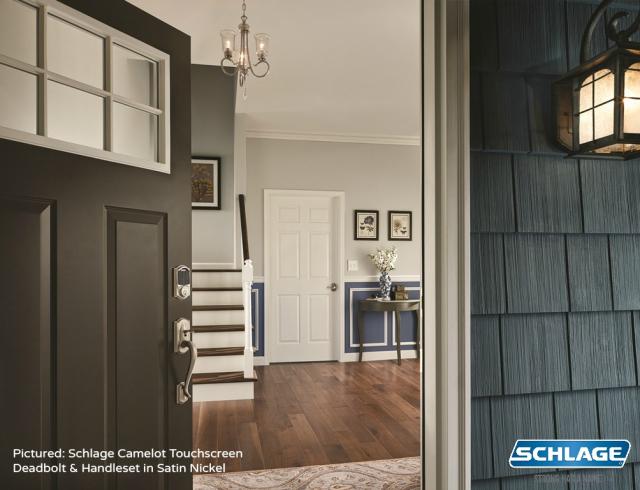 An entrance begins with the front door, before ever setting foot inside the house. If the exterior of your home isn't quite giving off the welcoming vibe try some of the following ideas:
Give life to your front door by covering it with a fresh coat of paint and a new set of modern door hardware like these handlesets from Schlage.
If your door is beyond the help of paint, consider replacing it with a new door. Keep in mind that small entryways benefit from the light a glass paneled door allows in.
Don't forget to accessorize! Lights, flowers, doormats, seasonal wreaths and the like can instantly create a welcoming tone for your guests before they walk in your home. (Tip: check out this Door Decorboard on Pinterest for ideas!)
After walking through the door, the entry or foyer area work to set the tone and style for the rest of the house, so it's important that it reflects what's going on in the rest of your home.
Providing you have enough space, a narrow console table styled with an artful collection of decorations and set off with a lamp can create an impactful welcome.
Don't have the luxury of a large foyer? No worries! Simply hanging a piece of art, or collection of photos can make a statement on their own.
Create a specific mood by adding a chandelier or other statement-making light fixture.
Add a dimmer option to your entrance lighting. This will allow you to change the mood of your home from bright and cheery to warm and calm without changing a thing.
What good is style without function? Make sure your entryway fits your family's practical needs as well.
Lay down a durable (yet visually-appealing) rug to give your family and guests a place to wipe their feet or remove their shoes.
If your home is carpeted you may prefer your guests to remove their shoes. Make sure your entryway has a place for these shoes to be stored out of sight when not in use. Canvas boxes, baskets and wooden cubbies can provide both stylish and functional storage for these items.
Take care of the clutter. Often times entry tables can end up being storage for mail, keys and other random items. This is not what you want your guests to see when they walk in the door. Additionally, storing keys, purses or other valuables right by the front door is not a smart security move as it tempts potential burglars with easily-accessible valuables left in plain sight. Try to find another place in the home for these items. If you must keep these items in your entraceway, use clever storage solutions to camoflauge the clutter.
Laura L.| Schlage Digital Marketing