Make holiday hosting stress-free and give your guests exactly what they want and need by following this checklist.
'Tis the season of giving … and hosting family and friends … and maybe feeling overwhelmed by all the planning and festivities. Don't fret about forgetting something amid all the chaos. Make holiday hosting stress-free and give your guests exactly what they want and need by following this checklist.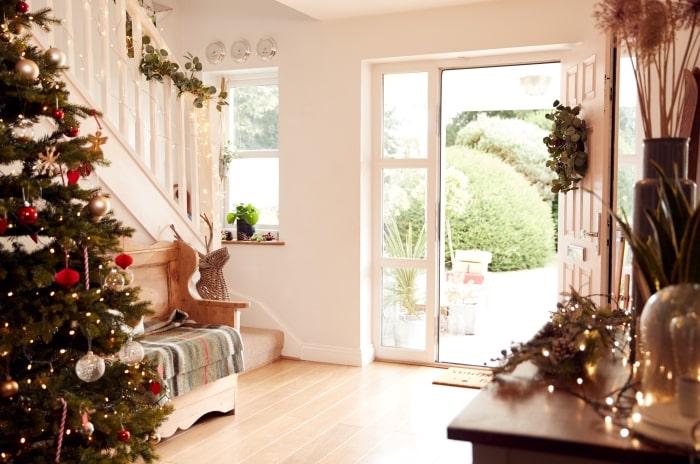 Give them a warm welcome
Start the visit on the right foot by paying attention to details that make people feel at home.

Style your front door decor with a gorgeous wreath or green garland for porch railings

Repair, clear and de-ice walkways, driveways, porch steps and railings

Prepare a mudroom to receive guests, hang coats and stow shoes and boots

Light a fire and stock the hearth with extra wood

Offer cozy blankets for evening hangouts
Give them their privacy
Especially if you have overnight guests, give them some room to unwind by themselves and feel at home. It will give you the privacy to unwind in your own space as well.

Prepare the guest room with fresh linens and plenty of cozy touches, or convert another room just for visitors

Clean out a drawer, closet space and bathroom shelf for guests' belongings during a long stay

Update door knobs and levers with Schlage Custom™ Combined Interior Door Hardware so guests can lock their door if they need additional privacy

Hang blackout drapes for privacy from the neighbors and the sun when sleeping in
Give them access
A study by OnePoll found that having the ability to come and go with ease was one of the leading ways to make guests feel at home.

Give guests their own Schlage smart lock access code. Send it before their arrival so they won't be locked out, even if you aren't home yet

Provide the WiFi password

Offer a cheat sheet with tips for using your smart home devices like lamps or speakers
Give them some refreshments
Holiday calories do count unfortunately, so the least you can do is make them worth it.

Set up a self-serve drink station or bar cart with fixings for delicious coffee, hot chocolate or cocktails

Provide simple grab-and-go snacks and quick breakfast items like bagels and fruit

Place a tray with bottled water and your guests' favorite treats in the guest room before arrival
Give them some entertainment
Whether going out or staying in, make it easy to enjoy each other's company.

Set out a selection of board games

Pull out your favorite holiday movies or add some to your Netflix queue for easy searching

Share a list of local attractions, shops and restaurants to explore

Provide books and magazines for guests who want a quiet night in
Give them a gift
Homemade and heartfelt, a gift for the holiday or as a party favor can show how much you care.

Visit the new Schlage gift giving guides for inspiration, no matter who you're shopping for
Every family's traditions are different, but you can't go wrong by following this simple holiday hosting checklist. Make guests feel welcome while giving yourself the chance to enjoy the season as well.
Need more hacks for getting your home ready to host for the holidays? Check out our blog archive for simple updates you can tackle when you're in a holiday hurry, tips for decorating your front porch and ways to improve your security for the holiday season.