This blog features Schlage employees who are passionate about the products and services they support.
Law enforcement agencies around the country have noticed that home invasions have steadily increased since 1995, when "home invasion robberies" were first brought to the limelight on "The FBI Law Enforcement Bulletin." (leb.fbi.gov) Because of the confusing nature of the different state laws and crimes, verifiable statistics are hard to come by for home invasions in the United States. What we do know is that 1 in 5 homes in the US will be broken into or experience some sort of home invasion – in other words, more than 2,000,000 U.S. families! These statistics are frightening. (ccwbystate.com)
While there are several little things you can do to improve your home's security, it's time to start thinking about how you can seriously arm your home. Here at Schlage®, we've created the strongest security products available to the residential home market and are bridging the gap between security and design. Our newest line of keyless electronic locks, Schlage Touch™ and Schlage Connect™, offer a variety of benefits that fulfill your security needs and add a high level of convenience to your everyday life. We've outlined the top features of each lock below to help you decide which keyless lock will give you the most peace of mind.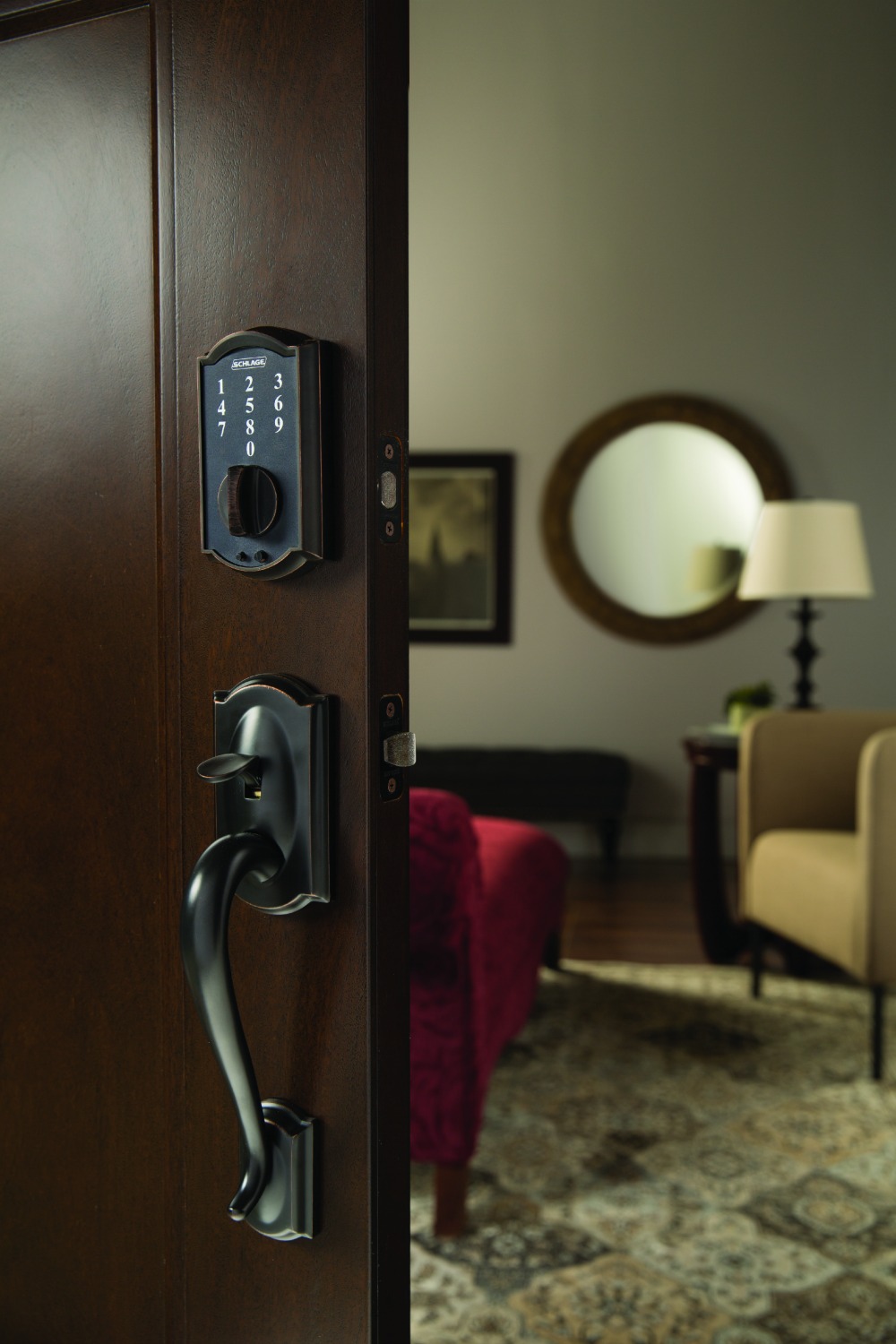 Schlage Touch is perfect for any adult or family with an active lifestyle that needs to allow each member to come and go multiple times a day. Its sleek, keyless entry will keep you from worrying that one of your kids will lose her key or an intruder will find the hidden spare.

• Sleek profile that doesn't sacrifice strength.
• Illuminated Touchscreen that is fingerprint resistant
• Works in the rain and with gloves on
• 100% bump- and pick-proof
• 2-year battery life with a 9V battery backup
• Up to 19 unique access codes available
Schlage Touch ensures that only the people you want in your home have access.
Schlage Connect allows you to use a computer, tablet or smartphone to monitor your home from anywhere. If you want to unlock your front door from the beach-- no problem. With its built-in alarm, you can always know when someone's coming or going. It's the first lock to notify you of a possible breach before an intruder enters your home.
• Sleek profile that doesn't sacrifice strength.
• Illuminated Touchscreen that is fingerprint resistant
• Works in the rain and with gloves on
• Strong, motorized deadbolt with an anti-pick shield
• Up to 30 unique access codes available
• The only
Z-Wave® compatible
lock to feature a built-in alarm system
• Create and delete codes remotely for visiting friends and family
• Receive alerts when people enter*
* Remote access requires a compatible home automation or security system. Features are dependent on platform provider.
Schlage Connect allows homeowners to control their locks no matter where they are. With its unique features and home automation compatibility, it's our most advanced lock yet.
When choosing the best keyless lock for your lifestyle, you really cannot go wrong. Both products are easy to install with no wiring required and guaranteed to fit on existing, standard pre-drilled doors. All you need is a screwdriver.
Schlage is trusted for security. Strong has a name. It's who we are; it's what we do. And for more than 90 years, we have brought uncommon strength to everything we design, build and test to keep you safe, sound and secure.
For more information about our Keyless solutions, please visit Schlage.com.