7 reasons gold knobs and handles are here to stay.
By emily.bailey
Thursday, November 17, 2022
Is brass hardware a fleeting trend or a timeless essential? These décor ideas show that gold fixtures make perfect additions to any home, classic or modern.
Looking for an alternative to the satin nickel or matte black hardware that's common in so many homes? Many DIY interior designers are finding modern ways to incorporate brass door hardware. Instead of the bright, shiny brass that was so popular in the 80s, say hello to
satin brass
. The trending version has a softer texture and muted hue. It adds an appealing touch of luxury and class to any piece of door hardware. Are these gold door knobs and handles likely to stick around for a while? We think so. In addition to adding a touch of glam, gold complements on-trend warmer colors. Here are seven reasons we believe satin brass finishes can suit a variety of personal tastes.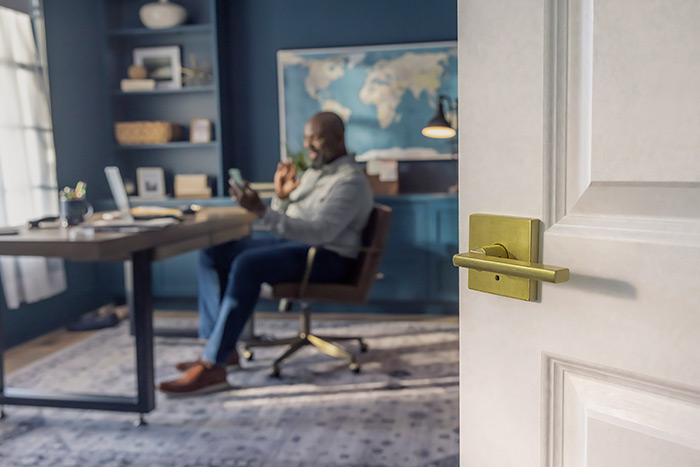 Easily complements other finishes
If your home is currently full of nickel or chrome finishes, you don't have to swap out all your hardware just to add a gold door knob. Choosing a modern finish like satin brass is perfect for mixing finishes. Get inspired by this trendy bathroom from @sincerelysarad. The gentle gold of the Bowery knob goes great with the gleaming chrome of the bathroom vanity handles. What's the key to mixing and matching finishes? As Sincerely Sara D explains, you just have to focus on a unified color palette. The gold knobs highlight the light flooring, the silver handles echo the gray vanity, and the rug ties the contrasting hardware together. For best results, pick a satin brass finish because the slightly matte finish pairs well with satin nickel. This thoughtful design allows you to end up with a refreshing, modern room where metallic finishes add light and charm.

Makes neutral color schemes more interesting
Gold isn't just for flashy, busy spaces. If you love minimalist homes filled with blacks, whites, beiges, and tans, brass door handles are the way to go. This thoughtfully decorated bathroom by SMT Designs shows just how much impact gold hardware can have. The natural warmth of gold brings some softness to a room that could otherwise appear too sterile. It balances the contrasting black and white shades and adds some liveliness to the simple color palette. Unlike black or oil-rubbed bronze, this door hardware finish will not disappear into the background.
Adds interest to muted colors
If you enjoy delicate, soft décor, gold is the perfect finish for you. It's got an extra bit of class and luxury that makes it an ideal complement to lovely pastels. This post from HGTV shows how you can use gold to create a gentle, refined look. The sparkling gold adds a graceful touch to the dainty porch furniture and pale blue paint. To tie all the elements together, the brass door handles coordinate with the letterbox and porch lighting. We particularly love the way the warm hues complement the yellow and pink floral accents.
Coordinates with bold jewel tones
Gold tends to be an eye-catching door hardware finish, so it pairs nicely with rich colors. While subtler finishes would get completely overlooked next to a vibrant room, brass holds its own. In this example, Designer Ursula Carmona proves that brass is the perfect companion to rich cabinetry. The jewel tones of the shelving seamlessly set off the brass hardware of the door. To add even more rich color, the desk is styled with peacock blue candle holders and emerald green plants. When using golden hues to create a stylish, maximalist vibe, it's important to design your home thoughtfully. Make sure to use a harmonious color scheme and balance the busier décor with some simpler pieces.

Highlights your architectural details
Do you have a home with an unusual, appealing feature? This bathroom from Darling Down South demonstrates how gold fixtures can really call attention to your home's best traits. This home had a gorgeous console sink with gold legs that the designer wanted to emphasize. The combination of a soft color palette and gold-tone hardware makes this unique bathroom shine. This post also provides some helpful tips on using hardware to enhance your home's layout. The bathroom is a little small, but the matching gold provides a peaceful look that makes the space seem bigger.
Harmonizes with modern decor
Don't make the mistake of assuming that brass door knobs are only for antique homes. Though gold is certainly traditional, it's timeless enough to work with chic, modern homes too. This post from Mackenzie Craven provides some helpful tips for getting a modern look with gold. First of all, it's important to pick a sleek, simple door handle or lever without a lot of decoration. Next, make sure you're pairing gold with darker colors that help ground the sparkle. Finally, select larger gold pieces that add some bold, artistic flair to your decor.

Gives your home some vintage charm
Tara from The Carneys Bloom showcases bright brass door knobs in her renovation of a historic home. What makes gold so perfect for restoring vintage houses? Compared to modern chrome, brass is far more authentic. Over the centuries, it's been one of the most popular metallic options for door hardware. This makes it ideal for adding a vintage touch to your home no matter how old it is. You can pick paint colors and furniture that match your personal style while still using a few time-honored accents. As this cute post from Tara shows, gold hardware pairs particularly well with other historic accents like antique frames. This is a great way to emphasize the classic nature of gold and keep it from seeming too trendy.

As you can see, gold and brass are ideal finishes for your home's hardware. They provide a little modern glam while still maintaining traditional elegance. Looking for more ways to create a home that showcases your unique style? The Schlage blog features many ideas to customize your house. Explore our site now to start your next project.