Fire safety tips to keep your home and loved ones safe.
By emily.bailey
Friday, November 11, 2022
As temperatures start to drop outside, getting cozy inside your home is more attractive than ever. But before you do, take some time to review these residential fire safety tips.
As temperatures start to drop outside, getting cozy inside your home is more attractive than ever. Cooking comfort food, lighting a fall candle, or enjoying the season's first evening around the fireplace may sound like the perfect autumn activity. But before you start on any of these, first review residential fire safety tips to keep you and your loved ones safe.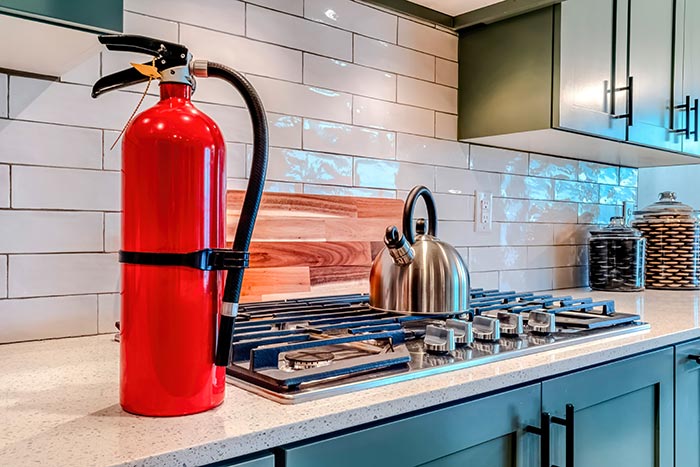 Working Smoke Detectors
The first step for home fire safety is to make sure you have working smoke detectors. At minimum, every home should have a smoke alarm on each level and outside all sleeping areas. Installing smoke detectors in each bedroom is also highly recommended. If you aren't sure how old your smoke detectors are, it is a good idea to have them tested and/or replaced because older smoke detectors are less effective. Once installed, put a reminder in your calendar to test the batteries and vacuum around them to remove cobwebs (dusty smoke detectors are more likely to have a nuisance alarm). Smoke detector batteries need to be replaced at least once a year.
Strategically Placed Fire Extinguisher
Another key home fire safety measure is to have one or more fire extinguishers strategically placed in your home. When purchasing a fire extinguisher, look for one that is rated "A-B-C" and recommended for home use. Not all fire extinguishers are operated the same way; take time to proactively read through the instructions because there will be no time to do so in the event of a fire. Fire extinguishers should only be used by adults, so place them high on a wall where they are out of reach of children. When installing your fire extinguishers, choose a location that is near an exit and away from heat.
Keep Bedroom Doors Closed
Why is keeping bedroom doors closed a fire safety tip? Closed doors slow the spread of flames. Fires need oxygen to grow, and closed doors limit the airflow available for combustion. Keeping a fire contained gives firefighters more time to arrive on the scene and quickly handle the situation. Another important reason to keep bedroom doors closed in the event of a fire is that it helps contain smoke, reducing the risk of smoke inhalation as your household members evacuate.
Choose UL fire rated locks from Schlage
UL Fire rated locks are independently certified through Underwriter Laboratories, Inc. to meet product safety requirements in the event of a fire. Because not all locks are fire rated, it is important to carefully read product descriptions before purchase. If you are shopping for a fire rated lock, confirm that it is "UL certified" before purchasing.
Consider Emergency Egress
Can your doors be easily unlocked and opened in an emergency? Schlage's keyed locks all feature emergency egress so you can unlock your door from the inside by simply rotating the lever, allowing you to leave quickly and conveniently. This feature provides peace of mind that, in the event of a fire, you and your household will be able to evacuate as fast as possible. If you aren't sure what kind of door lock to choose, use our product selector tool to find the best option for your specific needs.
Create an Emergency Plan
Having an emergency plan for your household is the best way to make sure everyone is on the same page in the event of a home fire. Think through your home's layout and outline two ways to evacuate from every room in your home; this gives you options in case one path is blocked. If you have a two-story home, consider purchasing emergency ladders. Your emergency plan also needs to identify a household meeting spot outside where everyone can safely convene. Once you have a fire emergency plan in place, make sure everyone in your family knows it. Practice the plan on a regular basis – at minimum, walk through the plan every year with your family. If you have children in your home, teach them about smoke alarms so they can identify what smoke detectors are, what a smoke alarm sounds like, and what to do if they hear a smoke alarm go off. Lastly, make sure everyone in your home knows how to call 9-1-1 and how to respond with stop, drop, and roll if their clothes catch on fire.
Being careful to review fire safety tips regularly can keep you and your loved ones safe during a home fire emergency. At Schlage, we are committed to protecting what matters most. Looking for more ways to make your home safer this fall? Check out the Schlage blog for fall home safety and security projects.