Safe ways to let your kids help redecorate your home.
By emily.bailey
Thursday, September 23, 2021
There are kid-friendly houses, and then there are houses made by kids. Here are 12 ways to redecorate with your kids without making it look childish.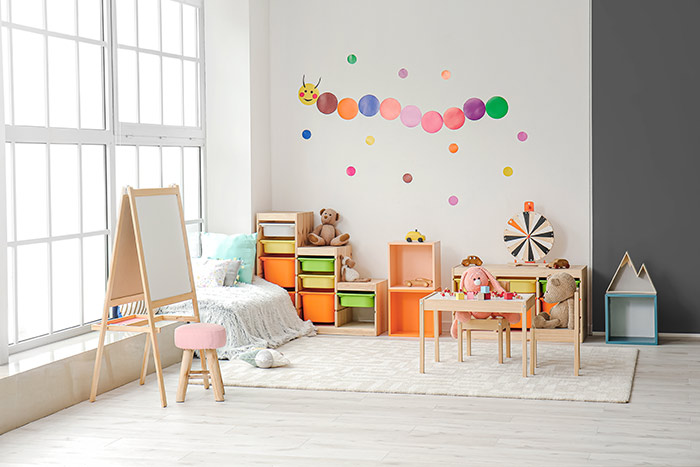 There are kid-friendly houses, and then there are houses made by kids. When you're redoing a room or redecorating your entire home, there are plenty of benefits and ways to get the whole family involved. Your kids will feel a greater sense of ownership and pride in the house when they have a hand in transforming it, and you'll be able to pass on important life lessons throughout the entire process. Here are 12 ways to redecorate with your kids without making it look childish.
Plan together
Sometimes the simple act of coming up with ideas and dreaming is even more fun than completing the design. Grab your tablet and cruise through Pinterest together. Or get some design magazines and have everyone rip out the pages that inspire them most.
You can even turn it into a craft project of its own. Have the kids create a mood board with construction paper and glue, then let them pitch their proposal to you like true interior design professionals.
Make it a game
Unlike when we were kids, today's youngsters have all kinds of technology to test out a look before making it permanent. Set them loose with game-based AI and apps like Planner 5D to see how they'd design your home. You might not take all their ideas, but they're bound to have some unique ones you want to incorporate into your renovation.
Get on their level
Younger kids literally see the world around them from a different perspective. Because they're shorter, they notice things we tend to overlook. They might spend more time playing on the floor or gazing at things upside down as they hang off the side of the couch. Take some time to experience your home like they would. Notice how comfortable the carpet is (or isn't) to lay on. Kneel and try to reach things on shelves and countertops.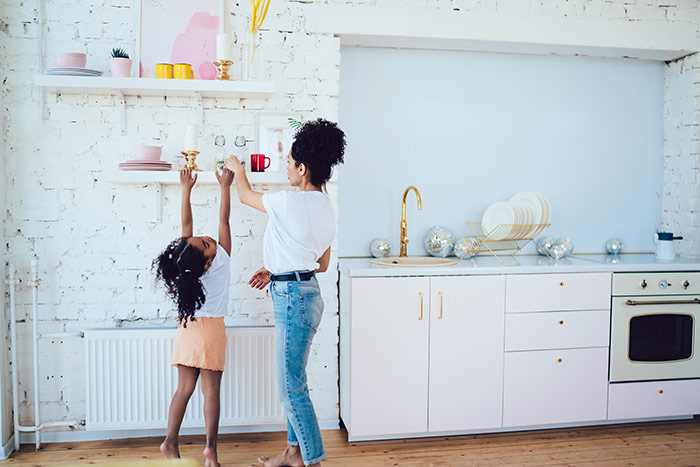 Ask them
Sometimes finding out what they like and want is as simple as asking their opinion. Before settling on cushions for the porch swing, ask them if they like the fabric pattern. How do they think the furniture should be arranged? Do they have any ideas for lighting? Again, you don't have to do everything they say, but listen and talk about why their ideas might or might not work. Encourage their thought process, insightfulness and creativity.
Find out what would make their day better if it were different, too. It could be something as simple as hanging hooks lower in the entryway so they can put their coats and other belongings away more easily. But if you don't ask them, you might never know what simple adjustments can have a major impact.
Let them pick some colors
The kiddos are less likely to be drawn to greige, so if you're more comfortable with neutrals, letting the kids choose your color scheme might be a little anxiety-inducing. There are ways to work around that. First, you can give them a set of colors to choose from. For example, pick up some swatches at the paint store full of the blues and greens you like, and let the family choose within those parameters.
Another option is to let them go hog wild with accent colors. If they choose bright orange, roll with it. Just incorporate it as throw pillows, accessories or artwork. Maybe the polka dot wallpaper lines the inside of the cabinets instead of being plastered all over the walls.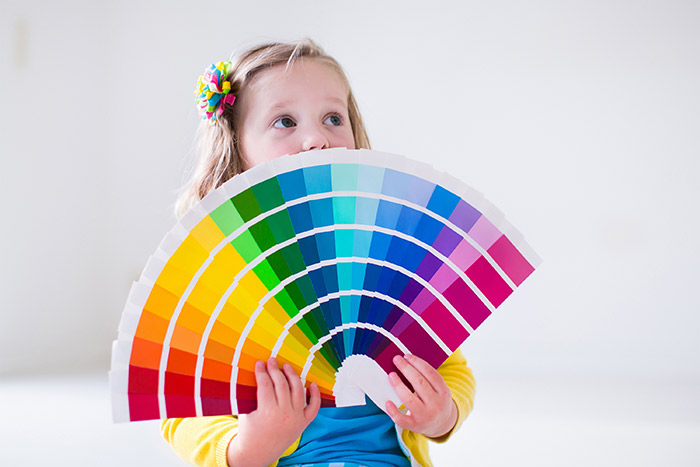 Think about textures
Kids especially can be very tactile. Include them when picking out textiles. While you're more focused on the look of an area rug, they might open your mind to the possibilities of the feel of one. It's not just about fabrics, though. Anything with a raw stone finish – popular in artisanal and natural design – could end up delighting them. And the knurling trend in hardware and plumbing has been picking up steam in recent years. Who knew a faucet lever could be so fascinating to tiny hands?
Embrace whimsy
Cute and fun don't have to butt heads with sophisticated and trendy. Houseofchaise elevated their bathroom with stylish accessories and popular wave-like tiles for a swanky look. But those rattan baskets with a fox face have a kid's touch all over them. It's all about balance.
Take them shopping
Even if you have final say in which couch you buy, take the kids with you to showrooms and stores, or sit with them while you browse online together. It's good to include them in every step of the interior design process – you never know what lessons they'll pick up – plus they might make observations you hadn't thought of. That couch you thought was comfortable? They're the ones who will notice the pattern it leaves on your cheek after a nap.
Put them to work
Depending on how old your kids are, some tasks will be more appropriate than others. Younger kids might be able to help you sand a side table before repainting – make sure they have proper goggles, mask and other safety equipment first – while the older set could help with retiling or replacing door hardware. Participating in these manual tasks can help develop hand-eye coordination, attention to detail and important safety lessons.
Tailor the task not only to their skillset and age level, but to their interests as well. If you have a little builder on your hands, let them help install cabinet hardware. Do they love books? They might love to refinish or decorate their very own bookshelf. Or maybe they're more into sewing and can make new curtains or pillowcases. Making it special to them could encourage them to help today and in the future.
Outsource the accessories
As you put the finishing touches on the room, recruit the kids to showcase their own artistic flair. Let them buy whatever pieces they think will tie the room together – this is also a great chance to teach them about budgeting – or have them create their own one-of-a-kind art pieces to display. Older kids might like to flex their DIY skills when you give them a piece of secondhand furniture and the freedom to upcycle it for your new space.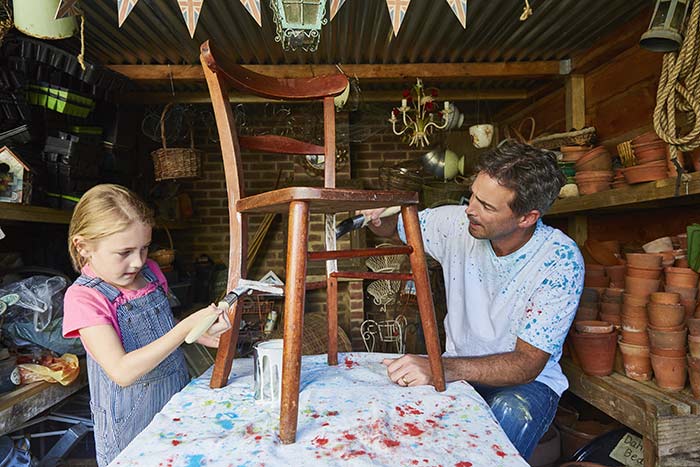 Give them room to groove
Let kids design a room from start to finish. You can give some constraints, but also grant them as much leeway as possible. You might give them free reign over be their own bedroom, the basement play area or, if you're feeling really trusting, somewhere like the powder room. Not only can you teach important lessons like budgeting, collaboration and compromise, but you'll be giving their emotional development a boost, too. According to many child psychologists, letting your kids decorate their own room helps them feel more comfortable in their space, lets them know that you trust their decision-making skills and gives them the chance to express their personality creatively.
Get outside
If redoing your home's interior isn't of interest to your child, maybe they'd more enthusiastic about an outdoor project. Gardening is a great activity for people of any age, and the kiddos might love to get their hands dirty. Now might be the time to finally plant that children's patch or sensory garden. Maybe they can build a birdhouse or help install a water feature.
Not ready to hand over power tools to the kids just yet? We don't blame you. Instead, try these DIY projects for kids of any age. They're the perfect opportunity to teach them home improvement skills and safety so they'll be ready for your next family project.