6 tips for a welcoming smart home.
By emily.bailey
Everyone loves a smart home … up until the moment they're yelling at Alexa and can't figure out why she won't turn on the light.
Everyone loves a smart home … up until the moment they're yelling at Alexa and can't figure out why she won't turn on the light. (Hint: The lamp might have a confusing name.) With these six tips, you can create an easy-to-use smart home for you, family members and guests.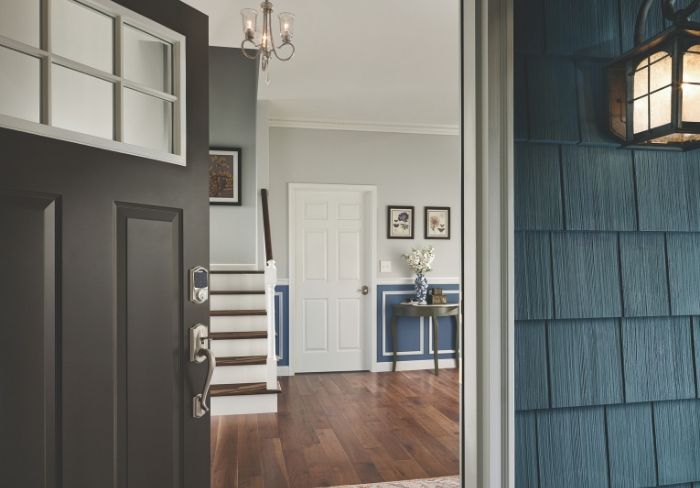 1. Focus on the essentials
Whether you're building a smart home only for yourself or thinking about others in the house, decide which devices are most important to you. Are smart lights/thermostats you can adjust remotely/smart locks/irrigation control for your backyard/all of the above critical? The more smart devices you try to integrate, the more difficult it might be for young family members, visitors – anyone you welcome into your home. There's so much fun technology out there, it doesn't take much to get carried away. But if ease of use is a high priority for you, be judicious about how you set up your home automation system from Day One.
2. Keep it simple
Are you using voice control as part of your home automation system? Keep the commands simple. You don't want guests stumbling over "Turn on downstairs desk lamp" when "Turn on lamp" will suffice. And if you have kids, How-To-Geek recommends keeping voice commands as basic as possible and with short, easy-to-say words.
3. Grant access with a code
Sending a virtual key for your Schlage Encode™ Smart WiFi Deadbolt or Schlage Sense™ Smart Deadbolt is a super-convenient way to grant home access to guests without having to share a physical key that can be lost or forgotten. Virtual keys are administered and used via smartphone, but if guests don't want to use the Schlage Home app or are too young to have a smartphone, you can also set up access codes to use on your Schlage smart deadbolt's keypad. No matter which smart lock you choose, you can assign multiple access codes that give visitors, your kids or whoever you trust keyless convenience and the ability to come and go as they please.
4. Enter guest mode
Some devices, like Google Home, will be more guest-friendly when you enable their Guest Mode. Sure, visitors can still activate the device's basic functions even if it's not in Guest Mode, but to play their own music from their own phone, you'll want to set this up. Most devices have some similar features – Apple HomeKit lets you send invites to guests for greater access – so take the time to learn how your technology works best for your visitors. They'll definitely appreciate it.
5. Back it up
Some people simply won't or can't take advantage of all of your smart home technology. You can't always expect a toddler to control the lights with voice control after all. Maybe a visually impaired guest can't see the touchscreen. When this is the case, be prepared with traditional backups. A typical light switch, a mechanical key for your front door or a traditional remote may be just the thing that makes people feel more comfortable in your home.
6. Go ahead and cheat
When all else fails, never underestimate the power of a cheat sheet. A simple list of instructions and common voice control commands that lets guests take advantage of your smart home's technology can reduce confusion.
Security – for themselves, their loved ones, their belongings – is one of the main reasons people integrate smart home technology into their lives. Visit Schlage.com to learn about smart solutions for your own home.