Complete Your Modern Home With a Bauhaus-inspired Finishing Touch
By admin
Inspired by the Bauhaus design movement, Northbrook lever, Upland trim and Collins deadbolt are the perfect finishing touch for the contemporary home. Find out how to get the look in your home.
Minimalist home decor features like right angles, clean geometric shapes, and flat surfaces are beginning to peak in the modern home decor space. These popular features are rooted in the 1920s through 1930s Bauhaus style that was sparked by the Bauhaus art school in Germany - the most influential modernist art school of the 20th century. The Bauhaus design movement began with the goal of uniting art and design to focus on function as much as form to reunite creativity and manufacturing.
Here at Schlage, our designers have worked to create the perfect finishing touch for design purists that are interested in the modern look. Introducing: Upland Trim, Northbrook Lever and Collins Deadbolt.

The Northbrook lever is imaginative and refined, offering a new view on minimalist design. This lever packs a punch of style with its unique detailing and inventive transition from square handle to round shank, illustrating a fresh interpretation of true Bauhaus design.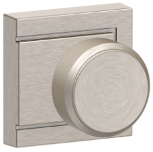 The Upland trim offers a fresh take on simplistic design by focusing on the beauty of its shape alone. The Upland trim was specifically designed to work with the Northbrook lever, but also pairs nicely with the Century handleset.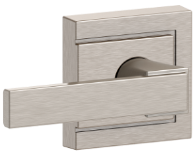 Northbrook by Upland is inspired by the clean lines and sharp corners of the Bauhaus design movement, making a strong, simplistic statement. This combo suites well with highly contemporary furniture and modern décor and allows homeowners to extend the modern styling of their home to their door hardware without paying the price premium that usually comes with such niche styles.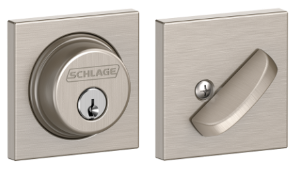 The Collins deadbolt stems from Northern Europe where styles like Bauhaus and minimalism flourished, giving it a modern, international flair. The strong lines and square shape of the Collins deadbolt embody refined elegance and provide this trim with a distinct, minimalist appeal. When paired with the Northbrook lever with Upland Trim in a Satin Nickel finish (featured below), the Collins trim takes on a modern, contemporary style.
Which design movement influences your
contemporary style
most? Comment below to let us know! And if Northbrook by Upland and the Collins Deadbolt are the perfect finishing touch for your home, be sure to share your photos with us on
Facebook
!