Try out one of these 12 DIY home remodeling projects you can complete in an afternoon and add resale value to your home.
Like many homeowners, you may often feel overwhelmed with the number of improvements you need to make to your home. It's hard to see the progress when you're focused on large projects that take months to finish. This week, try focusing on the little improvements that take no more than an afternoon to accomplish and still make a big impact on the resale value of your home. Here are 12 DIY projects you can add to your to-do list and check off in no time.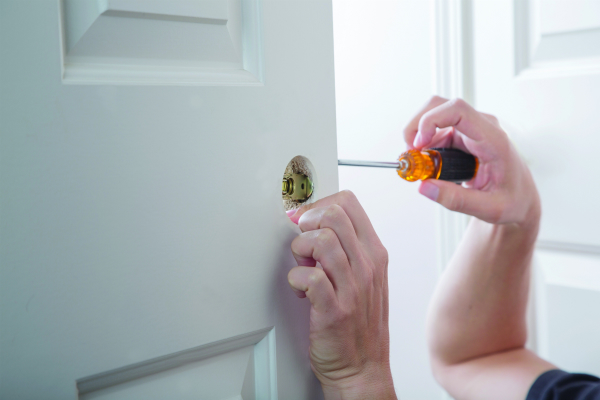 If you're looking for a way to liven up a room and don't want to spend a whole weekend painting, try adding an accent wall or spruce up an interior door. It's a small effort that's sure to make a big impact on the look and feel of the room. It's even easier to paint it back to a neutral color if you decide to sell your home in the future. Here's a list of our favorite
bold interior doors
and a few stylish ideas to
accent a wall
you likely haven't thought of yet.
2. Update your door hardware.
Replacing your outdated door hardware for a new style and finish is a great way to add a finishing touch to the decor in your home. If your home is full of an outdated finish like bright brass, try updating to something more classic like Satin Nickel or Aged Bronze. Maybe your style is more contemporary and your current door hardware screams traditional. Take the afternoon to get rid of the contradiction and finally bring your home decor together. If you're not sure where to begin when choosing door hardware, our
style selector tool
is a great place to start your process.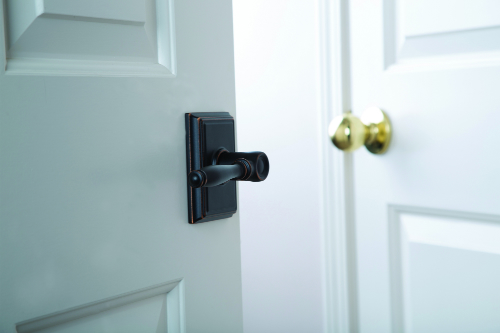 Just like the hardware in your home, the type of lighting you have installed can make or break a room. Replacing a light fixture may sound intimidating at first, but it's a job any do-it-yourself homeowner can accomplish. Just be sure to follow the manufacturer's instructions and follow one of many tutorials available online.
Adding crown molding and trim is a simple way to make your home appear more expensive. Crown molding creates a polished look that can take any mediocre room to wow-status in no time. Try prioritizing one room at a time, starting with the most trafficked spaces, for a quick afternoon project. Here's a great tutorial for
installing crown molding
from DIY Network to help you get started.
Open shelving allows you to both stay organized and make a stylish statement without taking up too much space in the room. Show off some of your unique items like family heirlooms and flea market finds while also making it easier to access the items you use on a regular basis. Here's one of our favorite step-by-step tutorials for creating
open shelving
in a small bathroom.
Overtime, the grout in your bathroom and around the tiles in your floors can build up with too much dirt, mildew, or even mold and become a stained mess. Cleaning up and refreshing your grout so it looks brand new is a great way to make your house appear more polished and taken care of. A simple search on Pinterest will turn up numerous tutorials full of tried and true
grout cleaning methods
.
7. Spruce up your hollow core doors.
Is your home full of cheap, hollow core doors? Replacing all the doors in your home is expensive and requires a lot of time to accomplish. Try sprucing up your
hollow core doors
with one of these
budget-friendly projects
. You'll be surprised at the end result!
There are several items in your home that tend to collect dust over the years that unless you make a point to take a look, you may never notice. If you're listing your home for sale, these forgotten places could cause potential buyers to think you didn't care for your home as well as they'd like. Take some time this weekend to seek out and clean those often ignored spots like vents, outlets, hardware, back doors, gutters, fence, and lighting fixtures.
9. Upgrade your front door.
The front door is your chance to make the best first impression whether you have guests coming over or just listed your home on the market. According to this year's
Cost vs. Value Report
from Hanley Wood, replacing your front door has an ROI of 101.8% - the greatest return when compared to many common home remodeling projects. Try adding a splash of color to liven things up or choose a new energy-efficient model for a quick project that is sure to pay off. Don't forget to add a wow-factor with a stylish new handleset. Check out five of our favorite
front door looks
for inspiration.
10. Repair sidewalk and driveway cracks.
Take some time to identify problem areas before they become a major headache. A crack in your sidewalk or driveway can easily be repaired with a little concrete sealer. If you let them go unattended for too long, you could end up with a bigger and more expensive project.
11. Install new cabinet hardware.
Just like with your interior doors, updating cabinet hardware can take your kitchen or bath from outdated to modern in a matter of 30 minutes or less. If you're not sure how to choose the right hardware for your home, try matching the finish with existing lighting and plumbing or follow our
guide to mixing finishes
and create a more unique look.
12. Revamp your bathroom or kitchen tile.
If you're bored with the look of your kitchen or bathroom tile, try adding a unique touch with removable vinyl tile decals like Tile Tattoos®. This is an affordable way to try something new that will take no time at all to install and is easy to remove when you want to try something new.
What other projects can you complete in an afternoon? Comment below to let us know!