What Designers Really Think of Door Hardware
By admin
We spoke with a two interior designers to get the scoop on what the pros think of door hardware as it relates to a home's overall style.
Locks, door handles, levers, knobs, whatever you call them, are high-impact details that are often overlooked in a home. We spoke with a two interior designers, J.D. Dick of
Cabinetry Ideas
and Tom Korecki of
Thomas & Jayne Interior Design
, to get the scoop on what the pros think of door hardware as it relates to a home's overall style. Here's what we learned:
On overall styling in a room or home -
J.D.: I pay close attention to the client and their character. I like to encourage the growth of their style and their home's design. I'm not afraid to push a client a little out of their comfort zone, as long as I maintain a core connection to who they are.
Tom: Every client is different; design is about reading the client well and then executing on what is right for them. I believe good design is timeless. Classic doesn't always mean stodgy and old.
J.D.: I often think about reinterpreting some of the looks from the past. There's never really an original idea – things get recycled and revamped. A mix of contemporary and traditional finishes allows you to live in a space and develop your style without feeling that everything has to be perfectly matched. It's more approachable.
Tom: I think when you mix it up, it gives everything a little more timeless feel. To me, a well-composed room, even if it was all done in one day, should look like it was done over time and acquired pieces. Having the same finish throughout can make it look more like one era only.
On selecting hardware as a finishing touch -
J.D.: Door hardware can be the jewelry of the room. Too under-scale doesn't allow the room to be all that it can be, while overstepping the boundaries can distract from the overall harmony in the room. It's a pet peeve that often selections like door hardware are easily put on the backburner. A well-thought-out hardware selection is going to be worth the time because it's a piece that's could last for the life of your home.
Tom: I tell all my clients this: invest in good hardware, it's the jewelry in the room. Matte Black, Polished Nickel, and Satin Nickel are three finishes that I use most often. Oil-Rubbed Bronze is also fairly timeless.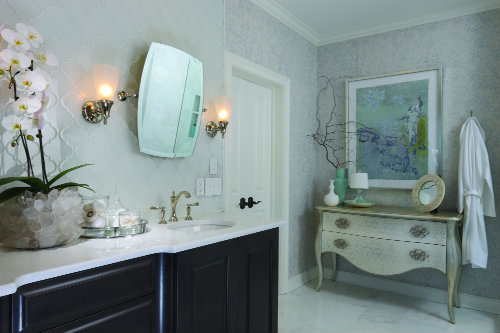 How door hardware completes a room's style -
J.D.: Manufacturers like Schlage are important, because they look at the trends and offer designs that can work with those trends to create a cohesive statement. A dark finish is a great way to have a subtle pop against a classic white; sometimes that simple statement is so timeless.
Tom: I coordinated the hardware in the master bathroom because I think the nickel is complementary to the spa feel of the room.
If you're thinking of upgrading the locks in your home, now is the perfect time! To help you decide which finish is best for your home, be sure to check out our ultimate guide to door hardware finishes.