Get smart and healthy with wellness technology for your home.
By emily.bailey
Wednesday, September 16, 2020
Try some of these high-tech options if you're designing a wellness home or encouraging your family to be healthier.
Many predicted that the average home in 2020 would have about 500 smart devices. It's reasonable to ask at least some of that technology to help you achieve your health goals. More people are even expecting it from the get-go. Try some of these high-tech options if you're designing a wellness home or encouraging your family to be healthier.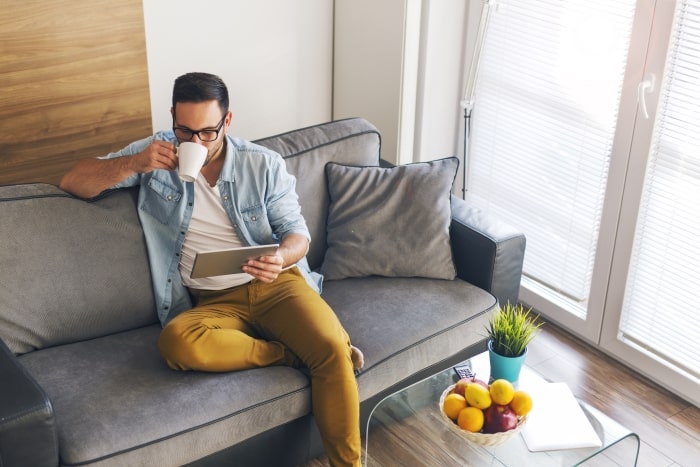 Smart tech in the kitchen
We recently wrote about going low-tech in wellness design and shared kitchen tips like creating an efficient floorplan and ventilation to improve your eating habits. Smart devices can help in a lot of the same ways, especially if you pair them with those more traditional solutions.
Many devices, including smart refrigerators or this counter they're testing in the WHIT lab, can help you find healthy recipes based on the ingredients you have on hand. Some might also talk you through the recipe, sharing how-to videos, offering ingredient substitutions and helping with meal prep. This smart home aid can take some of the struggle out of eating healthy, especially when the main obstacle is know-how.
Look into smart appliances and fixtures that can help you on your culinary journey as well. Delta VoiceIQ is a smart faucet that senses and adjust water temperature, is voice controlled and can measure the exact amount of water you need, even if you're using an unusual container. And some smart ovens will monitor whatever's cooking to make sure your meal is plated at the right temperature and never dried out (hopefully). Think how much easier it is to feed your family well when what you serve is prepared to perfection.
Smart tech in the bedroom
We're all familiar with that sleepy feeling that makes us feel sluggish, cranky and unproductive during the day. Two of the most impactful ways to get better sleep are through improving air quality and lighting. Although studies show that poor air quality does not cause sleep deprivation, they are linked. When it's harder to breathe at night, you are likely to have a harder time getting to sleep and staying there, similar to those with sleep apnea. It can also increase the chances of other respiratory disorders.
You can upgrade your HVAC system to more effectively handle air toxins or get an air purifier to do the same job on a smaller scale. Keep in mind that some indoor air quality monitors that do just that – monitor. Investigate all the features of a device if you want something that can not only detect VOCs and allergens but also automatically make the necessary adjustments to improve the air quality.
Artificial light interrupts our circadian rhythm, meaning it makes it more difficult to sleep at night and feel refreshed in the morning. Adjustable color temperature lighting can help counteract this problem by mimicking natural sunlight and helping us reset our sleep schedule, improve mood and reduce anxiety. Aside from its everyday benefits, circadian lighting has been shown to also help those who suffer from seasonal depressive disorder as well as those recovering from jetlag or unusual work schedules.
In an unexpected twist on circadian lighting, WHIT uses it under the stairs. Not only will you avoid harsh artificial light as you head to bed, but it also reduces fall hazards.
To state the obvious, windows let in valuable natural light. It's why so many people promote putting your home office near a window. But when they let in too much light, keeping you awake during longer summer days or by overheating the room, consider smart tinted windows or automatic solar-adaptive shades that adjust based on the sun's location. For something in between these automatic solutions and simple blackout curtains, look for remote-controlled window treatments.
Smart tech in the home gym
If exercising more is part of your wellness goal, there are more and more at-home options right at your fingertips. Of course, you can opt for smart rowing machines, Peleton and Mirror, which will guide you through workouts and provide feedback to keep you moving. But those aren't your only options.
If you're a runner who wants more out of their treadmill workouts, try these earphones that can monitor your stride. By tracking things like pace and balance, it can improve your training and maybe even help you avoid injury.
No one likes an injury. Access to physical therapy can mean the difference between getting back to daily activities and forever being hampered by aches and pains, especially among older adults. Some smart devices and healthcare providers now offer at-home physiotherapy sessions, perfect when you can't make it to an office or gym for rehab.
Finally, lest you think you need special subscription services to get a good sweat going, consider smart speakers and smart screens – it could be as simple as casting from your laptop to your television – to improve your workouts. Great music can promote better fitness. Make your space work as hard as you are and improve your chances at success.
Don't forget about making your mind stronger, too, whether it's a smart yoga mat or apps to help with meditation and mental health.
Smart tech for mother-in-law suites
Multigenerational homes are becoming increasingly common. If you have a mother-in-law suite or a separate apartment on the property, these smart home devices can give everyone peace of mind without limiting independence. Fall sensors detect when someone has slipped and, if that person is unable to get up, some of those devices will contact emergency personnel. Not all fall sensors are camera-based so you can still install some in bathrooms without sacrificing privacy.
If you or your loved one needs help remembering to take medications, smart pill bottles or even a simple schedule reminder from Alexa can help them stay on track.
Alexa and other voice assistants can do more than just remind you of things, though. They can be great for those whose vision impairments make it difficult to see a clock or read a recipe, or for someone who is unable to reach a phone if they need emergency assistance. Some studies have found that voice assistants that offer games can also help improve cognition and loneliness, two common risks to overall health among older adults.
We know technology can sometimes seem overwhelming, but once you get started, you'll love the ways it makes your life more convenient, safer and more fun. Find answers to some of your burning tech questions at the Schlage blog or follow us on Twitter.