How to conduct a home security audit in 10 easy steps.
By emily.bailey
Wednesday, August 5, 2020
Take control of your safety – and that of your family and house – with these 10 home security audit checkpoints.
We're turning 100! Over 10 weeks, Schlage is sharing its favorite top-10 lists. That's 100 tips, ideas and moments of inspiration so you can enjoy the safety, simplicity and style of Schlage for another 100 years to come.
Do you know how secure your home is? It's easy to overlook the obvious when you're staring at the same walls every day. And it's tempting to fall into risky habits when you're just trying to make it through another busy week. Take control of your safety – and that of your family and house – with these 10 home security audit checkpoints.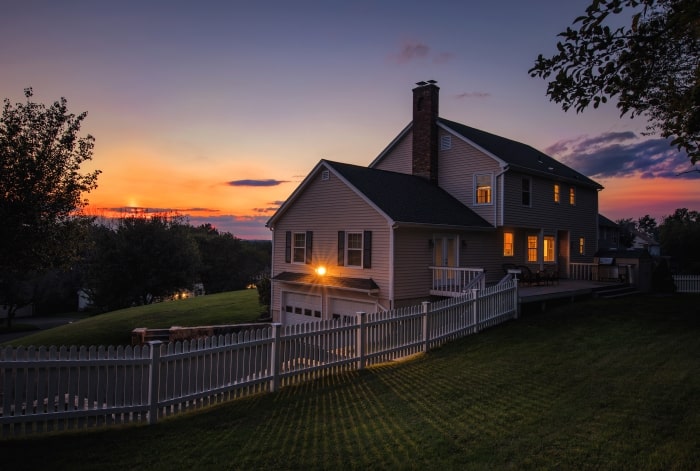 1. Locks
Your exterior door deadbolts are key to your line of defense against burglars. During your home security audit, assess what kind of lock you have and if it fits your needs, verify that it's in good working order and figure out if all exterior doors are keyed alike. If your deadbolts don't provide the security you need, consider upgrading to a more durable option or one like a Schlage smart lock that allows you to control home access from anywhere.
Read more: Increase your door security with the right deadbolt lock.
2. Keys
Especially if you've lived in your home for a long time, you may have lost track of who has a spare key. Or maybe your kids misplaced a spare. Or maybe that fake rock isn't where you thought you left it. The audit is a good time to take inventory. If you can't account for all the spares, consider replacing your locks or having them rekeyed.
3. Security system
If you have a security system, make sure the settings are up-to-date for your lifestyle, that only the appropriate people have the codes and that batteries, if required, are fresh. Consider changing passcodes and pairing your security system with smart home devices for greater security.
4. Access points
Doors and windows are both tempting entry points for intruders. Evaluate the material and condition of your door – solid core wood or steel doors are typically best – and check your windows for cracks, weak frames and broken latches. Consider installing shatter-proof glass both in traditional windows or those inset in doors. Realign and tighten door hinges.
Read more: How to choose replacement hinges.
5. Plants
Greenery does wonders for your curb appeal, but shrubs can also create hiding places for intruders and tree branches can fall on your roof or car. Keep bushes and trees trimmed, especially those around windows, doors and gates.
6. House numbers
House numbers that can be read easily from the street make it easier for emergency responders to locate your home. Remove tree limbs that may be obstructing the numbers or install new ones nearer the street, such as on your mailbox or a planter.
7. Garage
If you have a detached garage, make sure locks are in proper working order. This includes side entrances, not just where you pull your car in. Run the same checks here as you do for the exterior of your home. If you have an attached garage, do you have a deadbolt on the entryway leading to the home? Also consider updating any access codes if your garage has a keypad. If you store toxic chemicals or dangerous tools in your garage, make sure they are secured and out of reach of kids and pets.
8. Detectors and safety devices
Check that all bedrooms, kitchens and garages, at a minimum, have working smoke detectors. Carbon monoxide detectors are also a good idea, and both of these should have fresh batteries. Your audit is also a prime time for installing or checking fire extinguishers, first-aid kits and other safety devices around the home.
9. Daily behavior
Evaluate your own behavior. Do you lock your doors every time, even when you're home? Do you make it too obvious that the house is empty when you're on vacation? Find the weak spots in your own daily routines and take steps to correct them.
Read more: Home security steps you should take before leaving for vacation.
10. Family member roles
Make sure everyone in the house – from kids to grandparents – know how to keep the home secure. Everyone should know how to lock doors and windows, who is permitted access to the home and what to do in the event of an emergency.
We recommend completing an audit at various times of year – perhaps every six months – and during the day and night each time. That will help you to uncover any weak spots you might not have noticed in the daylight or when there are leaves on the branches in the spring.
After each security audit, you might have improvements to make. Consider all your options when making updates. Replacing the light bulb over your garage is simple, but installing a motion-activated flood light or camera could enhance your security even more. Simply replacing your front door lock with another that's the same but new could be enough. But you might also enjoy upgrading to a smart lock. Try our Get Help Deciding Tool to find out which Schlage smart lock is right for your home.
For more ideas on how to improve your home's security, visit our blog archive or ask us your questions on Twitter and Facebook.