The ultimate Black Friday smart home wish list.
By emily.bailey
Tuesday, November 19, 2019
Find home security gifts and smart home gadgets that will surprise the tech guru in your life. Prep for Black Friday with these Amazon Alexa compatible gifts.
It's time to start planning for Black Friday already?! Smart home gadgets could be the answer for that special someone who's particularly hard to shop for. Especially if the recipient is a fan of Alexa, here are a few home security gift ideas worth getting up early for.
One of the things we love about this list, other than the fact that it shows how to take advantage of Black Friday, is that you can go all-in or pick and choose only what you need. With the right Alexa-enabled devices – think smart plugs and smart locks – along with Alexa Guard, you can create a customized home security system for you or your loved one.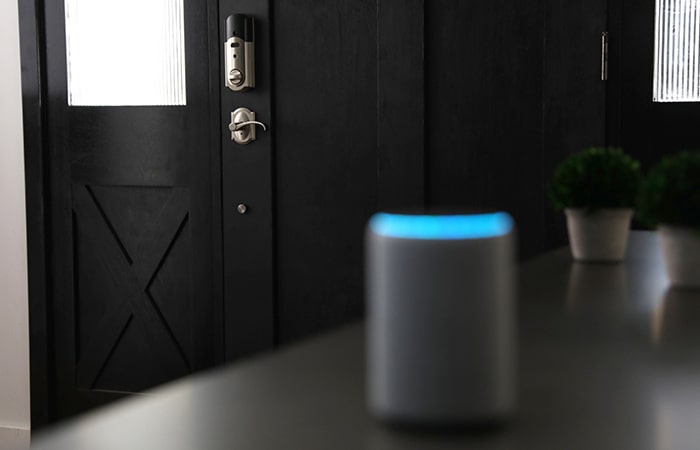 What is Alexa Guard?
This free feature has gradually rolled out to Alexa users in 2018 and is now available throughout the U.S. To summarize, Alexa Guard allows you to say, "Alexa, I'm leaving," and she will go into Guard mode. She'll start listening for the sound of breaking glass and smoke or carbon monoxide detectors and alert you via your smartphone if she hears something. Guard mode can also manipulate your lights to make it appear that someone is home as well as arm your Ring or ADT alarms.
If your gift recipient already has the gear to enable this service, well … you just saved a bundle. We bet they'd still appreciate your help setting up the feature. If not, keep reading for the home tech gifts that will make this a reality.
Which Echo is compatible with Alexa?
To set up Alexa Guard and opt in to Smart Alerts, you'll need a compatible Echo device. This includes the Echo Dot, Echo Plus and Echo Show as well as a few others. Find the complete list in Amazon's Frequently Asked Questions.
Consider the need for additional Echo devices if your loved one wants to use Guard to detect glass breaking or smoke alarms. The closer the device is to these points they want to monitor, the more effective it will be. They might appreciate an Echo Show in the living room and an Echo Dot for each bedroom, for example.
How can I control the lights with Alexa Guard?
When you tell Alexa you're leaving, Guard mode will turn lights on and off to fool potential thieves thinking about breaking in. It's not random though. Alexa uses machine learning to figure out the lighting pattern most appropriate for homes like yours, so it knows which lights to affect. You can also choose which lights to include in the Guard mode settings.
To enable this feature, get your loved one smart lights or lights connected to smart plugs that are Works with Alexa-certified.
What smart locks work with Alexa?
While they aren't yet a part of Alexa Guard mode, Schlage smart locks are compatible with Alexa-enabled devices. We especially love pairing the Schlage Encode™ Smart WiFi Deadbolt with these devices. Why? Because as the only Schlage smart lock with built-in WiFi, the Schlage Encode deadbolt does not require any additional hubs or adapters to connect with the internet or your Echo. Simply follow the directions in the Alexa app, then use voice commands – "Alexa, is my door locked?" and "Alexa, lock the front door" – to check the status of your lock and secure the door.
What cameras work with Alexa?
Security cameras and video doorbells are becoming increasingly popular ways to help protect the home. The Ring Stick Up Cam is an indoor/outdoor camera that works with Alexa. When you also have an Echo Show or Spot, you can use the Stick Up Cam to see and talk to a visitor before ever heading to the door. And because it's one of many cameras made by Ring, you can make it a part of your overall ring of security.
What are Alexa Hunches?
Separate from Alexa Guard, Hunches can also help improve home security. With Hunches, Alexa can remind you if it seems you are forgetting something. She won't randomly talk to or nag you, but if you say, "Alexa, goodnight," she can suggest that you lock your door. And because you can use Alexa to lock your Schlage smart lock for you, you don't even have to get out of bed if you did forget. That's a double-win for both you and Alexa.
We hope you like the sound of these smart home gifts as much as we do. You can learn more about the Schlage Encode Smart WiFi Deadbolt and find out where to buy one at Schlage.com/encode. If you aren't sure that's the perfect lock for your gift recipient, try our Get Help Deciding Tool. Remember that Alexa works with the Schlage Sense™ Smart Deadbolt and Schlage Connect™ Smart Deadbolt as well.
And don't be shy. Go ahead and put these gadgets on your own holiday wish list, too.