Modern comfort: Soft industrial style you'll actually want to live in.
By emily.bailey
Monday, September 16, 2019
Some designs are perfect in theory but don't seem to fit real life. Industrial modern design might be one of those styles. There's a solution for this, and it's called soft industrial décor.
We've all done it. We look at pictures of other people's homes and think, "That's gorgeous … but has anyone ever actually cooked in that kitchen?" Some designs are perfect in theory but don't seem to fit real life. Industrial modern design might be one of those styles. Concrete floors look chic but are cold on your feet, sharp furniture corners are a safety hazard for your toddling little one and you crave a bit more warmth. There's a solution for this, and it's called soft industrial décor.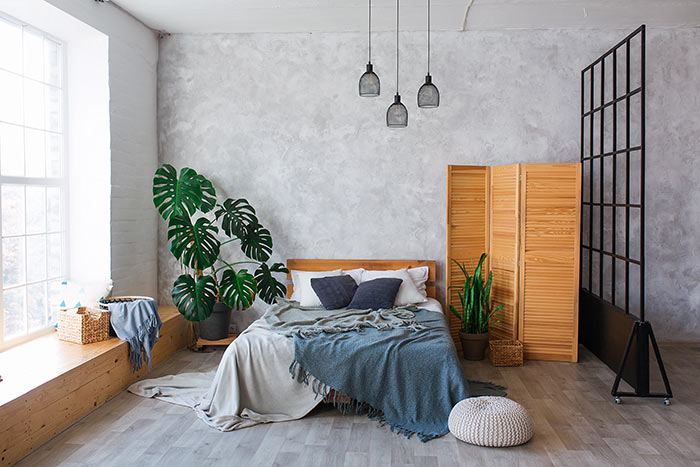 What is soft industrial décor?
Take everything you know about industrial modern and take the edge off. Iconic elements of industrial modern like steel bookcases are softened by replacing the shelf itself with wood while keeping the metal frame. Concrete floors get area rugs. Walls that would otherwise be bare or of exposed brick feature art work to ease away from industrial modern's minimalist vibe and add color and personalization.
In other words, instead of a house constructed of exposed, weathered, factory-inspired elements, soft industrialism strives for a more lived-in look. Haven describes it as "breezy." Super Hit Ideas uses "earthy" and "ergonomic" to differentiate it from its style cousin. And Mormon Momma calls it "comfortable" and "warm" rather than antiseptic.
How do I create it in my house?
You don't have to start with industrial to achieve soft industrial. Mormon Momma suggests creating that comforting (some might say feminine) room as your foundation, and then add your favorite industrial furniture and accessories from there.
Pair hard objects with soft, says interior stylist Tina Hellberg. Taken literally, that could be a steel-framed bed with a luxurious comforter. Or more figuratively, dark concrete countertops with soft-hued shiplap walls. Mixing and matching materials – steel, wood, subway tile, fabrics, glass – allows you to play with textures so that your design remains industrial without looking like a converted factory.
If the exterior of your home is contemporary, as is the case with this home spotlighted by
Remodelista
, carry that style indoors to maintain cohesiveness. Then alter it to your softer tastes by adding individual touches like artwork with personal significance, a favorite throw for the sleek-lined couch or your book collection on industrial-style shelving.
Because much of industrial design is based in minimalism, neutral colors are still key. For soft industrial, look for grays with a homier blue undertone. Or gravitate toward earthy neutrals in the brown family. Aim for the lighter and airier end of the spectrum.
What does it really look like?
It's time to get specific. Try incorporating these elements in your soft industrial home.

Flowing curtains

, why so many describe soft industrial design as breezy, can take the edge off a décor filled with hard lines like a concrete countertop. The same goes for bedding, pillows and other fabrics. To keep styles from clashing, stick to neutral tones and avoid patterns. Remember the simplicity of minimalism.
Choose artwork with fluid or wavy lines, either in the paint or sculpturally. The goal is to pull away from the precise and straight.


Flowers and other plants can make a home feel more lived in, something that many find lacking in typical industrial modern. Your plants' colors can also help soften the overall look of the room.


When choosing furniture, think about fabrics in lighter colors. A light gray, especially if it mimics the color of your walls, can help maintain the monochromatic scheme important to industrial style, but it keeps the room from feeling heavy.


How do you soften a bathroom, which is already filled with metal finishes and cold tile? Remember the importance of soft lines and choose bathtubs or sinks with curves. You can also lay tilework with an artistic flair that contrasts with – and tones down – the modern industrial pieces you do have.
What about those doors?
We wouldn't be Schlage if we didn't give some advice about entryway décor and interior door hardware. For your home's exterior, a smart lock like the Schlage Encode™ Smart WiFi Deadbolt offers superior security and, in the Century trim in Matte Black finish, makes a perfect match for homes with modern architecture.
Handlesets are another popular option when upgrading locks for your front door. Maintain the contemporary feel with a Schlage Century handleset. Or for that softer look, the Schlage Greenwich handleset might be the fit for you.
Inside, many modern industrial spaces have open floor plans, mimicking factory layouts. That openness – and lack of privacy – can cause some people to feel uneasy.
Sliding doors
are a good option to add that privacy, and when installed with the right hardware, keep with the industrial vibe.
Regardless of the type of door you have – pocket, sliding, traditional – choosing the right style and finish for your door hardware can go a long way toward achieving your desired level of industrial. You have two possible routes: make your door hardware a true modern industrial element or use it to help tone down the extreme feel. The Schlage Broadway lever or Bowery knob with the Collins trim or the Schlage Northbrook lever with the Upland trim capture a more modern look.
For the soft industrial look, try the Schlage Sacramento lever with Collins trim for a taste of wavy curves.
With each of these pairings, you can't go wrong with a Matte Black, Satin Chrome, Satin Nickel or even Polished Nickel finish . These typically fall on the modern end of the finish spectrum because of how they complement neutral-colored and minimalist spaces. Depending on the rest of your décor, they have the ability to stand out and make a statement, or to blend seamlessly to let other elements really shine.
No matter how much you commit to industrial style in your home, whether you lean closer to the modern or the soft, the important thing is that you make it your own. Have fun mixing and matching the elements that capture your unique style.
Follow us on social media and explore more soft industrial style on Pinterest or Instagram. And don't forget to share photos of your own design projects with us.