How to get the most out of your Schlage Sense™ Smart Deadbolt
By emily.bailey
Did you know you can pair your Schlage Sense smart lock with additional accessories to get even more convenient features?
You may wonder how a residential door hardware company would ever think to begin using electronics in their products. We'd encourage you to check out our
Company History
page, but the bottom line is that Schlage offers electronic locks because they can add an array of conveniences to your day-to-day life.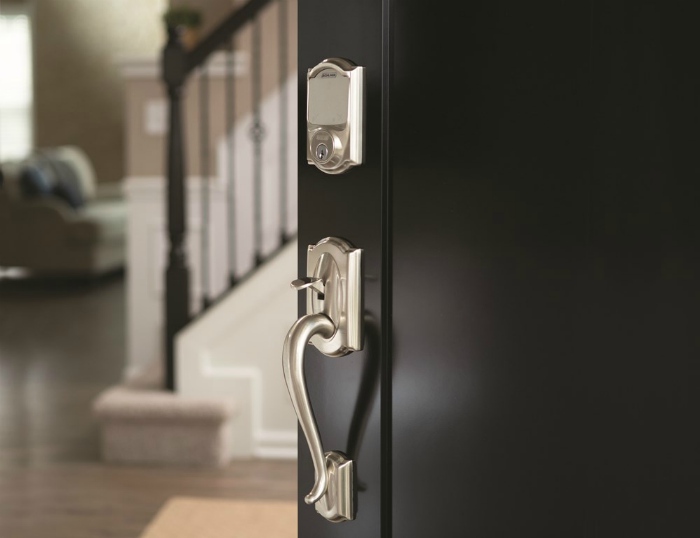 Assign each of the kids their own unique access code so you can track when they get home. Set a schedule for the dog walker's access code so they can only get in when you want them to. Customize settings like built-in alarm and auto-locking to add extra security – no more worrying about the kids forgetting to lock the door behind them. These are all standard features of our Schlage Sense Smart Deadbolt, but did you know you can pair your Schlage Sense lock with additional accessories to get even more convenient features?

With all the new technology coming out from major companies like Google, Amazon and Apple, there are a lot of exciting smart home integrations happening with the deadbolt that allow you to customize your experience to your daily needs. We don't all have kids, and we don't all need a dog walker. The reason we offer integrations like these with our Schlage Sense lock is so we can offer features that can be customized to your specific lifestyle, whatever that looks like.

Navigating all the different options can be tricky. The technology involved isn't really important…what's important is how it can be useful to you. What other items in your home will it work with, and what are the possible benefits?

We've broken down for you below all the integration possibilities for the Schlage Sense Smart Deadbolt. You can navigate the headings below quickly by answering one simple question: does your household use iOS devices only, a mix of iOS and Android smartphones, or Android only?
The Schlage Sense Wi-Fi Adapter lets you lock and unlock your Schlage Sense Smart Deadbolt from anywhere with your Android smartphone or your iPhone®. This means any time you can't remember whether you locked the door behind you, or would like to let a friend in because you're running late on the way home, you can use the app to check the lock status and lock and unlock with just a tap.
The adapter is easy to use and takes up minimal space – if you plug it into the bottom outlet, you'll still have a plug available on top. Just plug the adapter in and use the Schlage Home app to pair it with your deadbolt and connect it to your home WiFi network for anywhere access. The adapter can support up to two Schlage Sense locks at a time, and does not work with Apple HomeKit or Siri voice control.
In order for anywhere access to stay connected, the Schlage Sense Wi-Fi Adapter must stay plugged into power at home, connected to Wi-Fi and in Bluetooth® range (about 40 feet) from the lock.
Amazon Alexa
If you pair your Schlage Sense WiFi Adapter with your Schlage Sense lock, you'll be able to use hands-free voice control with Amazon Alexa-enabled devices like Amazon Echo and Dot. Learn more about Alexa features here.
Google Assistant
Similar to Alexa, if you pair your Schlage Sense WiFi Adapter with your Schlage Sense lock, you'll be able to use hands-free voice control with Google Assistant-enabled devices like Google Home. Learn more about Google Assistant features here.
If you love Apple products and your entire household uses iPhone rather than Android, you can program your lock to work with Apple HomeKit. This option won't allow for any Android compatibility, but it will allow you to pair your lock with other HomeKit-enabled devices to customize your Apple-centric smart home experience. You can also use the lock with the Home app that comes built into the latest iOS.
If you have an Apple TV or a HomePod, pairing with your Schlage Sense lock will allow you to connect to your lock from anywhere to make sure the door is locked or let a guest in while you're running late. You can even use an iPad with the latest iOS as a smart home 'hub' that pairs with your lock to offer anywhere access, provided the iPad stays plugged in at home where it can connect to your lock through Bluetooth.