Friday, September 29, 2023
If you are looking for a quick, easy cost-effective way to organize your space, these stylish storage solutions are the perfect place to start.
There is nothing quite like the satisfaction of stepping into a clean, well-organized space. But when clutter starts piling up, it can quickly turn into a chaotic display of excess belongings and disorder. If you are looking for a quick, easy cost-effective way to organize your space, these stylish storage solutions are the perfect place to start.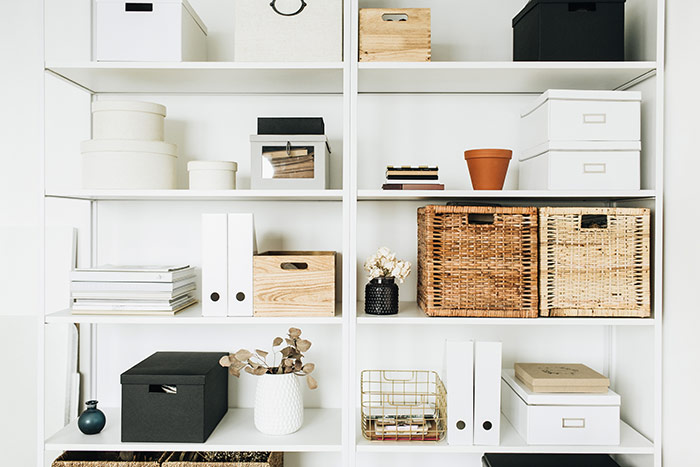 Evaluate your storage needs
Before diving into the mission of organizing your living space, it's crucial to take a step back and evaluate your storage needs. Pinpoint the areas in your home that are most cluttered and in need of attention. Focusing your efforts on these specific trouble spots is key because attempting to tackle multiple rooms at a time can hinder your ability to gauge progress and create unwanted stress. By taking it one room at a time, you'll not only streamline your efforts but also witness the transformation of each space into a haven of tranquility and style.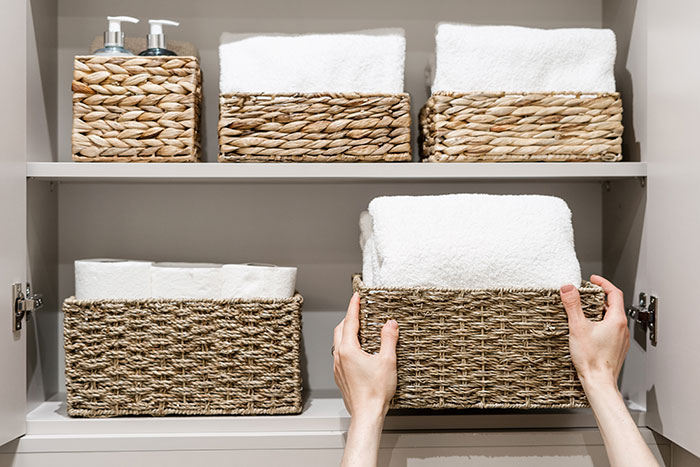 Transforming chaos into chic order
Whether you live in a small apartment or a spacious home, these home storage solutions offer inspiration to transform your space while enhancing organization and style. These ideas are versatile and adaptable, so get creative and have fun watching your space go from dissaray to organized style.
Baskets
One way to add both functionality and charm to your home is by using baskets. These versatile storage options come in all shapes, sizes, and materials, allowing you to find the perfect fit for any room. Whether you use them to store blankets, toys, shoes, or even just as decorative accents, baskets are a great way to keep things organized while adding a touch of visual appeal.
If your hallways and entryways are always scattered with shoes and toys, try adding a basket under a console table like Living Spaces for a quiet, yet flattering way to store your items.
Open shelving
If you're looking to showcase your favorite items while reducing visual clutter, open shelving is the way to go. By removing the doors from your cabinets or investing in floating shelves, you can create a stylish display for your books, décor, and other belongings. Not only does this make your space feel more open, but it also encourages you to keep things tidy and organized.
Bathrooms are high traffic areas where organization is key, and clutter can accumulate quickly. One effective solution we love is incorporating narrow shelves, like these featured on Good Housekeeping. These space-saving shelves provide a practical yet stylish way to keep everyday items neatly stored.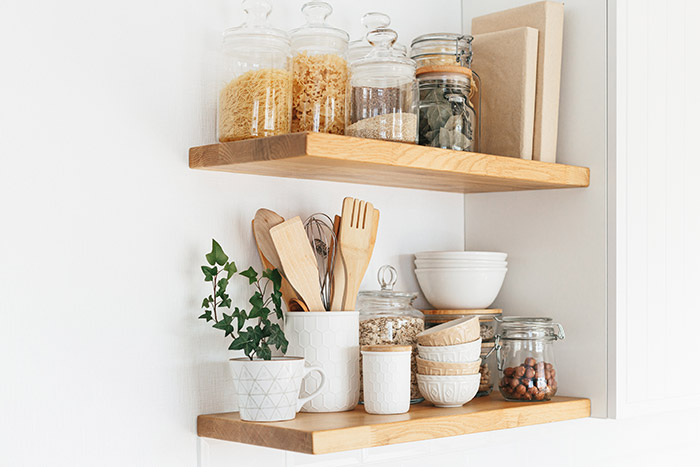 Utilizing architectural features
Take advantage of the existing architectural features in your home to maximize storage space. Nooks and alcoves are perfect opportunities to create functional storage solutions that seamlessly blend with your home's design. Whether it's a built-in bookshelf, a cozy reading nook with hidden storage, or an alcove transformed into a mini home office, these features can be both practical and aesthetically pleasing.
Functional furniture
Why settle for ordinary furniture when you can have pieces that offer both style and storage? Functional furniture with built in storage is a game-changer when it comes to removing visual clutter from your home. From ottomans with hidden compartments to coffee tables with drawers, these pieces allow you to keep your space tidy while adding a touch of sophistication to your décor.
Whether it is adding a touch of style by installing new shelf or decluttering a corner with the help of a basket, each organizational effort contributes to the overarching goal of turning your living space into a cleaner, stylish and more organized space. The path to a serene and stylish home isn't about the scale of the task, but rather the intent and dedication behind it. With each storage solution you implement you're taking strides towards creating the clutter-free home you've always envisioned.
While the options above only scratch the surface of the many stylish storage solutions you can incorporate in your home, we hope they inspire you to make a small step towards creating a stylish and clutter-free home. For all things home improvement and DIY, check out the Schlage blog, Instagram and Pinterest!