Wednesday, January 25, 2012
This blog features Schlage employees who are passionate about the products and services they support.
We know buying door hardware can be confusing...
Will it fit on my door?
Will it match the other finishes in my house?
Do I want to carry around a key or have a keypad?
Do I need a deadbolt or just a keyed entry lock?

These commonly asked questions could be just a few that are swarming through your head when in the hardware aisle at your local home improvement store. In an effort to make your life (and shopping trip) a bit easier, we've put together a Schlage Buying Guide that will help you find the best and most appropriate door lock for your door.

The Schlage Buying Guide makes it easy for you to find the right lock by answering 3 simple questions.

1. First things first, you need to choose your door type. You need to consider if the door you're buying for is an interior or exterior door. Then consider its location in the house and what the room is used for.
2. Secondly, pick out the function of your lock. Does it need to have a
built-in alarm
, have a keyed entry, be a
deadbolt
?
3. And lastly, choose the finish and design that complements your style and decor. Schlage has a wide range of finishes to choose from to accommodate many different looks.
Below you'll find the full Schlage Buying Guide -- happy lock shopping!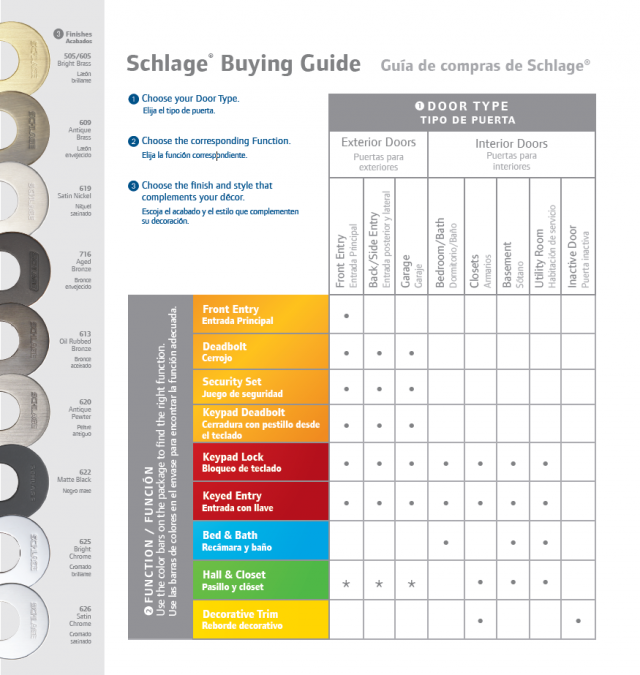 - Laura W.
Social Media Brand Marketing