Simple style swaps with Schlage door hardware.
By emily.bailey
Depending on which knob or lever you pair with a trim and in what finish, your door hardware can give a totally different feel. See what we mean with these combinations made from simple style swaps.
A small change can make a big difference. Sometimes that means making a relatively minor upgrade – replacing curtains – that can transform an entire room. But sometimes, that means trading one element for another of a different style to create a fresh look. It's true of a new lampshade on an existing light or different jewelry with the same dress. It's also true with Schlage door hardware.
Schlage offers trims, door knobs and levers to accent virtually any style of home – traditional, transitional or contemporary. Depending on which knob or lever you pair with a trim and in what finish, your door hardware can give a totally different feel. See what we mean with these combinations made from simple style swaps.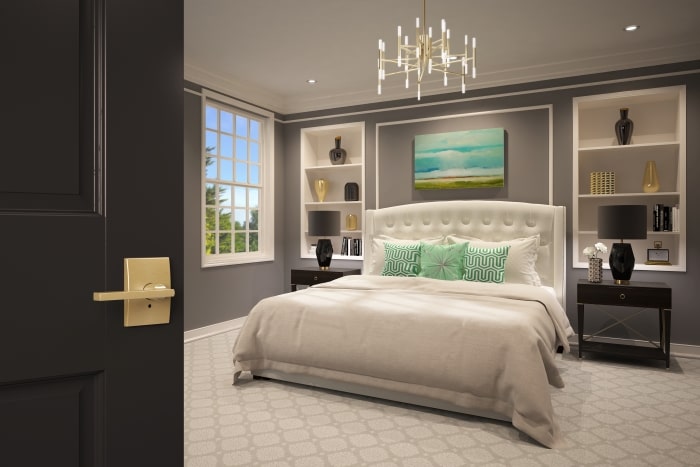 Contemporary
If you like the Greenwich trim but want a more contemporary look – something that relies on simple color and shape, rather than elaborate design – you'll get just that when you pair it with the Schlage Plymouth knob. A Satin Nickel finish enhances the modern style.
Try this pairing in modern homes that feature clean lines, modern surfaces and metallic finishes on anything from coffee tables to lighting to artistic accessories. Your décor is likely simple without a lot of elaborate patterns or overstuffed furniture.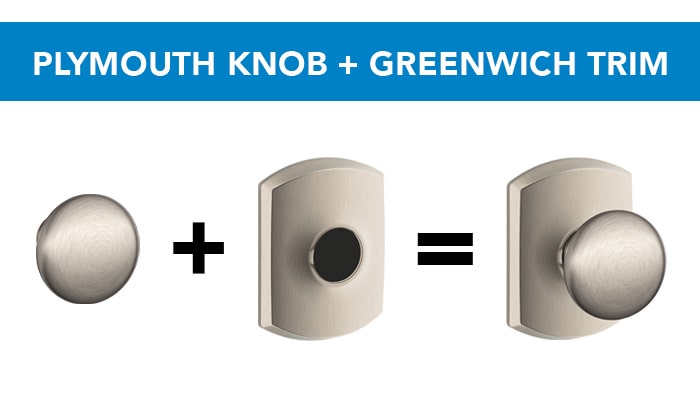 Transitional
Let's keep the Plymouth knob but change up the trim. Pair this round knob with a Schlage Camelot trim and you've gone back to transitional style. The Camelot trim features scalloped edges, putting it most often on the traditional-to-transitional side of the spectrum. In this case, it's the knob and the Satin Nickel finish that updates it.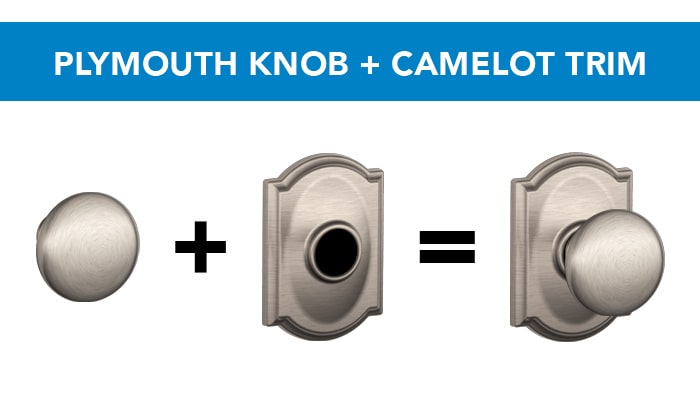 Traditional
If you're wondering what a more traditional Camelot trim pairing looks like, look no further than the Schlage Custom™ Whitney lever. When you combine these two stylish pieces of door hardware, you capture design rooted in the past and focused on comfort, familiarity and romanticism.
Try this pairing with décor that also incorporates floral patterns, fringe and tassels, and classic, luxurious designs like what you might see in 19th-century Europe. Your home may also have wrought-iron features, which is why the Whitney lever on Camelot trim in an Aged Bronze finish is so striking.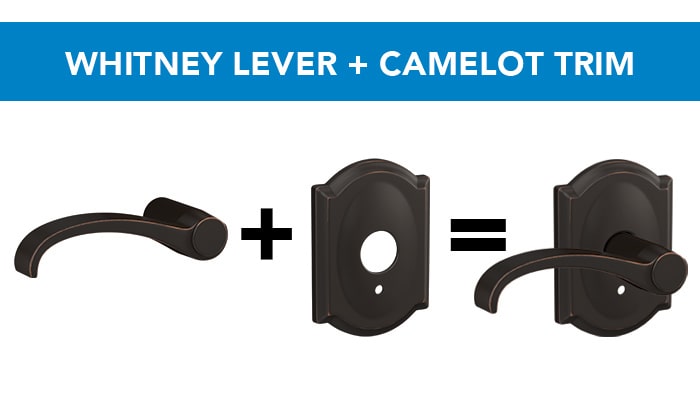 Traditional
The Whitney lever is also often paired with the Alden trim for a traditional feel. The Georgian knob and Alden trim pairing has a similar aesthetic and is a beautiful touch with the same style of home. Aged Bronze and Matte Black finishes are good choices with these combinations as they can call out the warm wood tones of Arts & Crafts-style architecture or complement other features that evoke artisanal molding or ironwork.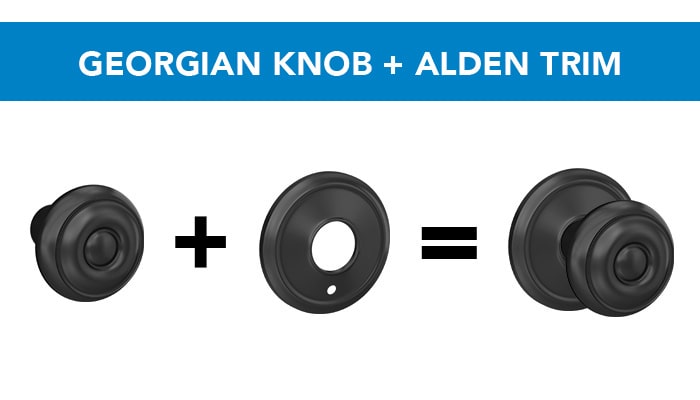 Transitional
Even though the Georgian knob is a classic style that draws on architecture of the 1700s, you can still use it with a more modern trim for an eclectic look that complements your transitional home. Try the Georgian knob with the Schlage Collins trim in Matte Black finish for an unexpected combination of shapes that'll catch the eye for all the right reasons.
Look to Mid-Century Modern architecture again, or maybe even some funky farmhouse designs, to help make a statement with this pairing.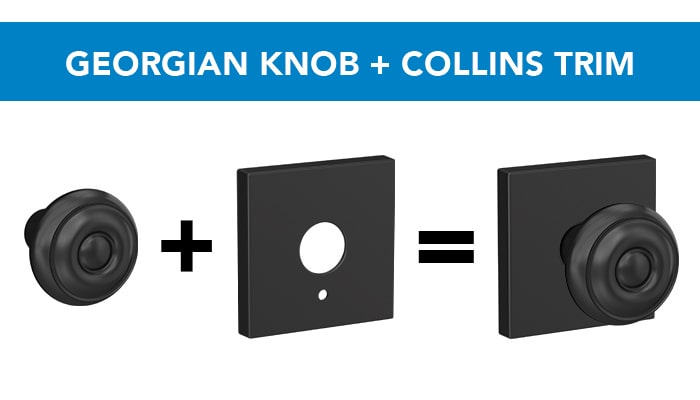 Contemporary
Let's look at one more pairing to bring us all the way back to contemporary. The Collins trim, with its clean, square shape, is most often seen in more modern spaces. This is especially true when you add one of our straight levers like the Schlage® Broadway lever to it. In Satin Chrome or Matte Black finishes, this Collins-meets-Broadway combination is perfect for urban styles inspired by the Bauhaus movement.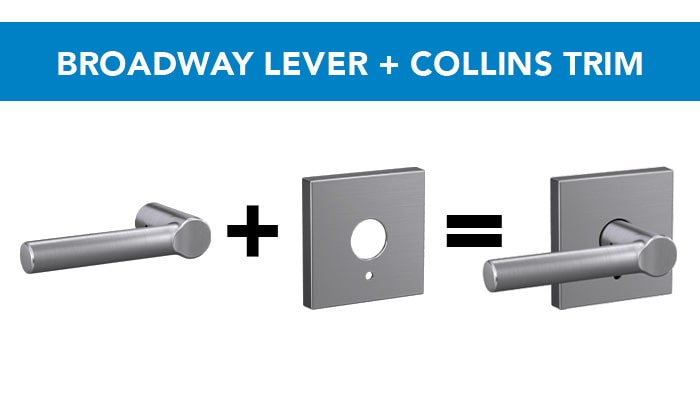 We offer a variety of trim, door knob/lever and finish combinations across the Schlage Custom Door Hardware line. That means endless possibilities for you to create a look that flawlessly complements the style of your home and expresses your unique personal taste. Try our Style Selector Tool to help you find the style that's right for you and learn more about Schlage Custom Door Hardware at Schlage.com.