Surprising ways to decorate odd corners in your home.
By emily.bailey
No matter where you live or in what era your home was built, we all have a corner that irks us. We believe that spaces like that are the perfect opportunity for a tiny detail that makes you smile.
No matter where you live or in what era your home was built, we all have a corner that irks us. Décor doesn't fit right, there's a weird notch in the wall that's not big enough or square enough to hold any furniture or it's just dark and uninviting. We believe that spaces like that are the perfect opportunity for a tiny detail that makes you smile. Will it be 100% functional? Maybe. Maybe not. Will it be perfect just for you? Absolutely. Try these ideas.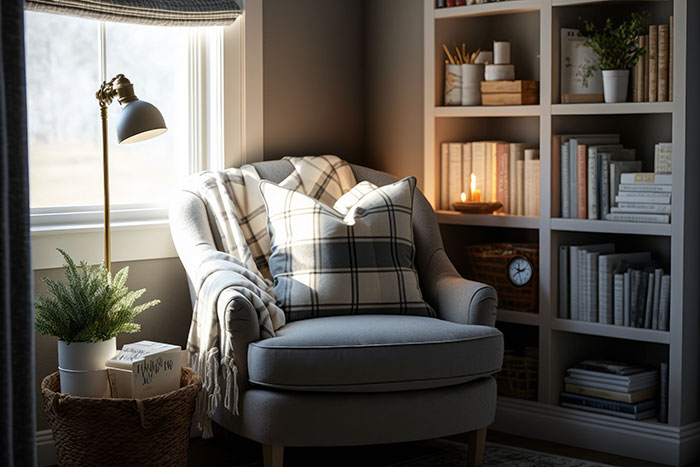 Kitchen counter corner
When we think of decorating the kitchen, we often default to choosing attractive appliances and pretty cabinets. Those are important, but they don't solve the issue of the unused corner. You put a fruit bowl there, but because it was out of sight, the produce went mushy before you could eat it. The toaster left all kinds of hard-to-clean crumbs. The mail stacks up for absolutely no reason. What now?
Ask yourself if that out of-the-way corner would be a good place for a smart speaker or your voice assistant? Getting ingredient substitutions from Alexa while you cook is handy, but you don't want to splatter on her. A Bluetooth speaker to play your favorite music or podcasts is another option.
If the corner goes unused because it's dark, add some undercabinet lighting. This could be as simple as an adhesive LED light strip or puck light. With a bit of illumination, you'll be able to see forgotten fruit or even just a piece of artwork that brings you joy.
We'll leave you with this crazy idea: leave it empty. Filling every last inch of counterspace can make your kitchen feel cluttered and messy. Just leave that corner alone.
Miniature shower shelf
Your shampoo and conditioner, their shampoo and body wash, everyone has a loofa. That tiny shelf just wasn't cutting it, so you got a caddy to hang from the showerhead. These can be stylish, by the way, instead of just those standard wire eyesores. Unfortunately, now you're annoyed by the wasted space of that unused shelf.
Hear us out on this one. Add plants. Some house plants need a lot of moisture and humidity. Try varieties that thrive in steamy showers, like pothos, yet don't get too big. You might be surprised by how much you enjoy that little bit of greenery while you start your day.
Under the stairs
We love those little reading nooks people are always building in the empty space under their staircase. But unless you're ready to hire a professional or have some pretty high-level DIY skills yourself, that might be out of reach. Instead, try a simple, artistic route. If the nook is little more than a notch, paint the interior an accent color. Contrast it with the rest of the wall paint to help the visual interest pop.
You could also turn it into a plant pocket . In other words, choose indoor plants that don't require a lot of light or find some artificial plants to your liking, and fill the space. You can mount planters to the walls, install some basic shelving – a little corner caddy like this one might be nice – or simply stack them on some upcycled crates, depending on how large the space is. Then turn that awkward opportunity into a jungle oasis.
Finally, make it storage. Maybe you put a boot tray or shoe rack underneath if it's near your front door. Perhaps you install cubbies to hold toys, books or blankets and other linens. It could also be the "wine cellar" you've always dreamed of.
Odd-shaped corner
A chair won't fit, artwork will never be seen by guests and it's so dark and uninspiring. It's the monster that is the weird wall cutout. You have more options for decorating here than you might realize. First, you could channel your inner child. Choose soft, formless seating – think beanbag – that will mold to the shape of the space. You might want to hang a floating shelf to house a book or two. Hang it lower than usual to use it as a side table for a drink. Try installing wire-free sconces for some extra light that doesn't require floorspace or an electrician.
Second, you could turn it into a meditation corner. So many of us are looking for retreats to escape to since the start of the coronavirus pandemic. A small meditation pillow or bolster, a floating shelf to hold a candle or incense, a small plant and maybe a bit of artwork won't require a lot of square footage. And it doesn't matter if those items aren't on display for everyone to see because that's not the point. This space is all about you.
Split-level landing
The house we grew up in was a split level with a small landing by the front door. There might have been enough room for a small corner table, but every time you walked by, you were bound to knock into it with a bag. Wall scuffs were the bane of my father's existence. So what do you do when you have an entryway that can't be built out and barely has enough room to maneuver in?
The key here is to think flat, whether it's storage like a narrow IKEA shoe cabinet or décor. Since we're thinking specifically of solutions that bring joy – storage can make us happy, but still – try a mirror. It can make a space feel larger and brighter. If you or your little ones are constantly knocking into things on the wall, you might opt for patterned wallpaper or a mural to create some visual interest without the tripping and bumping hazard.
Close neighbors
Our current neighborhood has a lot of new construction and we're always surprised by just how close the houses are to each other. Who owns that skinny patch of grass in between? Will a lawnmower even fit? When you have a postage stamp-sized yard, you need a way to keep it looking nice without expending an unreasonable amount of energy to do it.
One idea is to skip the grass and go for low-maintenance stone ground cover. Something like crushed granite is attractive and easy to lay. The stone eliminates the need for frequent mowing and, depending on where you live, can be an environmentally friendly option in that in doesn't require watering. If you want to keep the green, look for low-maintenance plant varieties like a "Fire Spinner" ice plant in the Midwest and south or creeping thyme if you live farther north. Think of all the other things you can do that you might enjoy when you're not expending an unreasonable amount of energy on curb appeal upkeep.
We hope this gives you some ideas for how you can turn a space that used to be a pain in the neck into one that brings you greater levels of peace and joy. You should feel comfortable in your own home. Find more ways to do that at the Schlage blog – you might like these tips for creating a calm home during stressful times – or check out some fresh ideas on Pinterest.