How to add value to your home simply from the inside out.
By emily.bailey
Friday, February 24, 2023
Make the right home design updates by choosing projects that are known to add value and resale potential.
Your home should feel comfortable in all ways, from the day you move in to the day you finally sell it—if that's in the cards for you. Maybe you're upgrading your home because your interior design style has changed. Perhaps you're staging your home for showings. In the grand scheme, it doesn't matter why you want to increase the value of a home, but how you choose to do so. Many homeowners resort to landscaping first-thing, but here's some advice and more ideas to help inspire a better home design.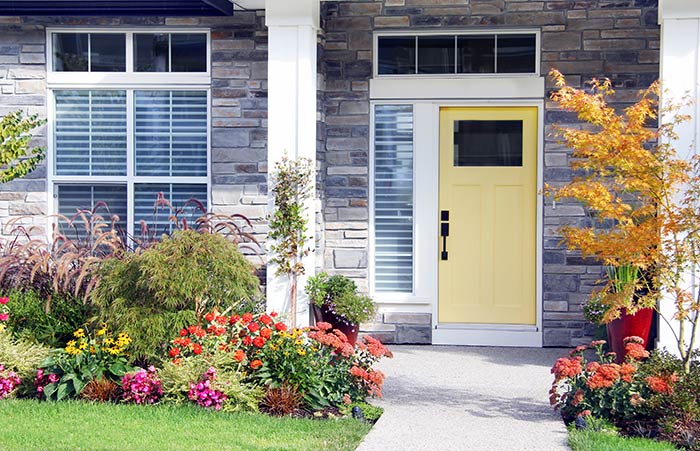 Upgrade your hardware finishes and trims
Examine the hardware on doors, sinks, cabinets; is it worth keeping? Do you have a brand-new build to furnish? Chances are, you need new hardware to add any significant value to a home. Consider the paint colors and the shape of each room—do they have something in common? Which finishes compliment the entire home, if any? Do any two or three finishes work well together? Play around with your style and mix and match to add value with shiny new accents in your home.
Make it energy-efficient and smart home ready
Your home is worth more with smart technology already in place. Many home buyers look for a house with updated and connected devices like smart deadbolts, thermostats and more for easy comfort and security. The easier you make it for new residents to install and activate a smart home system, the more they're willing to pay for the added value.
Smart devices make life more convenient and help homeowners save energy by automating or sensing when someone's home, for instance. Smart thermostats know when to pause and resume activity, lights go out when you leave and turn on when you return. Even preparing a home with more basic technology, like an in-wall surround sound system, to integrate with a smart home system helps increase its value. Before you buy any new smart devices, find which smart devices are best for your home based on what's compatible and the features you wish.
Paint your trims, doors and more
A fresh coat of paint can make a room or your home look unrecognizable in the best of ways. But painting any part of your home, inside or outside, is a big job to tackle. What about refreshing your painted trims or the color of your front door?
It's not always necessary to paint a whole room or add brand new siding to increase the value of a home. We recommend mapping where in your home needs fresh paint and going from there. You may be surprised at what little needs done to make a big difference.
Clear your space to make it more adaptable
Add even more value to your home with brand new construction, a simple remodel or just decluttering. A free and open indoor space is more appealing to buyers and appraisers than feeling closed in. Consider making room with fewer decorations and furniture on the floors; shelves could be your new best friend for space-saving storage and decorating. A clutter-free home with plenty of room to move throughout is best for entertaining guests and easy everyday living.
Your home doesn't need to change much to be totally different. Take a good look around and realize a more beautiful, versatile space for the next resident or family to enjoy. Maybe your hardware needs renewed or it feels crowded in spots. Go beyond landscaping and increase the value of your home for longer. See more at schlage.com.