Door hinge buying guide: How to find replacement hinges.
By emily.bailey
Wednesday, February 22, 2023
If your door hinges show signs of wear and tear, it might be time to replace them. Learn how to choose the best type of hinge for your door.
When it comes to door hardware, hinges are unsung heroes. We tend to forget about them until a door has trouble opening or closing. Luckily, replacing hinges is a straightforward process that requires only a few simple steps. But before diving into the installation process, you'll need to choose the right hinges.

This handy guide will walk you through everything you need to know to choose the right replacement door hinge. With a few simple tools and a little know-how, you'll have your door looking and working like new in no time.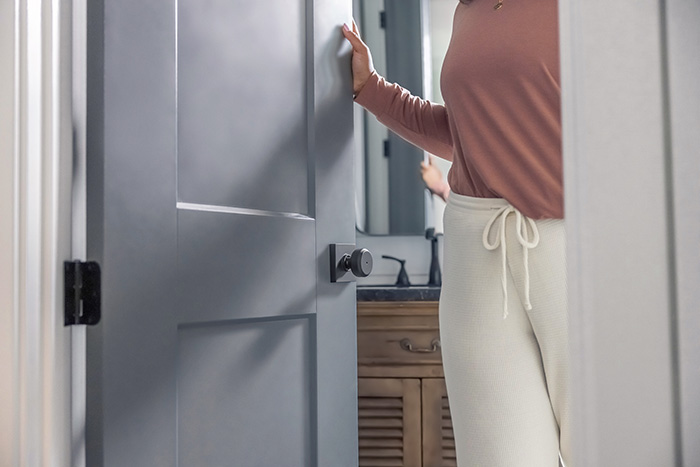 When should door hinges be replaced?
The average door hinge should last 10-15 years. One of the best ways to prolong the life of your hinges is to periodically lubricate them with WD40. However, this won't completely protect from factors such as wear and tear or a heavy door. Here are a few signs that it could be time to replace your door hinges:
Your doors are sagging or drooping
Your doors are hard to open and close
Your hinges are squeaking
Your hinges are loose
There is visible damage to your hinges
Consider the corner style
Schlage door hinges come in one of three corner hinge styles: 1/4" radius, 5/8" radius, and square. These styles refer to the shape of the hinge when it's viewed from the side. Most homes will have either round 1/4" radius or square corner hinges, but it's not uncommon to find homes with 5/8" radius corners.
To determine the corner style of your hinges, take a look at their outer corners. If the corner is at a 90-degree angle, it's a square corner hinge. If the corner is rounded, it's either a 1/4" radius or a 5/8" radius. A 1/4" radius corner will fit a dime along the curve, and a 5/8" radius will fit a quarter.
You can also refer to your existing hinges when choosing replacements. To make the installation go as easily as possible, choose the same corner style as the existing hinges on your door. Be sure to transfer the corners and screw holes for a complete look.
Choose your finish
Hinges are available in a variety of finishes to match any décor. The finish is applied to the metal of the hinge, so it will be visible when the door is open. While it may seem like a minor detail, the style and finish of your hinges can really help tie your whole home together.
Consider your existing door locks, levers, knobs, and other hardware found in the home. While you don't need all the metal hardware throughout your house to match, it is standard to match the finish of hinges with your existing door hardware. Some popular finishes for door hinges include:
Bright Chrome

Satin Nickel

Aged Bronze

Satin Brass
Matte Black
At Schlage, we carry a variety of popular finishes to match any décor. Browse through our hinges and other door hardware accessories to find what you need.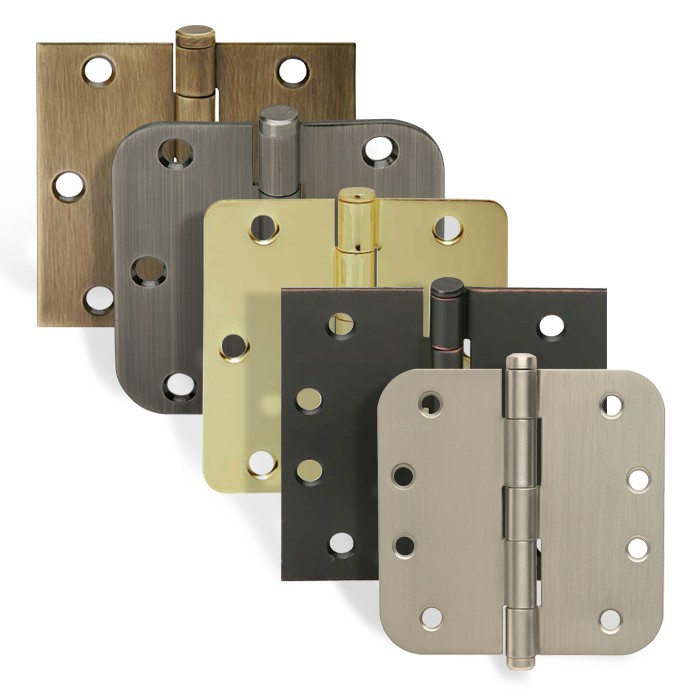 Select the right size
Once you have chosen your finish, you'll need to measure your existing hinges to determine the correct size.
In most homes, interior doors will use 3.5" hinges, while exterior door hinges will typically be 4" to support the additional weight of the door.
How to measure door hinges
To accurately measure your door hinges, you'll need a measuring tape and a few minutes.
Start by removing one of your door's existing hinges.


With the hinge removed, use a measuring tape to measure the width and height of the hinge. Be sure to write down these measurements or take a picture for reference.


Now, measure the distance between the top and bottom of the hinge's "knuckle." This is the part of the hinge that connects the two leaves. This measurement will help you determine the correct "length" of the hinge.


Finally, measure the thickness of your door. Most interior doors are 1 3/8" thick, while exterior doors are 1 3/4" to 2" thick. Be sure to choose a hinge with the correct door thickness for your project.
Another simple way to choose a replacement hinge is to take an existing hinge with you to the store. You can also transfer the pattern of the hinge onto a piece of paper using a pencil. However, if you are buying online, simply knowing the size and corner style is usually enough.