11 budget-friendly pantry organization ideas that look expensive.
By emily.bailey
A well-organized pantry can make your home feel more expensive and streamlined. Here are some tips to help you get started.
Even on a budget, your home can feel like a high-end property with the right organization. These pantry organization ideas will have your guests fooled – and your wallet thanking you. Read on for inspiration.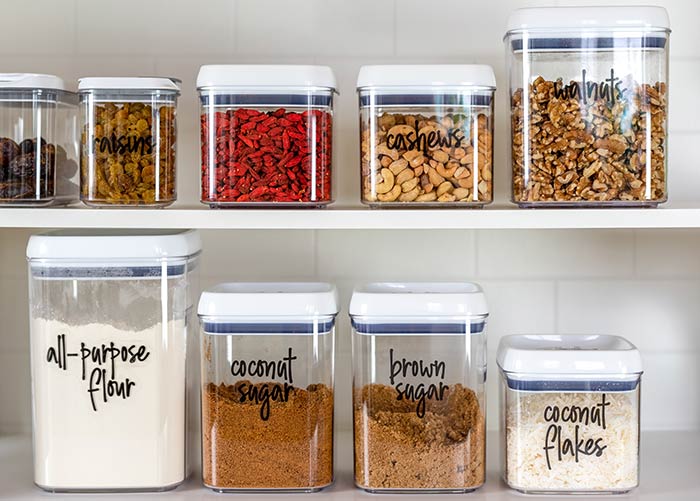 Decorative pantry door handle
Start with the door to your pantry. If it's off-kilter or has an outdated knob, it may be time for an update. Choose a sleek handle in a finish that complements or coordinates with the rest of the home to give the space a classy feel.
While it doesn't play a direct role in organization, the door handle sets the tone for the pantry before you even enter it. This can elevate the look and feel of the space and encourage you to stay on top of your planning methods. If you're not convinced, check out this TikTok from @mikeholmes_official, which exhibits the transformative power of a simple door handle change.
Another simple way to get an upscale look is to choose a luxurious paint color for your doors and top it off with an equally opulent door knob or lever. See how @designbydama takes her grey doors up a notch with a new coat of black paint. The Schlage Custom Alexandria glass knobs add the perfect glamorous touch for a high-dollar look.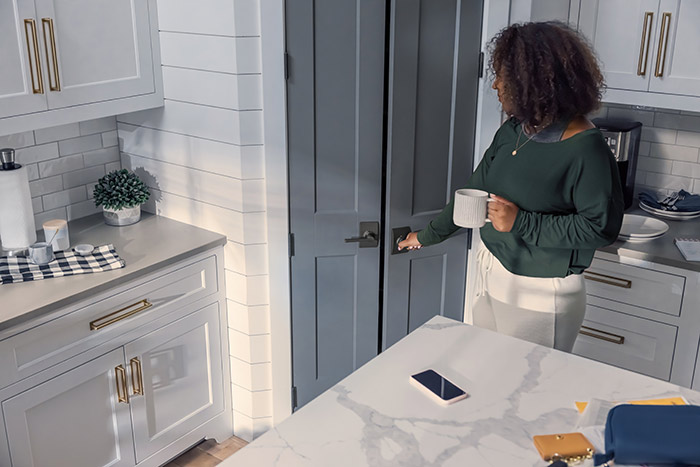 Chalkboard paint
Adding a chalkboard to your pantry is both a stylish and functional way to stay on top of your kitchen to-dos. By using specialized paint, rather than a standalone chalkboard, you can write on the surface and erase it later. A chalkboard pantry can help you save time, money, and headspace.
Use it to jot down grocery lists or to write out a menu for the week. The application of chalkboard paint is only as limited as your creativity! See how Lauren Olphert brought this clever planning idea to life with her own DIY pantry chalkboard that she uses to display her weekly meal plan and grocery lists.
Baskets & bins
To keep your pantry items looking tidy, invest in some coordinated decorative baskets and bins. Label each one so you know where everything belongs, then carefully place similar items in their corresponding locations.
This organization idea is great for storing snacks, cereals, and other dry goods that you would prefer to keep in their original containers. In this TikTok, SPIFF Sustainable Organizing opted for an earthy wood aesthetic, but you can use coordinated baskets in virtually any style.
Glass jars
Transferring pantry staples like rice, beans, and flour into glass jars is an easy way to upgrade your pantry. You can even opt for jars that dispense loose food items like cereal. What's especially great about this option is that because the jars are transparent, you can always see exactly how much of each food product you have left.
Not only do glass jars look more sleek and expensive than storing food in their original containers, but they're also airtight and will help your food stay fresh longer. Check out Farah Merhi's glass jar food storage organization method in this TikTok.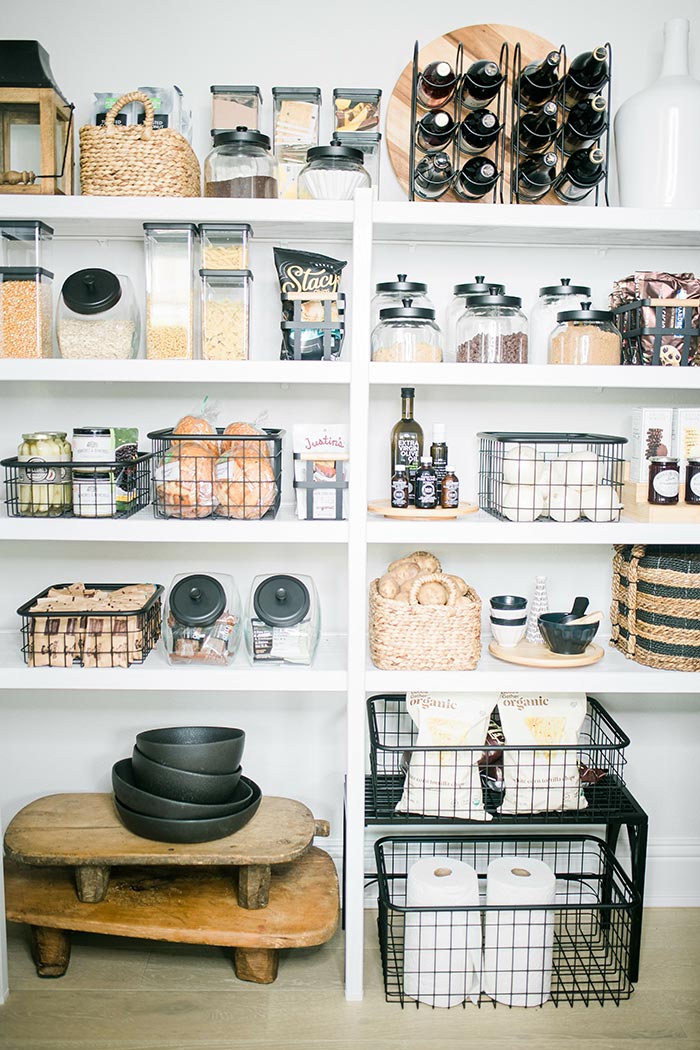 Label maker
A label maker is a pantry organization must-have. You can use it to label everything from spice jars to storage bins. For an extra-elegant look, use a consistent font with a modern vibe.
This idea will help you keep your pantry organized and looking oh-so-chic. See how Estrella from In Our Cart created her stylish pantry labels using a Cricut label maker.
Food category organization
One of the most effective pantry coordination tips is to organize your food by category. This will help you find items quickly and make it easier to put things away. Use baskets, bins, or glass jars to store pantry staples like snacks, breakfast foods, canned goods, and baking supplies.
For this idea to be most effective in action, we suggest creating a strict set of categorization rules so nothing gets lost in the mix of pantry goods. Savvy & Sorted offers her food categorization method in a multi-part video for your inspiration.
Lazy susan
A rotating Lazy Susan is a pantry must-have for the savvy organizer. It's great for storing spices, oils, and other small items like snacks. This low-cost pantry organization idea makes it easy to view all of your daily staples on command.
Lazy Susans come in various sizes, so you can choose a model that fits the unique specifications of your pantry. Check out all the ways you can use a Lazy Susan in your pantry in this awe-inspiring TikTok from OrganizingSpacesbyKim.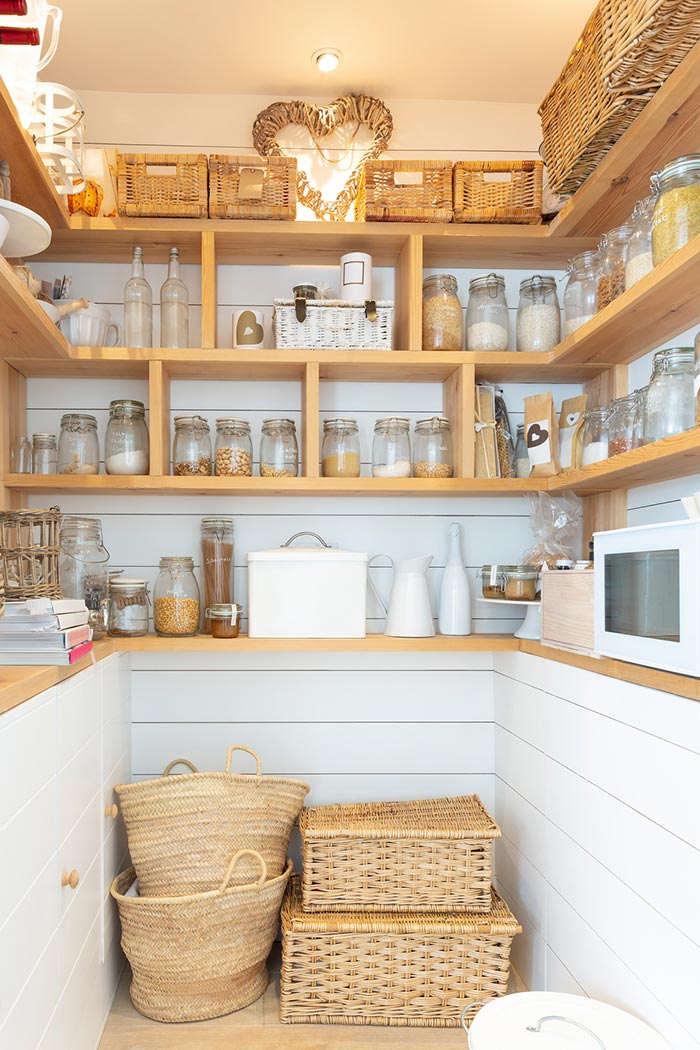 Tiered shelving
If you have a small pantry, make use of every inch of space with some tiered shelving for easy visibility and accessibility.
This organization idea will help you maximize your space and keep your pantry looking neat and tidy. Here's a TikTok from Feather&Nest that shows just one way to implement this idea in your pantry.
Command hooks
If your pantry is short on space, make use of the back of the door with some command hooks.
Hang things like aprons, oven mitts, or measuring cups for an organization hack that will make your life easier. Or you can get creative like Heather from ourcomfycozycorner, who used a heavy-duty command hook to hang a step ladder for easy access to high-up items in her pantry.
Wall-Mounted Rack
A wall-mounted rack is a great way to store items like pans, cutting boards, and baking sheets. This organization method will help you save space and keep your pantry looking neat and tidy.
If you need some inspiration, take a look at how this savvy TikToker with fromhousetohome_ used a wall-mounted rack to organize the spices in her pantry.
Wood shelving upgrade
If your pantry has wire shelves, consider upgrading to some faux wood shelving for a more polished look. This pantry organization idea is both stylish and functional.
The shelves will help to keep your pantry looking neat, tidy, and refreshingly modern. In this TikTok, angelamariemade offers a great example of how a simple update can change the overall feel of your pantry.