6 closet door ideas that will give your home a fresh look.
By emily.bailey
Thursday, January 12, 2023
If you're looking for some inventive ways to update a room, consider these six closet door upgrade ideas.
Sure, the focus of every closet is what's inside. Many homeowners dream of having an impressive wardrobe or neatly organized storage area. When it comes to interior décor, however, the main focal point of your closet is its door. The closet entryway can have a major impact on the general look and feel of your space. Also, don't forget that your door plays a functional role in how you access your closet. If you're looking for some inventive ways to update a room, consider these six closet door upgrade ideas.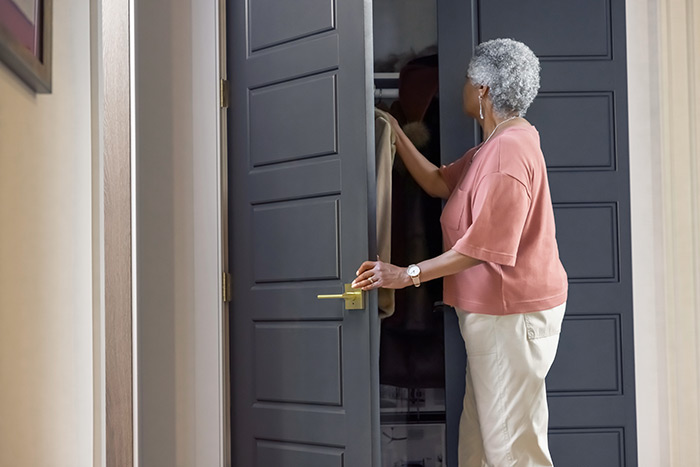 Add paneling trim
If you're comfortable doing a bit of construction, add paneling to your door. This trim can make a surprisingly big visual impact, especially for bifold closet doors. As Room For Tuesday shows in her upgrade, exact measurements are crucial when it comes to paneling.
This easy and affordable DIY job only requires a few supplies:
Poplar planks
Wood glue
Level
Sandpaper
Wood filler
You'll also need:
Start by creating a sketch of your desired paneling style and make sure it measures up to your door space. For this look, you'll be creating squares using trim pieces. See the full tutorial for this updated look from Room For Tuesday.
Looking for an alternative to use in place of closet doors? Pocket doors are an especially good choice if you want to increase your available space and move away from sliding mirror closet doors.
Upgrade to a sliding door
If you like the idea of having a closet with a sliding-style door but are stuck with a traditional closet door, don't worry. Upgrading to a sliding closet door is easier than you think.
Not all barn door styles are meant to stay on the farm. You can find sliding closet doors that will suit a modern home in the city, too, like these doors from Rustica Hardware.
As this upgrade from Nick's Custom Woodworks shows, barn doors also come in styles that complement a house with a traditional design.
Here's what you'll need to add a sliding barn door like in the above examples to your closet:
Hollow core door
Wood
Saw
Glue
Nails
Primer
Paint
Paintbrush
Caulk
Wood filler
Sliding barn door hardware
What are the standard closet door sizes? While a standard closet door is 30-inches wide and 96-inches tall, sizes can vary widely according to the style of the room and door. It's important to take accurate measurements of the opening so you know how long to cut the door track for your sliding door. The door track length should be at least twice as long as the length of the door. If the door track is too short, your sliding door may not shut properly.
Once you have your door measured out, divide it into four sections. To add wood to the door, use nails and glue. Consider using wood that will personalize the door and work with the rest of the room. Once you've added the wood, you'll be ready to sand, caulk, and paint it. Mount the hardware and connect it to the wall. Add a finishing touch with a handle in a finish that complements the rest of the room.
Turn your sliding closet door into a display shelf
If you have a sliding barn door covering your closet, you'll have to make do with less decorating space. That's because you won't be able to hang a picture or install a shelf along the wall where the door needs to slide. However, you can solve this problem by adding shelving and décor to your sliding barn door.
By adding shelving to your sliding closet door, you'll get that decorating space while making an interesting visual statement. Use it to display fun vacation souvenirs, pictures by your favorite artist, or even as storage space for clothing accessories.
Apply wallpaper
Looking for an upgrade that doesn't require too many tools or hardware? Freshen up a closet door and give it a touch of personality with wallpaper. If you want the closet door to blend into the background, add wallpaper with a subtle design or a wood coating. For a more striking design, follow the lead of this example from @lagirl310 and find a fun wallpaper that complements your room's current décor.
This wallpapering technique works best with flat, single-panel doors. Be sure to remove the hardware with a screwdriver and lay the door on a level surface before you begin. You'll then need to prep the door before adding the wallpaper paste. Your surface should be clean, dry, and smooth. Properly prepped surfaces decrease the possibility of the paper shrinking, which makes it more difficult to remove later.
Order enough wallpaper for the closet door and any other spaces where you may want to apply it. Roll the wallpaper paste onto the door — don't dip the wallpaper into the paste! Use a smoother to stretch the paper and make sure that it goes on flush.
Don't forget to add a finishing touch to your standard closet doors with Schlage's non-locking, Hall & Closet door knobs and levers. If you need help choosing a style and finish, try our Style Selector tool.
Freshen things up with frosted glass
Do you like the transparency of glass but want to keep the inside of your closet private? Try updating your closet doors to cool and classy frosted glass. You can give existing mirrors or plain glass the frosted effect by applying plastic frosting film or frosting spray paint. As this example from @meadowcreekmagnolias shows, this will give the room a softer, more modern appearance.
Premade frosted doors come in many styles — smooth or rough textures, matte or gloss finish, high or low transparency. No matter which you choose, the frosted effect will make your room feel more open. At the same time, the frosted finish is enough to block out views inside your closet. This style goes great with the non-locking knobs and levers in Schlage's hall and closet door hardware.
Expand your room with mirrored closet doors
Are mirrored closet doors outdated? That all depends on how you incorporate the mirrors. While it's true that this design trend was popular in the 1980s, you can get the retro-modern look with some simple updates. Instead of outdated floor-to-ceiling mirror doors, consider going for the panel effect. Check out how Morgan Farrow Interiors incorporated mirror panels to give this child's room a fun yet modern touch.
You don't need to replace your mirrored closet doors to get this effect. As the Honeycomb Home shows in this mirror door makeover guide, you can get an updated look by using decorative fretwork panels. These come in various patterns and are easy to install on glass with a bit of clear, all-purpose adhesive.
The main benefit of mirrors is that they create the illusion of more space. They also help brighten up rooms by amplifying natural light. However, this can be a problem at night, and many feel that too many mirror reflections may disrupt sleep. The paneling effect, which works for sliding, bi-fold, and traditional doors, is a great way to tone down mirrors without completely eliminating them.
What are the best closet doors?
We believe that the best choice will complement the style of your home and feature quality construction. When you install closet doors with the appropriate door handle, you'll be able to open and close them with ease. All of the aforementioned closet door makeovers can give your home interior a fresh new look. For more ideas on how to modernize your home, visit the Schlage blog.