Alison Victoria's 5 steps to prepare your home for holiday entertainment.
By emily.bailey
Wednesday, December 21, 2022
Schlage teamed up with a leading interior designer and home renovation expert, Alison Victoria, to share a few simple and easy tips to prepare your home for your holiday party.
Flights are booked, invitations are sent, and dinner menus are beginning to come together for another holiday season of gathering with friends and family. Whatever your traditions are for bringing everyone together, as the host, it can feel a little overwhelming to get everything in order before guests arrive to celebrate at your home.
To help you prepare, Schlage teamed up with a leading interior designer and home renovation expert, Alison Victoria, to share a few simple and easy tips to prepare your home for your holiday party. After all, the holidays are supposed to be fun and peaceful, so learning how to keep it stress free will give you the peace of mind needed to enjoy what matters the most, spending quality time with your loved ones.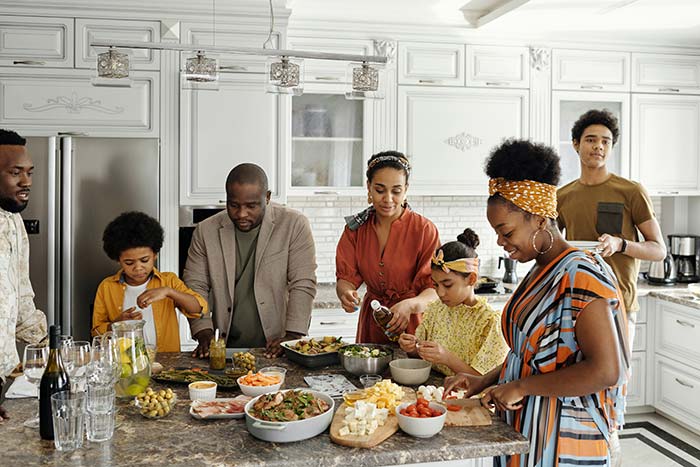 Step 1: Maintain a healthy environment
Mutterings of a "Tripledemic" taking place this winter season (an unfortunate combination of Flu, RSV and Covid) has already gained steam. As families and friends finally come together this holiday season after two grueling years of separation, Alison says the smart host will ensure there are specific areas of the home where sanitation is implemented. She mentions high traffic areas like powder rooms, kitchens, and entry points to the home as a great place to start reducing the amount of "contact" that takes place. Alison highlights options like touch-free faucets for bathroom and kitchen sinks and touch-free soap dispensers that can go a long way to reducing the spread of germs. Another high contact and high germ fixture in your home is your door hardware. To keep the germs at bay, Alison recommends removing dirt and grime first and then disinfecting your hardware.
Step 2: Control your home's comfort
As people begin to fill your home and the weather outside continues to cool, battles over the thermostat will almost certainly begin to reemerge. Alison swears by her programmable thermostat that enables you to easily monitor and adjust the temperature of your home—and don't sleep on the potential energy savings either!
Step 3: Find ease in entertainment
Agreeing on TV, music and games can be a huge challenge for any host. Alison said her favorite way to navigate this potentially challenging situation is to simply take control. Set designated areas of the house for specific activities like watching sports, playing board games, or listening to music. It can also be a fun activity to design a shared playlist where everyone can chime in on songs they want to hear and play them wherever the party is happening (pro tip: put your playlist on a device that is not your phone to minimize interruptions). Also consider common watchable moments, like Monday night football, "A Christmas Story" marathons and other shareable activities to keep friends and family together.
Step 4: Safety is number one
One of the unfortunate side effects of having lots of people in and out of the house is the tendency for doors, windows, and other entryways to receive more use than normal. This can lead to situations where doors remain unlocked or windows are left ajar on accident, creating a potential security breach . Alison is an advocate of investing in new door hardware to help ensure this problem is mitigated (and to add serious appeal to your doorways). She chooses Schlage because it offers a vast variety of door hardware that fits a great mix of applications and functionalities and adds character to the home. By updating your door and door hardware, you're able to maintain a safer space for your family and elevate the first touchpoint most people see. For those who are considering electronic options, Schlage has several smart deadbolt locks that reduce the headache of getting in and out of the house and provide advanced safety features that give you the opportunity to create unique passwords for incoming friends and family.
Step 5: Look for accents, not major upgrades
Per Alison, holiday entertaining requires ease and planning more than anything else. She warns against trying to make major updates to the home at this time of year. Instead, Alison recommends identifying areas where small updates can be made that elevate the space without making major adjustments to the home. This can be as little as updating the color palette of your flatware and table adornments to more advanced projects like new wallpaper, curtains, or even fixtures. She also says to look for opportunities to add depth of space and a splash of color to keep things fun and vibrant for the holidays.
While it's been a long two years dealing with pandemic-related lockdowns that kept us from friends and family, we're ready to party together once again. We want to extend a huge 'thank you' to Alison Victoria for her help in identifying areas of improvement for people hosting holiday parties this season. From all of us at Schlage, we wish you the best in holiday entertaining this year.