Home security and pets: 4 things to know.
By emily.bailey
Coming home to your pet after a long day is an instant mood boost. It's no secret that pet ownership offers many benefits like increasing opportunities for exercise, time outside, and companionship. But have you ever wondered if having a pet helps or harms your home security? As we wrap up Animal Safety and Protection Month and Crime Prevention Month; use these tips to have more peace of mind and better enjoy your fluffy friends.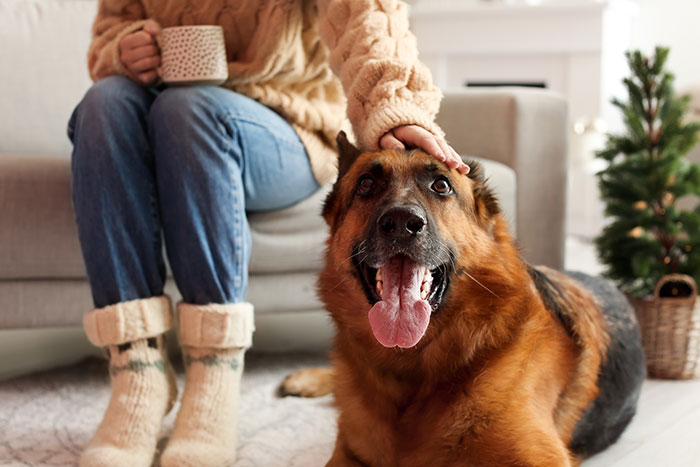 Do Pets Deter Break Ins?
It's easy to picture a growling dog scaring off a burglar. If you have an intimidating or territorial pet, it is likely that they may prevent a break in. But for a determined criminal, even a top guard dog isn't much of a deterrent. You shouldn't rely on a pet as your line of defense against a potential threat. While your pet may be helpful in sounding the alarm, there are better ways to protect what matters most in your home. While fancy security systems are certainly something to consider, you should first assess how easy it would be for someone to gain entry to your home. Do all your exterior doors have top-rated, working locks? If so, are you diligent in locking up? At Schlage, our door hardware is certified highest in security, durability and finish, giving you peace of mind. Browse our products, and consider a smart lock to make it easier to keep your home secure from anywhere.
The Risk of Pet Doors
Many homes have pet doors to make it easier for your dog or cat to come and go. While they do offer convenience, pet doors are a hole in your home security. A small burglar may be able to enter your home through a pet door. More commonly, intruders may be able to reach an arm through a pet door to unlock the door, especially when the pet door is installed on a back or side door. Such access points are easy targets because they enable burglars to force entry from the back yard, which is often fenced in and out of sight for neighbors and street traffic. Protect your home by securing pet doors. You may decide having a pet door isn't worth the security risk, but at minimum it is smart to make sure pet doors are not located close to door locks, install a cover and slide bolt to lock your pet door from the inside when not in use, and use a security system.
Home Access for Pet Sitters
The next time you are out of town, who do you call to take care of your pet? Many owners hire pet sitters and dog walkers to help when needed. While it may seem easiest to just hand out a copy of your home key to service providers or hide a key under your flower pot, think carefully about how that could impact your home security. Once you give out a key, you can't keep track of what happens to it. Even the most trusted helper could potentially misplace your key, or it is easy for you to forget who all you've given a key to. We recommend smart locks for homeowners who frequently have service professionals in and out to take care of pets. Our smart locks enable you to grant temporary access codes from anywhere through the Schlage Home App. These innovative solutions pair ease of access with top-rated security, giving you peace of mind at all times.
Coming and Going with Your Pets
One of the most common activities to enjoy with your pet is going for a walk. Even if you are just going for a quick lap around the neighborhood, it is important for your home security to make sure you lock the door behind you. But with a leash in hand, messing with keys can be a hassle. For heavily trafficked side doors, we recommend our keypad locks that offer the convenience of keyless entry and autolock options. Autolock automatically relocks your door after 5 seconds, so you don't have to worry if you're a block down the road with your pooch and can't remember if you locked the door. It's tempting to think that your side door is less prone to break ins, but many intruders prefer an entry point that isn't easily seen. That's why it's important to invest in your peace of mind by choosing a side door lock you can trust.
Whether you are a current pet owner or considering adding a new furry friend to your family, it is important to consider how having a pet affects your home security. For more than 100 years, Schlage has offered durable door hardware in a range of unique style combinations designed to help make your home safer and your life more convenient. Visit our product page to explore innovative solutions for keeping your home secure as you enjoy life with your pets.