Can Schlage door locks be keyed alike?
By emily.bailey
Wednesday, October 12, 2022
When purchasing a new set of exterior locks, it simplifies entry to have all your locks keyed alike. Learn how to key locks to meet your specific needs.
Purchasing a new set of exterior locks leads to a safer, more secure home. Any time you replace exterior door hardware, it is helpful to know your keying options. Most exterior locks purchased in-store come with a unique key. That means if you purchase multiple exterior locks at once, they will each have a different key required for access. This can be a hassle. When purchasing a new set of exterior locks, it simplifies entry to have all your locks keyed alike. Explore the options below to learn how to key locks to meet your specific needs.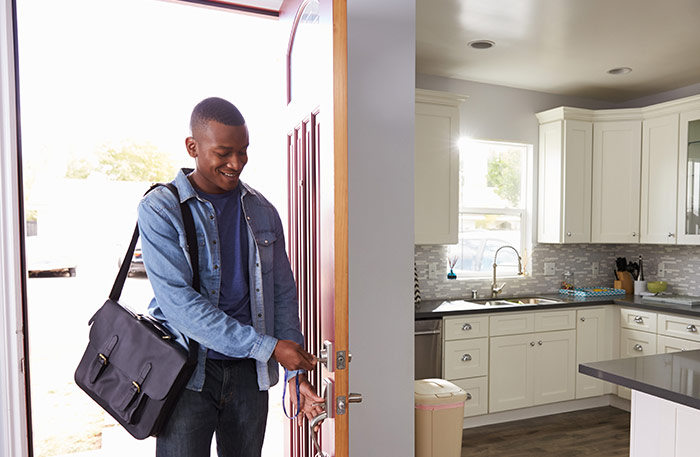 Order online for free keying options
When you purchase Schlage locks online through Build with Ferguson, there is a "free keying option" for you to select before adding a product to your cart. From there, you can choose to have your new locks keyed alike, keyed different, or enter a key code to match your new lock to pre-owned locks. This free service is a great way to save time and money, making it cheaper to replace locks that you want keyed alike.
Hire a locksmith
If you are struggling to figure out what you need to upgrade your exterior door hardware, a licensed, registered locksmith is worth the investment. They can evaluate your needs and give personalized advice so you can choose the best keying option for your home. They will have the tools and expertise to take your project from the idea stage through to an installed solution, giving you complete confidence in your new locks. The cost to hire a locksmith will vary depending on your location and the scope of the job, but it is important to choose a licensed lock professional you trust.
Check with your local hardware store
Many local hardware stores offer re-keying options to customers. We suggest calling ahead to see if your preferred hardware store provides this service and to learn how much it will cost. Schlage locks with a cylinder, whether a mechanical lock or smart lock, can be keyed alike or rekeyed according to your needs.
Opt for keyless locks instead
Eliminate the need for keys altogether by choosing a lock with a keypad or smart lock. This is especially convenient when you have multiple family members or service providers frequently coming and going. At Schlage, we have a variety of keyless locks to best fit your goals. Learn more about smart locks and discover all the benefits of going keyless.
Regardless of what keying option you choose, Schlage offers exterior locks that are high-quality and stylish to protect what matters most. With BHMA grading of AAA for security, durability, and finish, Schlage exterior locks are designed and tested with strength in mind. Visit Schlage.com to browse our products and discover why Schlage is trusted in over 40 million homes.