Home design with your dog in mind.
By emily.bailey
Tuesday, October 18, 2022
When you're renovating your home or looking to buy a new one, consider what you and your dog both need to be happy and healthy. Try including these six home design features that are pet- and human-friendly.
Our furry friends are often more than that. Pets are family. When you're renovating your home or looking to buy a new one, consider what you and your dog both need to be happy and healthy. Try including these six home design features that are pet- and human-friendly.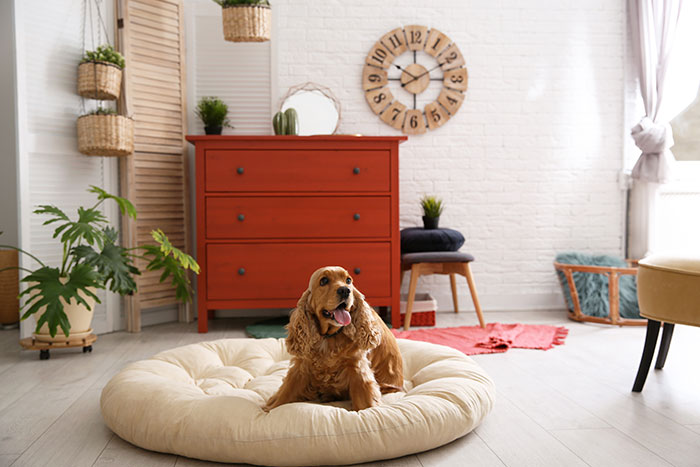 Rub a dub dub - Dog showers fit for your royal family member
If you don't like your pup in your tub, you need a dedicated dog shower. This is also a great option when you don't want paws tracking mud throughout the house on the way to the bathroom. A dog shower in your mudroom, garage or by the back door make keeping everything clean convenient and easy.
And don't think dog showers can't be stylish as well as functional. We love the monochromatic dog wash station @houseofjadeinteriors made with just a splash of bright bronze glam with the fixtures in this mudroom.
Spots for spot - Built-in crates with style and function
When you renovate your mudroom to include a dog shower, consider adding a built-in crate while you're at it. It's a great way to keep it out from underfoot – a big plus for you and your home's overall design – and still give your pooch a safe place to chill out.
Another great alternative is to choose multipurpose furniture everyone in the family can use. What might be an end table for you is their crate. Or maybe you incorporate a little hidey hole in the kitchen island or under the stairs.
It's a good idea to give your pet their own space. Where that is might depend on your dog's temperament. If they're more nervous and need alone time to calm down, find a quiet room for their crate that's away from the hubbub. If they're happier when they're surrounded by the family and activity, include them in the heart of it all, like the living room or kitchen.
Wipe your paws - Best textiles for pets
Unless you're new to the game, you know how much effort it takes to keep your home clean when you have pets. There's amazing amounts of fur, debris that rides in on the dog after their walk and food messes. Choose materials for your home that will hold up to your pet and everything they do.
Textiles should be durable and easy to wash. That includes rugs, furniture coverings, blankets and even curtains. You'd be surprised how much hair sticks to them. Furniture companies are offering more fabric options specifically designed for pets now, but other options include fabrics that can easily be thrown in the washer or those designed for indoor-outdoor use since they're more resistant to moisture and stains.
Regardless of the type of fabric you choose, consider colors and patterns. It's tempting to pick a black couch to match your black dog, but that doesn't mean the mess will automatically become invisible. Instead, go for patterns. They do a better job of hiding fur, dander and dirt.
F-O-O-D - chic pet bowl ideas
When you have designated feeding times for your dog, a cabinet with built-in bowls that pull out only when you need them can be very chic. This good boy at Houzz looks ready to eat.
A quicker but no less stylish alternative is to contain food and water spills with a nice mat. We love how these can customized to either match the look of the room or your pet's personality. If you want to incorporate natural materials into your home décor, check out this dog food mat from @stellasloane_home.
Doggy doors and more
Controlling where your dog can go is important to their safety. For smaller dogs or those who don't jump, a simple baby gate might seem like a good way to keep them out of certain rooms or away from steps. But how about something that's nicer to look at every day like this DIY gate from Yellow Brick Home?
And what about letting your dog come and go as it pleases? Doggy doors are nice for those who can't decide if they want to be inside or outside, but they also make it possible for other critters to enter. Go smart with an electronic doggy door. The Power Pet Electronic Pet Door is activated by your dog's collar, so Buster can get outside but the racoons can't get in.
For an extra level of smart access, try a Schlage smart lock to better control what humans have access to your home. You don't have to carry keys when you take your best friend for a walk, nor do you have to give a spare key to a pet sitter while you're on vacation.
Good boy organization
Like human children, pets require lots of things – toys, food bowls, leashes (the dog, not the kid). Have dedicated storage for all of it and make the bins, baskets and hooks stylish for your own sake. Use these storage solutions for pets where you need them most. For example, keep leashes and waste bags near the door so they're on hand for walkies. Instead of leaving those giant bags of food out looking sloppy, transfer the kibble to a nicer container so it isn't such an eyesore when it's sitting out near their food bowl.