Keep it simple! Cheap and easy ideas for Halloween porch decor.
By monica.reedy
If you're looking to give your home some Halloween curb appeal without the hassle, check out these easy ideas for inspiration.
Once we turn the corner into October, it's not all pumpkin spice and everything nice. It's spooky season! While we love elaborate porch decorations for Halloween, it isn't always in the budget – or worth the time. If you're looking to give your home some Halloween curb appeal without the hassle, check out these easy ideas for inspiration.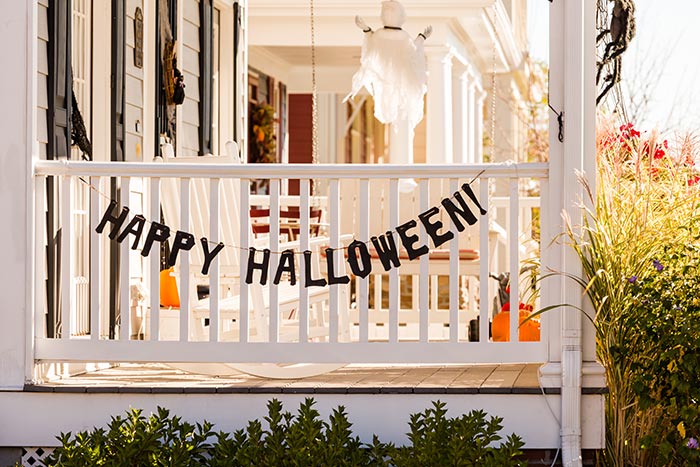 Hanging by a thread
Nothing says Halloween like some suspense! Fishing line is your best friend if you aren't sure how to decorate your front porch for Halloween. These hanging hats from @everydaygracedesigns create an air of magic and excitement without being scary or gaudy. The clever sign, broomsticks, and black cat are the final touches that create a sense of witchy wonder.
If witches aren't your thing, this idea can spin off in many ways. For example, suspend battery powered candles for a ghostly glow. Other fun ideas include getting crafty by hanging tiny ghosts (tie a small piece of white fabric under a ping-pong ball head) or make and suspend pipe cleaner spiders for some silly creepy crawlies. This is the perfect chance to let your imagination run wild. Whatever you land on, floating objects above your front door is sure to be the magical touch to your Halloween front porch décor.
Simple and Cost-Effective
This moody Halloween porch display from @thedesertoasis_rm is a perfect showcase for why simple is often best. Your porch doesn't need to be spilling over with pumpkins and décor to make a big impact.
To re-create this look on your own porch, first decide where the bat swarm will be most visible. Choose a spot that is well-lit and visible from your curb or front path. While you can certainly purchase plastic bats, this is an easy look to recreate using materials you already have on hand. Upcycle some old cardboard by cutting out bat shapes and then painting them black, or you can simply use black cardstock. If your bats will live where they might get rained on, opt for a more durable material like felt or laminated craft paper. Once cut out, attach your bats in a flying pattern using double sided tape and then step back to admire your masterpiece! This cheap Halloween décor idea is a fun way to charm guests without breaking the bank.


Add Small Halloween Details to your Fall Front Porch Décor
The best thing about decorating your porch for Halloween is that you don't need to start from scratch. Instead, add in subtle Halloween touches to your existing fall display so you can decorate your front porch for cheap. This cute entryway from @rachelparker_blog is lovely inspiration for a Halloween decorated porch that is both kid-friendly and fun. Layer a spunky door mat over your existing rug, add one or two other small Halloween items, and your front porch is all set for trick or treaters!
If you had no idea what to put on your front porch for Halloween, let these ideas give you confidence to create a fun display that saves you time and money. Don't be afraid to keep it simple so you have more time to spend with your loved ones. At Schlage, we protect what matters most with products that keep your home secure and stylish. For more front porch décor ideas, browse our Instagram and Pinterest!