How to keep your front porch fresh when the seasons change.
By emily.bailey
Thursday, September 22, 2022
We have some words of advice for finding and showing off your personal style at the front door all year, even if you're new to home design.
Even at a glance, your front porch décor says a lot about you and your household. With each change in season, it is exciting to find new ideas for redecorating. And the process itself can help boost your excitement for festivities to come. When you need some new ideas for decorating the front of your home, maybe you'll copy this season's housekeeping magazines or your favorite influencer. But we have some words of advice for finding and showing off your personal style all year, even if you're new to home design.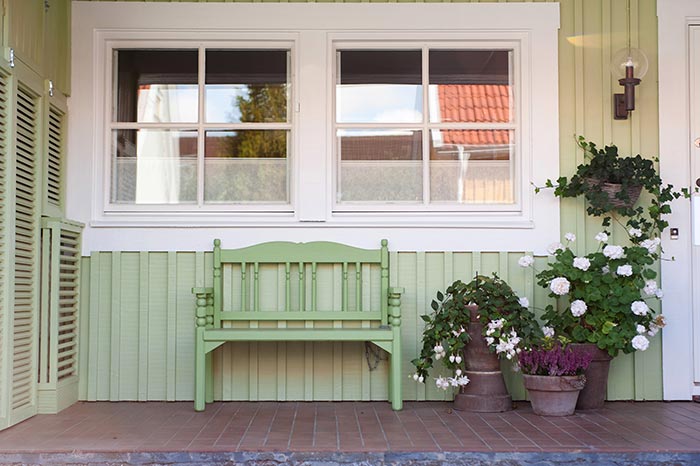 Follow your heart, not trendy décor
Don't feel pressured to follow the masses. While it's easy to load up the full display from your home and garden store or immediately copy the front porch décor you saw online, take a moment to step back.. Instead of falling victim to buying the whole display, use these moments as inspiration to create something unique to you. Try mingling two or three new pieces into what you already have. For example, update a preexisting wreath with fresh greenery or accents that reflect the new season. This not only helps you be more creative in your décor, but it can also save you money.
When you do shop for new front porch decorations, find items and styles that call out to you. Mixing and matching different styles can help you stand out, and ignoring or meshing trends is a surefire way to end up with a uniquely stylish front porch. Here are some ideas to get your gears turning when planning a front porch refresh.
Choose pieces that are meaningful to you
What does walking through the front door mean to you? When you and your loved ones pull in the driveway, your front porch is a focal point that sets the tone for coming home. Consider what feeling you want your home to provide. If you want a cozy and approachable environment, consider soft accents with personal meaning. Choose a loved one's favorite flower or upcycle an heirloom furniture piece. If you want to show off your home's modern features or convey a stately tone, stick to clean lines with a few bold statement pieces such as modern planters or statues. Whatever you choose, make sure that it is meaningful and beautiful to you.
Switch up your look with decorative outdoor planters
Planters insinuate plants, but this is not always true. Just because you choose to decorate with planters does not mean you must plant things in them. It really depends on the star of the show—are you more interested in showing off the fancy pottery at your door or what you've put in it? There are a few options you can go with, depending on your style and what you can maintain.
Fake flowers and bushes can be a rewarding purchase for some homes, but others might need more to distract from the "whitespace" around the door. Avoid a boring front porch by going with a modern or abstract look with asymmetrical planters and fake or real succulents. If you prefer real plants to fake ones, we suggest planting perennials like a flower or even a vegetable to enjoy at peak season. Vertical gardens come in many shapes and sizes and can also make a wonderful functional alternative to decorative front porch planters.
Carefully choose the shiny details for your front porch
Hardware is a detail that is often overlooked. Until it's needed, homeowners and contractors sometimes forget how many options there are to choose from when it comes to door hardware. The metallic accents on your front porch play an important role in your overall décor. It may seem like a chore to update your door hardware, but it is actually an approachable DIY that enhances your home's beauty, safety, and ease of access. Rather than waiting for your existing hardware to break, consider if it is reflecting the style you want. We recommend handlesets for maximum security and customized style of your home.
Use lighting to change the mood at your front door
Light fixtures and freestanding lanterns can make all the difference. The type of lighting you settle on depends on the design and build of your home, of course, but also your style and why you want it there at all. Functional light fixtures are a necessary feature on a front porch, but you can also add accent lighting to enhance the aesthetic impact of your front porch. Consider practicality and the mood you'd like to set when you choose the lighting for your front porch.
Front porch decorating ideas are most promising when they're practical and pretty—which rings true for all types of decorating. But it's important to think outside of the box to pin down your individually unique visual style. If you're looking for more front porch styling inspiration, check out our Instagram!