3 reasons to get a Schlage smart lock before you go on vacation.
By emily.bailey
Schlage smart locks might not be at the top of your list for things to purchase before going on vacation, but here are three reasons why they should.
It's time to pack your bags, hit the road and let loose for a bit. You're going to need a new swimsuit, some snacks for your road trip and a new book to download. And don't forget a smart lock.
Schlage smart locks
might not be at the top of your list for things to purchase before going on vacation, but here are three reasons why they should.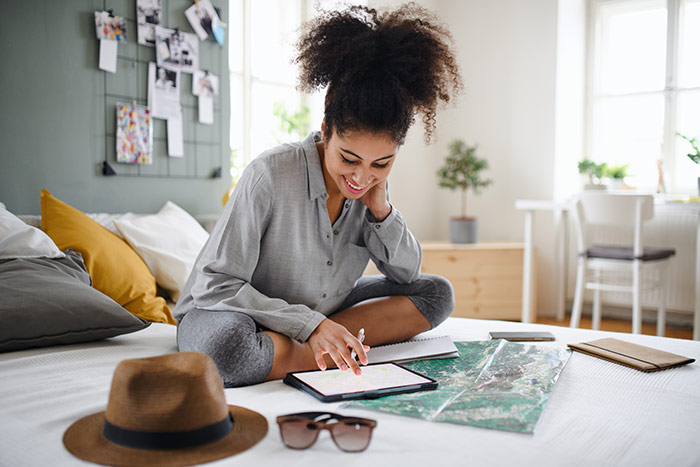 Let the right people in while you're away
"I thought locks were meant to keep people out?" That's true. But they're equally important for letting the right people in. When you're on vacation, it's about granting access to the trusted individuals who are going to keep your home and belongings safe and alive.
We often talk about creating unique access codes to house sitters or those coming to take care of pets and plants. That hasn't changed. When you give them their own code, there are no keys to exchange (or lose), so not only can they get in and out easily, but you also have the peace of mind that your house remains secure. For extra reassurance, you can use the Schlage Home® app with some of our smart locks, which then lets you see an activity log of which codes were used and when. That means you know if the neighbor remembered to stop by and feed the cat.
Maybe you don't need someone to check up on things while you're away. You decided to kennel the dog and you don't own plants. Accidents do happen, though. In the unfortunate event that something does go wrong at the house – a pipe bursts, there are strange sounds coming from inside, there appears to be storm damage – and you want a neighbor to check on things, will they be able to get in? With a smart lock, the answer is yes. You can either create a code through the app and send it to them, or simply tap the unlock button in the app when you know they're on the porch. Then, when they're done making sure everything is okay, simply check through the app that the door locked behind them and you're back to your holiday.
Here's one more scenario. That package you ordered before you left town? It finally came, but now it's sitting unattended by your door. The meal subscription you forgot to put on hold? The food has been delivered and is getting funky on your porch. Instead of leaving these deliveries for porch pirates to swipe raccoons to scavenge, you can ask your neighbor to take them inside. It's the same as above – give them a code or unlock the door remotely for them.
Relax with activity notifications
When you go on vacation, we want to disconnect from everyday life and relax. Constantly watching your home security can make it difficult to take the mental break you need. With a smart lock and compatible apps and devices, you can do just that.
At the most basic level, you can choose to receive notifications to your phone when certain events happen at your door. For example, if you have the Schlage Encode Plus™ Smart WiFi Deadbolt, Schlage Encode™ Smart WiFi Deadbolt or Schlage Sense® Smart Deadbolt, you can pair it with the Schlage Home app. Then, when a certain code is used or an impact or other disturbance is detected at the door, you'll receive a push notification to your phone, letting you know. There's no need to continuously watch a camera feed or scroll through an activity log. The information you need to know can be put directly in the palm of your hand.
If you're looking for something a bit more sophisticated, you can pair your smart lock with other compatible security devices. The Schlage Encode lock works with Ring Video Doorbell. Did you receive a notification that someone was at the door? You can actually see who's there, talk to them and, if you want, unlock the door for them. This can be nice for when that neighbor stops by with an unexpected delivery.
When you trust your home to Schlage, you need to be able to trust it all the time, whether you're in the living room, at the grocery store or halfway around the world. Because Schlage smart locks are battery operated, there's no risk of the deadbolt not working simply because the power went out. It will continue to do its job – keeping intruders out and letting dog sitters in – even if a summer storm causes a blackout.
Have a great time
Some people like to wing it on vacation, not booking hotels or ignoring the itinerary (if they even made one). There's a certain amount of freedom and adventure that comes from not sticking to a schedule. When it comes to home security, though, planning is all-important. Choose the smart lock settings that are going to help protect your home the best.
When creating access codes for someone watching the house, pets and plants, consider setting them on a schedule. If you know you'll be super busy with last-minute to-dos before you leave on Friday, create the code and send it to them earlier in the week, but schedule it to remain inactive until they need it. You can also set the code to expire when you get home on Wednesday, no need to remember to manually deactivate it.


While you're in the app creating codes, review your settings. Are there notifications you want to turn on while you're away?


Enable vacation mode. With the Schlage Connect® Smart Deadbolt or our

Keypad Deadbolt

, you can turn on vacation mode when you leave to temporarily deactivates all codes. In this mode, even when a correct code is entered at the touchscreen or keypad, the door will not unlock. When you return, you can disable vacation mode by entering your six-digit programming code. Some homeowners appreciate this feature when they know no one should be entering the house while they're gone. They can pause the codes without having to re-create them from scratch when they come back. It's just another quick and convenient way to manage your home's security.

Use this video tutorial to help put your

Schlage Connect lock in vacation mode

.
Not sure which Schlage smart lock is right for you and your home? Use our Smart Lock Selector to find the one that best fits your needs. There's also more on how to get the most from your locks and improve your home security at the Schlage blog. You especially won't want to miss our list of smart devices to help you stay safe on vacation.