5 HomeKit-compatible devices you'll want for your smart home.
By emily.bailey
Learn how Apple HomeKit can help deliver the smart home experience you want with different combinations of smart devices.
A fully integrated smart home takes time to plan and put into effect, especially if you're doing it yourself. For iOS-friendly homeowners and families, Apple HomeKit at least makes it easy to sync your preferred smart devices for more advanced home security and more. Read on to learn how
Apple HomeKit
can help deliver the smart home experience you want with different combinations of smart devices.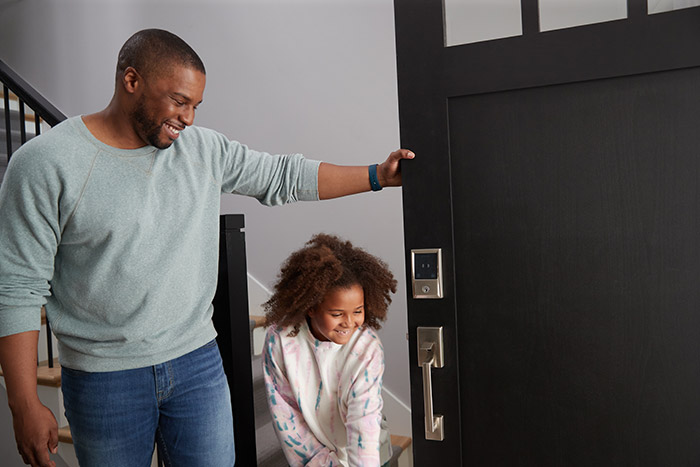 1. Schlage Encode Plus™ Smart WiFi Deadbolt
Home automation abilities are available through Apple HomeKit when paired with a compatible smart home hub. Enjoy the full function of Schlage Encode Plus™ Smart locks by pairing with the Schlage Home app. Then link to the Apple Home app and pair with Apple HomeKit.
Use your mobile iOS devices and Apple home keys to unlock Schlage Encode Plus™ deadbolts with a tap—no key required. Digitally activate the home keys feature via the Apple Home app, then in the iPhone Wallet app on an iPhone XS or newer (running iOS 15 and above). Apple Watch Series 4 or newer (with watchOS 8 ability) is also compatible. With Schlage Encode Plus™ and Apple HomeKit, users get even more seamless home security like auto-lock features and remote control via smartphone. Even when you're away, access Apple HomePod or Apple TV to control your connected HomeKit door lock.
2. Apple HomePod Mini for voice control
Google Home and Amazon Alexa are commendable smart home voice assistants, but Apple HomePod mini [connected with HomeKit] enables a more unified system for voice commands to do many things at once. Use Siri for hands-free voice control and a more seamless smart home experience. Homeowners get more convenience with Apple HomePod mini when Apple HomeKit is used, like triggering smart home scenes and accessing other HomeKit devices remotely.
Apple HomePod mini acts as a speaker, voice assistant and controller for your smart home system. Tell Siri to set multiple timers, play a certain Apple Music playlist, pause your TV, find your lost Apple device and more. Make your tech-forward lifestyle more seamless with full integrations like Apple HomePod mini and HomeKit.
3. Leviton lighting control
Leviton Decora Smart® Wi-Fi® lighting control is also directly compatible with Apple HomeKit. With this integration, Leviton can respond to your voice and adjust the lighting of your home as you speak to your HomePod or use your Apple Home app. Use the Apple Home app to set up automation that adjusts your lights as you lock and unlock the door. This automation feature helps many homeowners save on electric bills as they advance their smart home functions. Customize the automation of your home for better security and convenience—set the mood the moment you walk indoors with Apple HomeKit and Leviton lighting control.
4. Logitech circle view doorbell
See who is at your door before or without opening it. Logitech Circle View Doorbell is Apple HomeKit-enabled with facial recognition for more secure home access. HomeKit allows your mobile iOS devices to get notifications and make announcements when someone is at the door.
Enjoy head-to-toe high-definition viewing thanks to Logitech's TrueView™ video technology, including color night vision. Synchronize and better secure your smart home with Logitech Circle View Doorbell and Apple HomeKit. Your peace of mind is worth the investment for a fully functional and integrated smart home.
5. Honeywell thermostat
The Honeywell Lyric T5 Wi-Fi thermostat is compatible with Apple HomeKit for an even more integrated smart home system. Through Apple HomeKit, Honeywell knows exactly when you want to change the temperature of your home. Use a voice command to Siri, Google or Alexa or set an automated routine for hands-free convenience with Honeywell.
Apple HomeKit is quickly becoming a favorite in smart homes and offices. Have questions or need help pairing your Schlage smart lock with another smart home device? Visit schlage.com for more information and assistance.