Can I paint that? New looks for tile, fridges and more.
By emily.bailey
Some surfaces just won't accept paint well, while others will but only if you do the proper prep work first. It's time to start narrowing down those color swatches as Schlage answers, "Can I paint that?"
Painting. It's a great way to flex your DIY muscles and get a new look without a huge investment. There might be some things you'd love to update but you're wondering how. Some surfaces just won't accept paint well, while others will but only if you do the proper prep work first. It's time to start narrowing down those color swatches as Schlage answers, "Can I paint that?"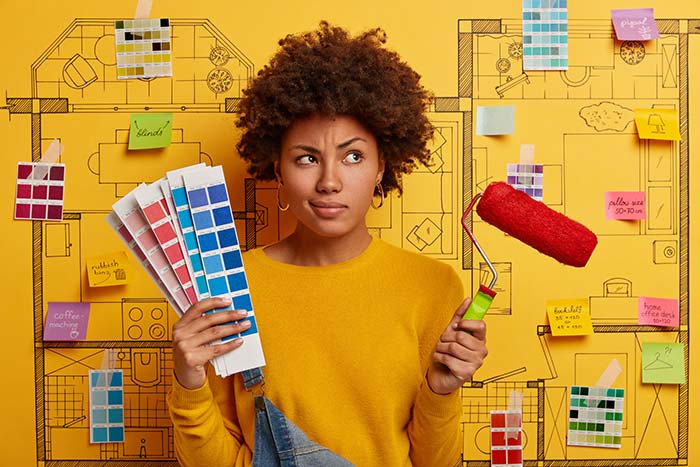 Ceramic tile
Can you paint tile? Yes and no. When the avocado green bathroom tile isn't to your liking, painting can be a cheaper solution than a total gut job. But if there's one thing that experts agree on when it comes to painting tile, it's that you should never attempt it on surfaces that get wet. That means no painting in the shower or on the tub surround.
Wall tiles in other locales might hold on to a paint job better, but be sure to prep them first. Clean and repair cracks in the tile. Then sand to remove the top layer of glaze and give the paint something to adhere to. Use primer before applying your first coat of epoxy paint. Finally, and especially if it's an area with high moisture or traffic, apply a clear coat of polyurethane.
Painting tile backsplashes is also a popular way to update the kitchen without breaking the bank. And don't forget tiled laundry rooms and mudrooms.
Sink
Yes, if it's an acrylic or stainless steel sink. Start by removing or covering anything you don't want painted. This includes faucets, water lines, drains and nuts. You'll then want to clean the sink thoroughly, maybe more than you've ever cleaned it before to avoid painting over food particles and grease. Like the tile tip above, sand and scuff the sink surface, then wipe everything down with acetone. From there, apply a primer if you have a stainless steel sink – acrylic sinks don't need to be primed – and you're ready for paint. Be sure to wear protective gear throughout the process as some of these materials are toxic to breathe. Many DIYers have found that a simple mask wasn't enough to handle the fumes and quickly switched to full respirators. Cassity at Remodelaholic even sent the kids to Grandma's house during her bathroom sink/countertop overhaul.
If you want to paint or refinish a porcelain sink, it's best to call in the pros.
Floors
Yes! But you'll need to do some extra planning, maybe take a few extra steps (no pun intended). Because you'll literally be walking on your paint job, be sure to choose the right kind of paint and sealant as well as take care of cracks and other imperfections in the floor itself if you want your hard work to last. Find more tips for painting floors in this Schlage blog.
Wallpaper
Technically yes, but would you want to? We've all heard stories of the fixer-upper with 57 layers of wallpaper, one on top of the other, and about 16 coats of paint on top of that. Don't be cursed by future owners – or yourselves in a few years – and take the extra time to remove the wallpaper before painting. You'll be glad you put in the extra effort.
If you don't have a choice and need to paint over wallpaper, try these steps so you don't end up with a case of DIY regret. First, use adhesive to reaffix any seams or bits of paper that are peeling away from the wall. Then clean the walls really well. Vacuuming is actually a good way to clean most wallpaper. You might also use a damp sponge, depending on the type of wallpaper. Finally, prime, paint and paint again.
Kitchen appliances
Yes, with caution. Generally considered a quick, temporary fix, most kitchen appliances can be painted. You just need to choose a paint type that is heat resistant, particularly if you're going to be using it on or around a stove, toaster or similar appliance. Note, however, that glass cooktops cannot be painted, regardless of what the paint's made of.
Painting your refrigerator pale yellow could help give your kitchen a fun retro look. Or if you love stainless steel appliances but not the price, look for a paint like Liquid Stainless Steel. BobVila.com offers more tips for painting kitchen appliances.
Hardware
It depends. Like flooring, your cabinet and door hardware can take a beating due to frequent use. This means, that while you can paint it, be prepared to see chips and scratches before too long. If you're unhappy with the look of your hardware, we think you're better off replacing it, especially if we're talking locks and door hardware. You need them to work right every time, so if they're starting to look rough, it might be worth the investment to upgrade the whole unit.
That being said, a little paint can add some fun to cabinet pulls or knobs. Classy Clutter shares some inspiration for painting furniture hardware.
Vinyl siding
Yes, and it's actually not too tricky. Painting vinyl siding is much like painting any kind of house exterior. The key difference is that you probably want to use a sprayer instead of roller. Apartment Therapy offers its tips, and Schlage has its guide for how to choose exterior paint colors.
Fabric
Sometimes. Obviously, fabric is made of different materials and is used on a variety of furniture, so painting may be suitable in some situations more than others. It is possible to paint a chair or couch without it feeling crusty. The trick is to use a fabric medium and the right kind of paint on a cotton or poly blend. If the upholstery is highly textured or tufted, you can still paint it, but it's going to be a tougher job.
For those who are intimidated by painting a whole couch (and we don't blame you), stick to smaller items like lampshades, pillows or outdoor patio cushions.
Why stop there? Painting a door is a great way to boost your curb appeal without a lot of sweat or cash. You can also switch up a room's look by painting the trim, and it's probably not as tough as you think. For more DIY tips and inspiration, turn to the Schlage blog or find us on Pinterest.