Home security steps you should take before leaving for vacation
By emily.bailey
Don't let your home be vulnerable to intruders while you're away on summer vacation this year. Take these 5 home security steps before you leave.
'Tis the season for family vacations and getting away from the daily grind. Maybe you've been stuck at home for too long and you're ready to just go … somewhere. If you're planning a summer vacation this year, take one more worry off your list by ensuring your home is as secure as possible.
Most homes are targeted by a simple selection process. A burglar chooses a house with easy access, excellent cover and good escape routes, but they will usually bypass one that requires too much effort or poses a high risk. Here are six home security steps you should take before enjoying your relaxing retreat away from home.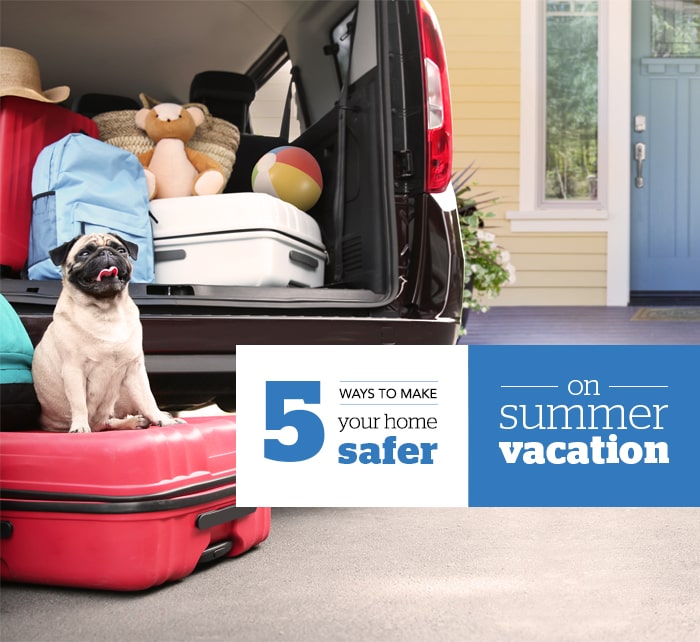 1. Look active
A key part of vacation safety is giving the impression that the home is occupied. Try some or all of these ideas for confusing thieves while you're gone:
Install a smart lighting system that turns on and off at random intervals. You might also opt for motion sensor lighting near your home's entry points. If you have a family member or friend taking care of pets or plants, ask them to turn different lights on and off throughout the home each time they visit. It's the same effect of smart lighting but with a more manual approach. Leave blinds and curtains partially open so people can actually see lights turning on and off.


Create a "vacation" scene with your smart home hub. You could include locking the door, turning lights on and off, playing music occasionally and adjusting the thermostat. Not only does it make others think you're still there, but it can help conserve energy and money as well by not leaving them on the entire time.


Ask the post office to hold your mail until you return or have a friend or family members pick it up for you. A pile of mail and newspapers on the front porch is a giveaway that the house is vacant. Pause your meal delivery services and other regular drop-offs, too.


Arrange for someone – a friend or lawncare service – to maintain the landscaping and cut the grass if you plan to be gone for an extended period of time.

Bonus tip: Ask a neighbor to put some of their trash in front of your home on garbage night.
2. Keep out of sight
Hide valuables and other big-ticket items that would be tempting to intruders peeking through the windows. Stow away one-of-a-kind collectibles, laptops and other electronics in a drawer or closet. You probably can't hide a television set, so consider leaving blinds and curtains closed for that room.
Bonus tip: Remember outdoor valuables. Roll your grill into the shed or garage. The same goes for bikes. Also, kids' toys that lay out in the yard and don't move all week, while not particularly valuable, can be a giveaway that you're gone.
4. Cameras
If being able to check in and see what i's happening at your home is important to you, consider installing a few WiFi-enabled security cameras. With remote capabilities, you can see any activity at your home no matter where you are in the world.
Bonus tip: The Schlage Encode lock works with Ring Video Doorbell, so you can see who is at your door via the camera and unlock it remotely for trusted friends, family or service providers.
5. Garage security
Don't forget to secure your garage before you go. With a smart garage door opener and keyless technology on entry doors, you can be confident that the garage is not a weak spot for your home. Think how easy it would be for an intruder to pull into the garage, close the door and gain access to the rest of the house, then load their vehicles with your belongings without the neighbors ever seeing a thing.
Bonus tip: If you have someone stopping by to housesit or water the plants while you're gone, ask them to park in the driveway instead of the garage to make it more obvious someone's around.
6. Unexpected places for safety
Stopping intruders is usually the leading security concern when we're on vacation, but it's not the only thing that affects safety. Now's a good opportunity to conduct a quick version of your regular home security audit and make sure everything is working properly. You don't want to come home to an unpleasant surprise, especially if it could have been avoided.
Check for pipe leaks, test smoke and carbon monoxide detector batteries and make sure motion-activated cameras and lights are still positioned correctly. Unplug electronics like your television to help protect them in the event of a power surge during a storm while you're gone, as well as save on energy. It's best to leave most appliances like your refrigerator plugged in and at the usual temperature.
Bonus tip: Make sure your windows are closed and locked securely, even on the upper floors. If you have sliding glass patio doors, install a blocking bar in the track for a bit of extra security.