25+ things you need the first night in your new home.
By emily.bailey
After an exhausting day of moving, make sure these items are accessible first. Here's what you'll need the first night in your new home.
One of the most common moving mistakes is thinking that we have to buy all the new furniture and unpack all the boxes and get all the décor just right as soon as we get the keys. In reality, moving is more of a marathon, not a sprint, and in many cases, you're better off living in the house for a bit before you make any lasting design decisions. However, there are some items you'll want from the very start. Here are 25 things you need the first night in your new home.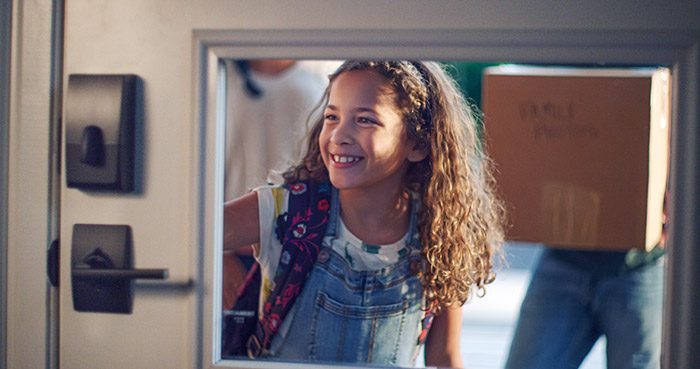 Security
New locks
Replace the locks on your new home ASAP. It's impossible to know if the previous owner handed over all the keys or if there's still a spare floating around out there. Protect what matters most – your new investment, your family, all of your belongings – with high-quality deadbolts. To help choose the right locks for you, try Schlage's Product Selector. Or if you have your eye on a smart lock, use our Smart Lock Selector to find the one that fits your family's lifestyle.
Smoke and carbon monoxide detectors
Test the smoke and CO alarms in your home right away. Even if they're functioning, replace the batteries to be on the safe side. If there aren't detectors, install them immediately. At a minimum, there should be detectors on each floor of your house, ideally in or just outside bedrooms, and in the basement. Safety.com also recommends installing a carbon monoxide detector in or near the garage if it is attached to the house.
Fire extinguisher
Like smoke and carbon monoxide detectors, it's best to have a fire extinguisher on hand at all times in case of emergency. Place extinguishers in the kitchen, garage and in other areas with a high risk of fire. If your home came with a fire extinguisher, check its expiration date and replace as necessary.
Safety gear
Even if you bought a move-in ready home, you'll still have a few projects to tackle. It might simply be hanging pictures or assembling furniture. Safety gear can even be helpful when moving boxes from one room to the next. Gloves, a face mask to protect against inhaling dust or paint fumes, and goggles are a good place to start. And don't forget a fully stocked first aid kit. Find more ideas for safety gear to protect you during all kinds of DIY projects.
Lockbox
Even if you're not storing the family jewels (we should all be so lucky), a lockbox is a good place to store irreplaceable items. Maybe it is jewelry, but it could also be birth certificates and medical records, home insurance information or electronics. Consider a box that is fireproof and water resistant to protect your belongings during natural disasters, not just from intruders.
Cleaning supplies
Trash bags
Takeout containers, packing peanuts, the dust you vacuumed up. It all has to go somewhere. This is a good time to buy the heavy-duty bags, too.
Rubber gloves
Unless the house was cleaned professionally before you moved in, you're going to want to give it a deep scrub. Rubber gloves will make some of those nasty jobs a little more tolerable.
Disinfectant
It's a good idea to disinfect everything, from those high-touch surfaces like door hardware and light switches to the refrigerator, insides of cabinets and bathroom fixtures. Pay special attention to which solutions are safe for certain surfaces, though. For example, familiarize yourself with the best cleaners for granite countertops if that's new to you. Not all disinfectants are created equally.
Sponges, rags, scrubbers
A variety of rags will also come in handy. Include durable abrasive sponges for outdoor use like cleaning patio furniture, dishrags for cleaning kitchen supplies before you put them away and microfiber cloths for cleaning glass and mirrors on your supply list.
HVAC filters
This might not be at the top of your list, but you stir up a lot of dust and dirt when moving, especially if you're doing any kind of renovations. A fresh filter will remove particles from the air more efficiently, saving you energy and money.
Tools
Hammer and screwdriver
These are basics for any tool box, but we think they're two of the real powerhouses when you move. It's hard to find a basic DIY or assembly project that doesn't require at least a hammer or screwdriver.
Variety of hardware
You should be able to find a kit at any home improvement store with nails, screws and bolts of various sizes. Even if you don't plan on doing renovation immediately, having some spare hardware could turn out to be a lifesaver when you go to assemble the bed and find you lost a screw in the move.
Utility knife
It's amazing how often you need a knife when you move, whether it's opening boxes or trimming shelf liners down to size or removing zip ties. A pair of kitchen shears won't … ahem … cut it, so get a quality utility knife.
Tape measure
Will the couch fit on that wall? Will the curtain rods be long enough? What dimensions should the new rug be? A tape measure can answer all these questions.
Level
Some people like to hang artwork right away to make it feel like home. Or maybe you need to mount your tv or a mirror on the wall. A level will help you make sure it's straight and looking good from the start.
Furniture
Bed and mattress
If you've moved before, you know how exhausting it is. Have a comfortable place to rest your head at night and recover. Focus on quality. As Apartment Therapy points out, home décor trends come and go, but a good mattress will always be in style.
Comfortable, quality couch
Like your bed, you're going to get a lot of use out of a sofa. This is another piece of furniture you'll be glad you invested in. Don't skimp, and avoid buying second-hand if you can. A quality couch should last – and be comfortable – for years to come.
Table
We intentionally left this one a bit vague. Just know that a table, whether it's for the dining room, your eat-in kitchen or even just a coffee table, will immediately come in handy more than you might think. It's where you'll sit to relax with a glass of wine and Chinese takeout, sort through all the hardware while you assemble furniture and entertain the kids with games or craft projects while unpacking.
Lamps and lightbulbs
Late night unpacking sessions are better when you're not sitting in the dark. Make sure you have a few lamps for rooms that don't have built-in overhead lighting and lightbulbs for those that do.
Window treatments
Naked windows are not the way to introduce yourself to new neighbors. Get blinds, curtains or both, and the sooner the better.
Odds and ends
Clothes hangers
As you unpack your clothes, you'll want to hang them up right away, not simply transfer them from a box to the bed so you can't lay down later. Plus, getting organized is immensely satisfying. Let hangers provide that easy win when everything else feels a mess.
Bathroom goods
Top of the list here is toilet paper, a shower curtain and bath towels. We know they're obvious, but sometimes those are the very things that get overlooked until it's too late.
Plunger
Do we really need to explain this? We will say that it's 100% worth spending the extra money for a professional grade plunger.
Extension cord and power strip
We like to think of these as the duct tape of the electrical world. Whether it's to power your laptop from the couch until your office is set up or because your new home simply doesn't have as many outlets as the last one, an extension cord and power strip can provide immeasurable convenience.
Pet gate
Moving can be overstimulating or downright terrifying for our furry friends. Give them a safe retreat. That could be their own room or a pet gate that gives them access to the yard while still keeping them out of harm's way while you set up house.
Nice to haves
These last three don't have to be at the top of your priority list, but we're also pretty sure you won't regret them.
Console table
Your entryway décor might be one of the last things on your mind during a move. However, a console table or hooks in the foyer can help you stay organized when you're probably feeling exceptionally disorganized. Don't be late for work after you move because you lost your keys. Have a safe place to keep them by the door.
Indoor plants
Do you need houseplants when you first move? No. But can they make your new space feel cozier? Absolutely. They'll add a bit of color and maybe help you fend off the loneliness that moving to a new area can sometimes create.
Handyman phone numbers:
It's always good to have the contact information for a local plumber, electrician and locksmith. Hopefully you won't need them right away, but you'll be glad you do if you lose power or the toilet overflows during your move.