5 reasons a locksmith is worth the investment.
By emily.bailey
The decision to hire a professional locksmith can pay for itself in time, convenience and peace of mind when it comes to something as important as helping to secure your home.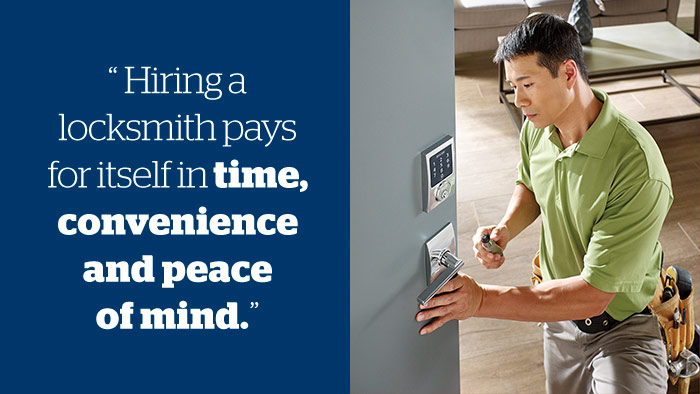 Like most things, the decision to hire a professional instead of employing a DIY solution has its trade-offs. But when it comes to something as important as helping to secure your home, the decision to hire a professional locksmith can pay for itself in time, convenience and peace of mind.
Schlage locks are easy to install with nothing but a screwdriver and a few minutes' time. But we'll also be the first to recommend a licensed, registered locksmith if you need to rekey your locks or are undertaking a big task like replacing all the door hardware in your home. And if you've ever locked yourself out and locked your keys in, then you already know how valuable it is to have a relationship with a local locksmith or at least know where to find one. Allegion (maker of Schlage Locks) gives you quick, easy access to a registered professional with this online locksmith locator tool.
Here are the 5 top reasons to invest in a locksmith:
1. Convenience
A licensed, registered locksmith will have the tools and the expertise to handle almost any challenge, 24/7, 365 days a year. You'll save time, get professional service on your own schedule (even in an emergency) and help is rarely more than a click or phone call away.
2. Knowledge and Experience
Did you just move into a new home and are looking to rekey your exterior doors, providing single -key convenience for all your locks? This is just one example of service requiring a level of expertise even the most intrepid DIY enthusiast probably doesn't possess. No worries when you leave it to a qualified ALOA (Associated Lock Smiths of America) professional and to locks you can trust.
According to Jared Gehle at Schlage, "You should look to a locksmith anytime you're not sure what you need or have any doubts about how to install or upgrade your door hardware."
3. Quality you can trust
Schlage door hardware isn't easy to rekey because rekeyed locks generally don't meet our strength and durability standards. We recommend the job be left to professionals and to the guarantee of quality service they'll provide.
Says Gehle, "Fitting new hardware to existing door openings or undertaking something potentially complicated like rekeying or replacing a number of locks throughout your home can be a lot of work. A locksmith allows you to prepare for any eventuality, saving you time, money and aggravation."
4. Peace of mind
More than two million burglaries occur each year, and in more than one-third of those, the perpetrators come in through the front door. Don't trust your home security to just anyone or any old lock. The Schlage brand is trusted by professionals and in more than 40 million homes with a reputation built on nearly 100 years of innovation, strength, quality and style.
5. Value
You get what you pay for. Getting the job done correctly, right from the start, will pay for itself many times over. If you have a non-standard door, if you're replacing locks and the door measurements don't conform to Schlage specifications (if you're replacing a mortise lock, for instance), these kinds of adjustments are many times beyond the skill level – and patience – of a typical DIY project.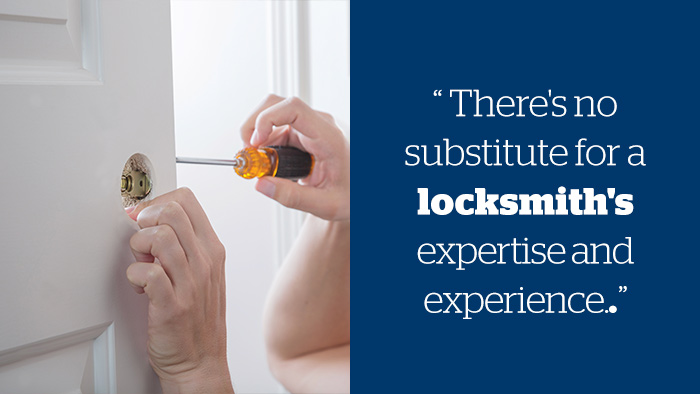 "Even if you think you know what you're doing, don't hesitate to contact a locksmith for advice, a specific product recommendation or for helpful tips," says Gehle. "There's no substitute for expertise and experience. They've got all the right tools, and a locksmith will be there for you at every turn."
If you decide to hire a locksmith to rekey your locks or install new ones, define what is important to you, and choose a licensed lock professional you trust. Visit Schlage.com for more information and a wide range of innovative, stylish, high-quality door hardware possibilities.