Inexpensive outdoor DIY projects to tackle this weekend.
By emily.bailey
You don't have to make a major investment to make a big impact when you're looking to upgrade your home.
You loved our list of
inexpensive interior DIY projects
. Now here are some budget-friendly home improvement projects to tackle outdoors. This is proof that you don't have to make a major investment to make a big impact when you're looking to upgrade your home.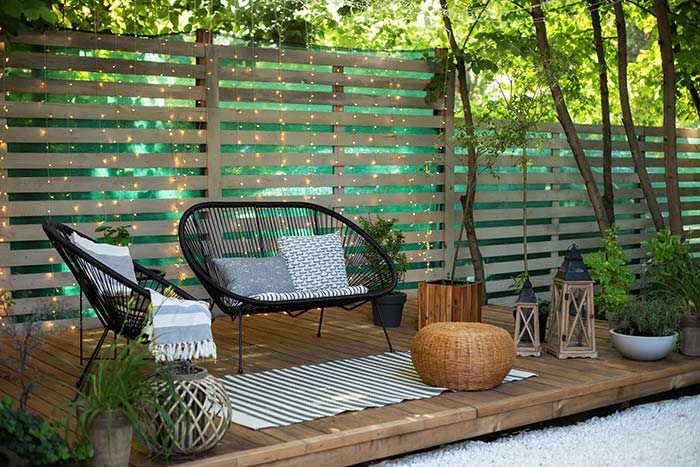 Pretty up your porch
A good alternative to building a fence is adding a privacy wall to your porch or deck. Done right, it can block sightlines and dampen noise from the neighbors, provide shade and add some visual interest. In addition to wooden slats like this beautiful and affordable DIY by Crafted by the Hunts, consider less expensive options like outdoor curtains or lattice with or without climbing plants. Check out these other outdoor privacy screen ideas.
More inexpensive DIY projects to update a front porch:
Add porch lighting, whether it's sconces on the side of the house, a lamppost near the steps or string lights at the roofline. Extra light not only makes your porch and home more secure, but it's also more inviting to you and your guests.


Replacing the flooring of your porch or patio can be a major investment in both time and money. As long as it's structurally sound, try painting the flooring to create a new look instead. We couldn't be more impressed by this

before-and-after painted concrete porch upgrade

by Thistlewood Farms. They didn't even have to paint the entire thing to turn an eyesore into a welcoming stoop.


Don't forget to look for functional porch décor. A stylish side table that doubles as storage for your patio furniture cushions in the offseason? Yes, please. Even a front door handleset can give your entryway a style boost while also helping to protect your home.
Get your hands dirty
When you hear "container garden," your mind probably jumps straight to potted plants flanking your front door or lining your patio steps. This season, try window boxes (here are 5 easy tips and tricks to get started from Lily Pad Cottage). Add a splash of color to your home's exterior with vibrant flowers. Or in the fall, try bright vegetables and gourds. Window boxes are the perfect small-porch décor solution when you don't have room for large pots or even to hang from the railing of a larger porch.
More inexpensive DIY projects to improve your landscaping:
If your garden is looking unfinished, try adding mulch or other ground cover. It's the extra detail that takes your curb appeal to the next level. Plus, mulch helps your soil to retain moisture, which can mean healthier plants, especially during a drought.


Traditional pots from the garden store are always good, but consider putting your own touch on those containers by

painting

or adding other embellishments like House by Hoff did with

rope

. This is also a good way to upcycle other household items like chipped tea cups and kettles, soup cans and rubber boots.


When you put a lot of time into your landscaping, you want people to be able to enjoy its beauty. Repair or add a walkway through your garden. You could use store-bought pavers, gravel, stones or even recycled brick.
Spruce up your curb appeal
When the Remodeling Cost vs. Value Report is released each year detailing the projects that retain the most value at resale, garage door replacement is regularly number one. In fact, it was the top-ranked project three of the last four years. According to the Remodeling 2022 Cost vs. Value Report, 93.3% of the cost of a new garage door was recouped at resale.
If you aren't up for replacing the entire garage door, you still have plenty of options for getting a new look. The obvious route is to simply stain or paint the garage door. We do love these faux carriage doors from Silouette School, though, who took her door from outdated to classic for less than $100.
More inexpensive DIY projects to boost your curb appeal:
Replace your mailbox or give it a facelift. Try coordinating it with other fixtures like lighting and door hardware, especially if you have a wall-mounted mailbox on your porch. Take a look at the

matching matte black finishes

on I SPY DIY's porch. If you have a curbside mailbox, spruce it up with some landscaping around the post or a new coat of paint.


Some eyesores, like the air conditioning unit or a utility box, can't be removed. That doesn't mean you can't hide them, though.

Large fake rocks

, fences and ornamental grasses can all safely obscure anything that's dampening your curb appeal, not to mention add a bit of appeal of their own.
Take the (DIY) party out back
We picked a fire pit as our favorite outdoor DIY project to do on a budget because you can use it year-round and for any kind of backyard party. Cozy up to it on a cool fall night or make s'mores over the open flame during the summer (or any time of year because they're delicious, let's be honest). Home improvement stores often carry kits to assemble your own fire pit. You can also follow this howchoo tutorial to make your own.
More inexpensive DIY projects to upgrade your backyard:
A water feature is a must-have for your

peaceful garden nook

. When it comes to installing one, you're only limited by your imagination. Go for a dramatic

water wall

on your deck or something more modest like Tatertots and Jello did with a

ceramic pot

.


Admittedly, power washing your back deck isn't the most glamorous DIY project, but you won't regret it. Renting a power washer for a day or weekend is inexpensive, especially when you consider it can make your deck look like new. Keeping your deck clean can also help extend its lifespan and get rid of potentially hazardous mold and slick green slime.